"Those that exist beyond our concepts of time and space, neither angel nor devil... we call them Outsiders. They possess bizarre and terrifying power, bending the laws that bind our world together and at worst breaking them condemning us into chaos. They are said to eat dreams, concepts, ideas, the fabric of space, even nothingness... absolutely absurd, isn't it? They are even said to possess the powers of creation and destruction. It is said that upon death every trace of their existence, every influence they made, even memories disappear. Sad if it is true, to have all that power, then die and the universe forgets you. I wonder if that is why so many become heartless. But not you are different, aren't you, Owru?"
Names:
Owru (Ego and collective), Nuelle (Human), Chuza (Superego), Laadan (Id), Zilthai (Shadow)
Physical Description:
While details can varie depending on what form she takes, for most of them she is a four armed being with three fingers per hand, three eyes, a long neck, a set of antennae, a smooth body of unknown translucent composition, a strange cloak-like membrane that protrudes from her back that she can wrap around herself, and long feet with two toes each. There are differences, however, on which part of her is in control at the time, these being her other "selves" that consist of her psychological components.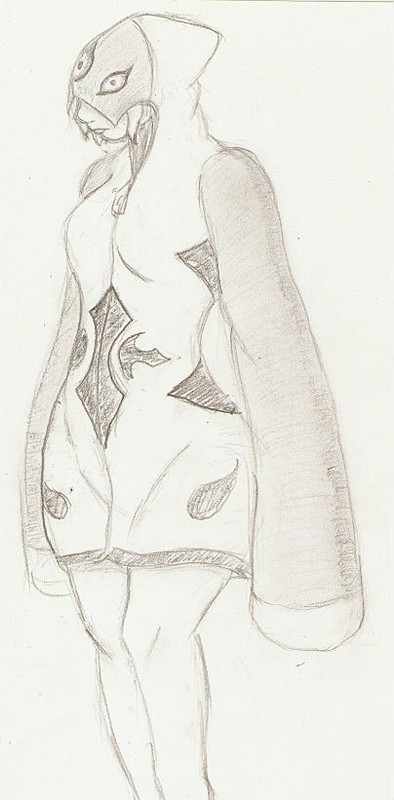 Nuelle:
Appearing as a pale young woman around the age of 20, standing at around 5ft dressed in a runed white hoodie made up of her cloak featuring a set of three yellow eyes on the hood that obscures half her face, white bangs hang down the sides of her face, the only visible signs of anything higher than her nose. This form looks human, and breaks the convention of her other forms.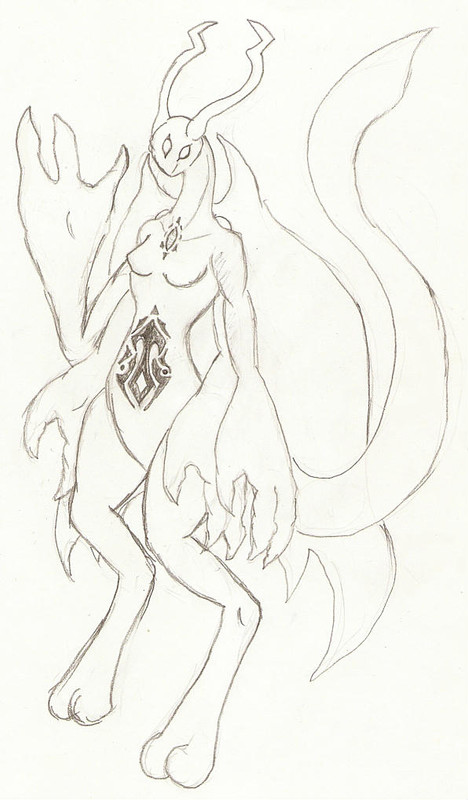 Owru:
A strange alien-like creature with a smooth creamy white body, three pure blue eyes, and runes on her chest and stomach. This form represents her ego. Has characteristic cloak/cape growth.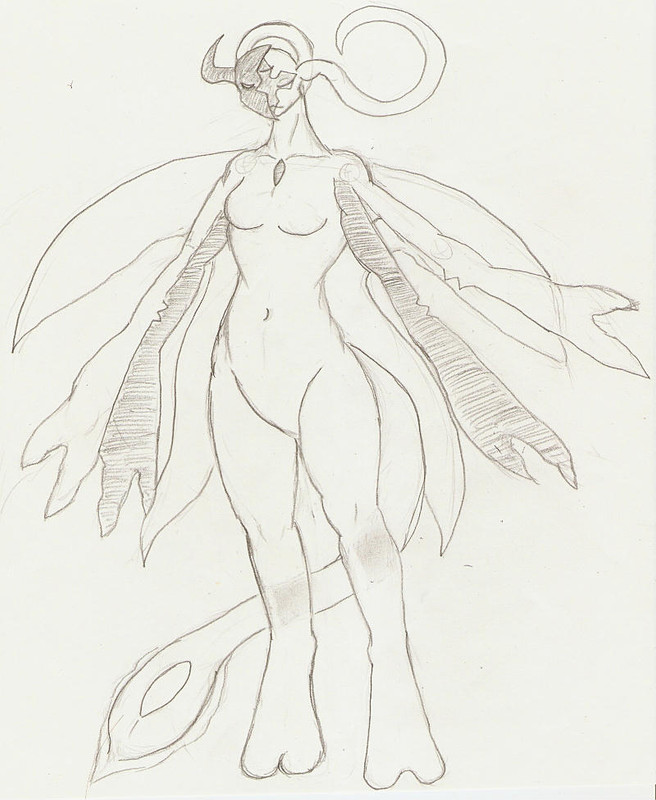 Chuza:
More humanoid, angel-like, with two arms with four fingers each split to have white on top and black on the bottom that split into four two fingered hands.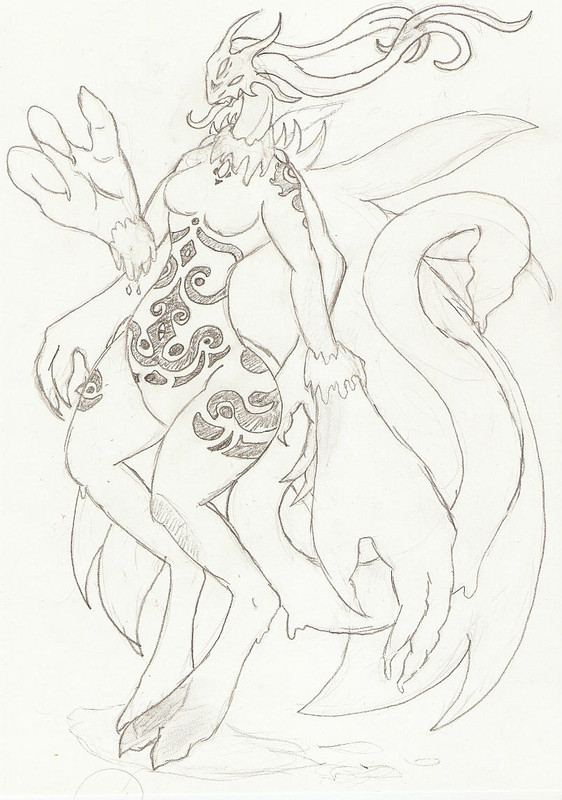 Laadan:
Larger, more colorful, and more bestial version of her Ego form. Dark violet in color, with a longer face, forked antennae, bright green eyes, a black tongue and gaping jaw, a ripped-looking "cloak", and white goopy "tufts" on the base of her neck and wrists. Laadan seems to have trouble with focus, leaving to have a nearly transparent body that leaves behind a puddle trail as it "melts". The puddles dissipate afterwards as if they were never there.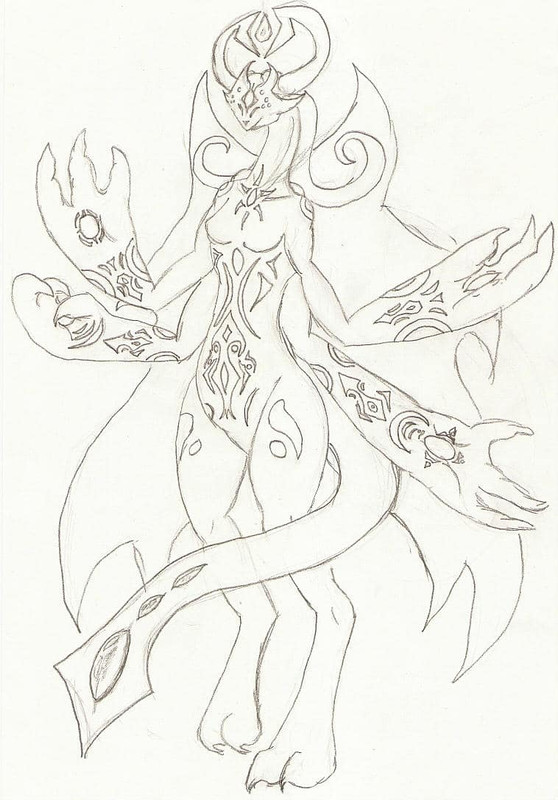 Zilthai:
She resembles Owru's ego in size and shape, but is more intimidating, being black with glowing yellow eyes behind a mask and glowing blue runes upon her body.
Personality: Inquisitive and friendly but yet quiet, lonely, and sheepish, she's an odd being with a penchant of getting into anything and everything, and a desire to know how everything works. She could be described as something like a child with her curiosity and need to tinker, but something beyond a genius with the well of knowledge she seems to possess, and yet can also be clumsy and naive. She shows no desire to cause harm, or to be harmed, reacting to emotions around her. To complicate matters, however, while as Nuelle and Owru all this is true, her mental components can sometimes take over and they have their own personalities and names.
As
Chuza
she is somewhat cryptic and meditative, behaving more mature and desiring peace with limited action. The pursuit of enlightenment through knowledge and greater good prevails over simpler desires. Chuza sees violence as something done by troubled creatures who have yet to reach enlightenment, and shows a desire to lecture and teach them the way. She can come off as arrogant and idealistic, but well meaning.
As
Laadan
she is wild and uncivilized, acting off emotion and desire more than deeper thoughts and rationalizations. She can behave more like a child than normal, and can be very clumsy and ravenously curious. Is also a glutton, eating and drinking whatever is consumable lying about, and sometimes things that only look consumable like fruit displays. While aggressive when agitated, she is normally more a nuisance than a danger and tends to be more better described as overstimulated.
As
Zilthai
she is paranoid, aggressive, and depressive, representing the various darker feelings that Owru bottles up deep inside and forgets. She obviously does not show up as often, making her appearance even more dramatic. Zilthai finds it hard to trust anybody, even her psychological counterparts, as she sees many ways in which she can be hurt and betrayed, and bottled back away within the recesses of Owru's psyche once more "like an unloved child". She shows a great desire to be recognized and known, even if that means being feared as a result. Being forgotten to her is something worse than death.
Equipment & Abilities:
While not possessing much in the way of... possessions, she does have many odd abilities, all a form of strange melding of mind and magic. First off, obviously, she can change shape, stretch, and switch between her various psychological aspects. She can phase through solid objects like a ghost but can't phase through energy fields. She possesses a vast amount of knowledge like a dictionary being able to say what something is, but lacks much knowledge in the "how" and "why" creating her curiosity. She possesses strange energy based abilities, like being able to push things back despite her exceedingly light weight, or manipulating non-living matter near her like some psychokinesis, and levitation. She can also recede back into her inner world of Nod as well as pull people in with her.
...less useful abilities are that she can project her image, throw her voice, and do great impersonations of people and animals.
Historical Background:
Her history is actually rather recent, not existing for over the last few years or so. She first existed in a place she referred to as a "deep dark cold" which later she forged into her own little pocket world of Nod where she started the formation of her "self". She already possessed a lot of information with no knowledge of how it got there to begin with, nor the knowledge of how and why she exists or what manner of events lead to her creation. The lack of people of whom she could interact with other than her other selves also made her lonesome and desperate, so she wandered outside her reality and out into others in order to fill the void of her being.
In her hardships and confusion in these other places she also fed Zilthai, her shadow, who has caused troubled in some places. Stories spread of a maniacal shadowy supervillain causing destruction, attempting a campaign of conquest. Nobody that knows that Zilthai and Owru are one in the same, nor have seen her enough to draw that conclusion.
After all, she
is
an Outsider...