---
---
---
---
---
---



Race


Human



Role


Patience



Gender


Male



Nickname(s)/Alias(es)


Seth// "As based on my name. But, of course, you can call me Firo. I hear he's an anime character whom I have an uncanny similar appearance with… heard about him from a friend, and it stuck." So, most people call him Firo, including Seth himself.



Age


19



Love Interest


None yet, at the moment.



Face Claim


Firo Prochainezo from Bacchano!



Sexuality


Pansexual// "I believe there is good and virtue in all."


---
---

[font=times new roman]
Rather short for his age, at a solid 5'6, Firo has a rather slim build and sometimes comes off younger than he actually is. Firo barely has any muscle build on his body, and some say that he really is just skin and bones, with nothing between the two. Firo's hair tends to be a light brown color, and he barely pays any attention to it which commonly results in the messy mop that he tends to walk around with. Of course, this doesn't mean that Firo doesn't take any baths- rather, Firo is somewhat of a clean-freak and takes showers two times a day.
His young appearance is further accentuated with his baby-like face, with slightly round cheeks and wide eyes. A grin is constantly on his face no matter what Firo does, and rarely is it replaced by a frown. Firo's eyes are the same color as his hair, and his smile is constantly a blinding white. Well, his eyes seem to change color from time to time, though Firo himself never really notices. Some days, people may claim that his eyes are a pale gold, while on others a murky brown. With hands slightly big for his build, and rather large feet (at a size 10), Firo sometimes looks a bit awkward, but most cannot describe him with 'awkward' without rethinking their word choice. Firo exudes an aura of peace and tranquility but no one can really pinpoint how they feel this from the young boy.
Height
5'6
Weight
149 lbs
Build
Rather skinny and scrawny. Firo has almost no apparent muscle build on his body at all, and his ribcages are in plain sight whenever he takes off whatever he's wearing on top. However, Firo's skinniness doesn't translate into some sort of starved look, but rather one of grace mixed with an animal-like agility.
Hair Color
Light brown
Eye Color
Dark amber to a light golden color// it depends on the day and the weather, or so Firo claims. He himself never paid much attention to the color of his eyes.
Scars/Tattoos/Piercings
None at all.
Description
[/font]
Mildly tall and rather light, Firo's body build leans towards a thin, lean sort of body type. The boy typically walks around with his back extremely straight, and to an extent has an air of forced propriety around himself. Firo tends to have a constant smile on his face, and rarely ever lets it slip. With a short hair cut, wide eyes, and a constant smile, Firo tends to look extremely relaxed and proper, and probably a bit younger than his actual age.
---
---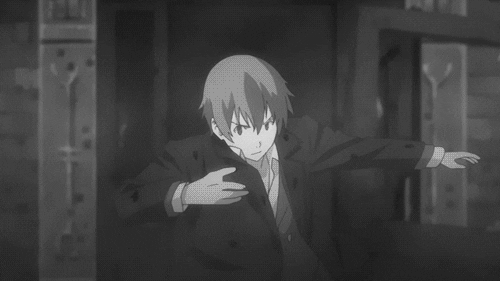 "I am very fine, thank you for the concern."
Oddities
• OCD// The weird thing about Firo is, well, if he doesn't close all the doors at night he just can't sleep. The thought just nags away at his head like there is nothing else in the world more important than just closing doors. Otherwise, it's the need to make sure that his handwriting looks as if it were printed rather than handwritten- if one letter doesn't look standard, and then Firo would scrap the whole page and re-start. Firo sometimes thinks that his patience was developed due to his OCD; the actions of others seems almost easy to ignore or fix compared to the nagging voices in his head.
Skills
Writing//Calligraphy// Making friends with animals//Whistling//Cooking//Baking//Playing the flute//Aikido//Kendo//Daydreaming//Mimicking accents//Memorizing pieces from books and such//Shooting//Playing the violin//Gaming//
If Firo puts his mind to it, the boy can learn or remember about everything. If he puts something down, it's not that Firo has given up or thinks the course/activity dull, but rather due to some physical deficit or social barrier that he cannot overcome. This includes giving up on ballet to take up hunting and shooting with his extremely masculine father. Or, such as his inability to float in water while trying to learn how to swim- his mother forcibly stopped Firo from learning how to swim after watching him almost drown 5 times (he later continuously went back to the pool behind his mother's back and slowly learned how to swim).
Strength
Though Firo doesn't look it, his hits pack a mean punch. This might have come from the training the boy has put himself to ever since his father exclaimed that: 'You should act like a man, son!'
Power
Light Manipulation
// This isn't limited purely to the manipulation of light waves as they travel through the air, no. This includes crystallizing light into tangible stones in the air, and having full control on these stones. Firo can not only create large enough crystals to damage people with, but can also make is so that the light particles travelling in the air turn into mist and attack people, slowly invading their systems until Firo tires out. While Firo can give areas light, he can take it away, create crystal barriers to protect himself; however, the limitation to his power is that first of all, the crystals are not strong. Rather, though one bullet shot may not be able to pass through the ice, two or three shots will. The crystals cannot be shot through metal and will only shatter if attempted. The light Firo can manipulate must be within his sight. He cannot wave his hands and manipulate all the light around him, but must make sure to use light particles that are in front of him and in his sight. Last, using his power will weaken Firo physically rather than mentally.
Likes
Baking//Cooking//Playing games (such as JOURNEY)//Listening to music//Playing the flute and violin//Browsing REDDIT//Taking photos//Singing//Writing short stories and poems//Reading fantasy novels//Reading his textbooks//Coffee//Rainy days//Solitude//Quietness//His parents//Slow, calm places//Lakes//His cat, Haru//Small rain//Fog
Dislikes
Noisy people//Noise//Traffic//Malls//Large carnivals//Clowns//Thunder//Lightning//Large storms//Television//Cinemas//Churches//Urban cities//Gyms//
Hobbies
• Whistling// Whenever Firo isn't doing anything, he tends to whistle whatever tune comes to mind. Many times, Firo has spent more than two hours just sitting around, whistling whatever random tune in his mind, not doing anything. Sometimes, it is almost like a trance.
• Baking// Firo's house tends to smell like a bakery. When he isn't studying or working out, Firo is in his kitchen, baking whatever he has come across on the web. This happens quite frequently, actually, and Firo's kitchen tends to be filled with pastries and other such goods that he himself cannot finish.
• Writing// In the study room at his penthouse in New Haven, Firo has a section dedicated just to his own pieces. This includes notebooks filled with scribbles of poems and jotted down ideas of short stories and novels, to full out novels written fully by hand. Though he has written many, Firo has never dared to actually publish anything he has written, claiming that they're only mediocre, rather than best-seller quality.
• Playing with Haru// Within Firo's (almost) fixed schedule, he manages to squeeze in a timeslot just for Haru. The boy will play around with the cat until time is up, and Firo loves to do so- playing with the fat black cat he had picked up from an abandoned cardboard box.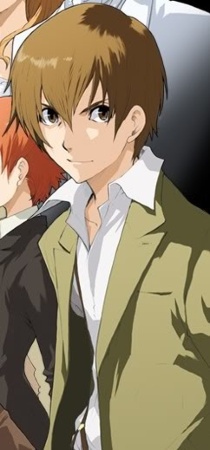 Phobia(s)


• Clowns// It's funny, really, but Firo tends to let out high pitched screams whenever he sees clowns. It's nothing personal, really, except for that one time a clown scared Firo by popping a balloon directly over his head when the boy was barely 4 years old. Since then, the fear and hatred towards clowns within Firo has only grown in magnitude.
• Agoraphobia// Thankfully, within Firo this phobia hasn't manifested any further into a panic disorder. However, whenever Firo is in areas with large amounts of people- such as within malls- the young boy tends to panic, but has never fainted just yet. His panic attacks don't draw much attention except for a few glares and the worried voices of his parents.
• Astraphobia// Firo hates the sound of thunder. Whenever he hears thunder or sees lightning, Firo tends to just hide himself under his covers, or cover his ears and eyes with his hands or whatnot is available. When around people, Firo tries to cover his fear up as much as possible, but sweats a lot and tends to twitch whenever thunder booms.



Personality
What many people notice from Firo is his constant thirst for knowledge and this need for exploration. Most people find this part of Firo's personality rather interesting as he sometimes comes off as an extremely mellow person, and tends to be rather introverted when people are involved with the activities he has to do. Whenever Firo seems to come alive is when there are no others involved with whatever Firo sets his eyes on perfecting.
With others, even with his parents, Firo tends to be extremely meek and kind. He rarely ever speaks up and tends to listen to what others say. Very few have been able to really open up Firo, including his deceased grandparents, and only these people know that Firo is actually an extremely humorous, fun-loving, and at times a bit pessimistic young boy. Rather than meek, Firo has a courageous personality that is marked by his willingness to try everything and anything and to stand up for others, including people he doesn't know well.
Another characteristic of Firo's that tends to stand out the most to others is his lack of anger. Even when they taunt the young boy, Firo rarely ever fights back and tends to just laugh and smile along with whoever is trying to pick a fight against him. Some people claim that they've never seen him angry and that he's always extremely patient, even after, say, waiting in line for a certain item for an hour. His lack of anger and initiative sometimes stops Firo from obtaining things that he wants and from completing tasks. This includes from mundane things such as lining up and stopping others from cutting in front of him- rather, Firo sometimes invites others to cut him. Another time, Firo had planned a confession to a girl he liked and had waited for the girl all the way till 10 at night and clearly heard a boy confess to her, while he had gone up to chat with the girl. Rather than confessing himself, he decided that he could wait until the girl broke up with the boy and left rather hastily, only then noticing the large amounts of people that surrounded them.
But aside from all the awkwardness and paradoxes within Firo's personality, Firo moves with a certain grace and agility that many can't really pinpoint. Even when he talks, Firo seems to sound as if he were trained and had come from nobility rather than from a middle-income family. Firo himself doesn't realize this yet, and his chivalrous attitude towards everyone continues to manifest rather than die out as the boy grows out of the awkwardness of adolescence.
---
---




Relationship Status


"Well, to tell you the truth, I haven't had a girlfriend before? I don't know, I mean, it'll come with time."



Family


•Father: Ronald Ellis// The European side of Firo's family, born in Norway. The young man had grown up in Norway and had moved to America when he was young with his parents, taking up his formal education in the USA. The boy was found to be quite a genius and had powered his way through school until he finally ended up at Yale University. Ronald later threw aside everything related to society and his degree and went off to build a home in Alberta, Canada with his wife. Hard-headed and fool-hardy, the now 40-year-old man loves adventure and tends to enforce an extremely masculine image for himself. He has high expectations for his son and only wishes that Firo loses his shy demeanor.
• Mother: Hana Masamune// The Japanese side of Firo's family, the young girl had made a name for herself at a young age and managed to somehow land herself a place in Yale University. There, she met the popular and, well, rather eccentric Ronald Ellis. The two later married and moved to Alberta, giving up on everything they had built for themselves in the financial world. Hana is characterized by her cool and composed demeanor, rather similar to her son's, though she doesn't have the under layer of anxiety and diffidence that Firo has at times.

Personal History
Firo was born to the great economic gurus Ronald and Hana Ellis. Though his parents had a massive fortune and large economic assets the two, for some reason, the moment their son was born, decided to uproot themselves from the place they had long since established their home. From their penthouse in New York City on 5th avenue, the couple bought a large piece of property in Alberta, around three hours away from Calgary and commissioned for a house to be built. Surrounded by almost nothing but farmland, the Ellis' lived in relative peace and tranquility. Their interaction with their neighbors stayed at a minimum as Ronald and Hana made sure to cut off most ties with other humans. Firo grew up with the two confused adults, slowly developing with them and adapting to the semi-rural, yet slightly urban lifestyle that the Ellis Mansion- or so his father liked to call it- had to offer. Along with fast wifi, Firo had horses to ride and cows to milk, televisions all over the house and warmed up toilet seats, to the natural alarm clock of the rooster's call. It seemed as if the slow yet fast pace that surrounded Firo, and his early need to pick up and adapt to events around him, enforced the later personality he grew into.
Along with helping his father out with domesticating animals, hunting, and farming, Firo also received his education from his parents. After much deliberation, Hana and Ronald had decided to leave Firo's education to themselves. They homeschooled Firo, downloading textbooks offline to teach Firo subjects from grade one all the way till grade twelve. However, Firo's parents started to see a gradually growing aspect within Firo that they never thought they would see- a sort of diffidence that the both of them didn't have. Alarmed, they sent Firo off to school, claiming that the boy needed companions from his own age range to help him 'grow into a man'. Of course, Firo took this all calmly and with a smile, pacing along side his own parents with a stride of his own, decided pace. But, well, school didn't really end well for the young Firo, and the boy ended up friendless for most of his four years at high school. Not only did he know all the information taught in class, he didn't feel the urge and need to make friends with the other children in his classes. But Firo didn't complain- rather, he thought that relearning the information he already knew could help root them better in his memory, and the way the teachers taught class was definitely more interesting than how his parents taught him before. But well, at least this was still within the rather unpopulated Calgary.
Like the rest of the people in his school, when the time came during his senior year, Firo applied for college. Just like his parents, Firo landed himself a place in Yale and immediately flew off to Conneticut, and lived by himself in the penthouse his parents had prepared for him. There, Firo slowly grew gradually more introverted, and his social anxiety increased in magnitude as the number of people around him increased to the point where Firo just felt lost. He didn't know what to do anymore, and Firo couldn't take it. Firo tried to live it out, and managed to do so for two years, but he couldn't. Many times did the idea of dropping out of Yale come to his mind, but he couldn't let his parents down, nor was it of his personality to do so. Thus, he left the world for 'INFINITY'.
---
---
Why did Firo come to "INFINITY"? Well, Firo had wanted to find a place where he could live without the need to rush. He felt out of place with the hustle and bustle of everyday life, and the moment his parents had let him go to University, the young boy had felt nothing but loss and agitation. He couldn't take the new feelings inside his heart anymore and had decided to escape, to retain who he was and to stay as he had been.
"Well, I suppose when you have weird parents you really just learn to go along with whatever is flung at your face, unless the going gets really hard."
---
---