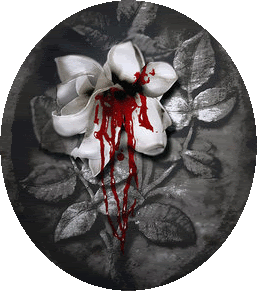 [If I told you we where seeing things, would you believe us?
Slowly we went crazy and nothing could stop us...but we did not know.
-Intro-
Five years ago they discovered another universe...a universe that was slowly leaking into ours, devouring the life force of people. People did not know because they could not see them...But someone could and that someone decided to make others like him.
How he could see the other universe and how he could know that monsters were eating us like cattle...we have yet to find out.
But he knew and he created this DNA injection and looked for where he could do his project.
He was a scientist after all.
We have decided that he somehow made a soup out of chemicals and drank them and then made him crazy...But he was the rational crazy.
He searched us out.
Us the problem children...
The ones that bullied kids in school, did drugs, fought too much, stole things
We wouldn't be missed. Our parents would realize what sort of monsters they had living under their roofs and let us go with a sob and a reluctant shrug of the shoulders...
While we went insane because we had no idea what was happening to us...
But I will take you back...
when we were just kids...
He chose us at the age of twelve when we were showing signs of rebellion...when our bodies were changing and he shot that which we have yet to know into our bodies so we could accept the change...
back
back we shall go...
Taking place in...
9 posts here • Page 1 of 1
You probably will not believe me as I sit here telling you this Officer...but I swear on my mother's grave...well I can't possibly swear on my mother's grave as she is not dead yet...but if she was I would totally swear on her grave. The thing is ...okay I will tell it to you from the beginning...
I was going insane. I heard voices everywhere and only my mother sat with me holding my hand while I screamed and thrashed...
You see I tried everything.
I joined a new wave of religion...
It didn't work.
I joined a cult...but they wanted me to do creepy things so i sort of stopped going...and when they came looking for me I hid behind the couch while my mom threatened them with the police.
then I tried to commit suicide. but picture this,,,
I was in the bathroom with knot tied nicely and I was already used to the idea of just letting go...pissing my pants and forgetting about all of it...when my mother comes in and looks at the knot tied around my neck and begins to scream. My father comes in cuts the rope and pulls me down...while my brother and sisters cry and cry...
try having that on your conscience

And it all began one night when I was coming back from the park, happily whistling a tune. Suddenly a creepy dude began to follow me. I knew he was following because I took turns and jumped fences and went trough nice laws so he wouldn't follow...but heck I am not a fast guy. I can't run for shit and will only stand up and fight IF I know I can take the other person. But this guy was no eight grader with lunch money...but a true weirdo. I ran faster thinking he either wanted to steal from me or rape me.
Not the sort of halo rape...boom headshot...but the rape that you are in for a life of counseling plus some ice. But he didn't rape me. Instead he tackled me to the ground where the porch light was on and I thought...Oh god...I am going to be raped.
I waited for the sickening rustle of my pants and then the invasion that would bring tears to my eyes and send me into I hate myself land...but nothing came.
Instead he injected me with something and then left.
I woke up the next day disoriented and went home.
Mom thought it was drugs, sex, rebellion, booze
Father thought I needed a job
but I was going slowly insane...it didn't happen then. I was fourteen and continued to live the next two years as a guy who took advantage of the nerds at school.
I got in fights that I knew I could win and passed m classes with c's.
that's how it happened Officer...
what/ you want to know more/
Fine...but you believe me officer..dont you/
of course you do.

___two years earlier__

It happened during math. He knew he had not fallen aslep because sleeping period was during enlish and math was after english..so he was not asleep. Besides Amelia was in front of him and he was admiring her neck and her pretty ears and imagining asking her to homecoming...but she knew he had stolen some money from her brother and she would probably say no.
It happened then. The classroom went gray and he was frozen and from the grayness figures began to shimmer in and out and from his classmates a bluish smoke was being sucked out.
The things came closer and the closer they became the colder he was. He tried to move, to run..to do something...but he suddenly felt spent as if his life was being sucked out...and from the corner of his eye he saw Amelia rise and from her hand a light shot forward.
and he fainted.

"oh my god..is he okay..."
"son did you fall asleep"
"maybe he needs to go to the nurse"
and someone helped him up.
He left the classroom upset that he was the one who fell to the floor and according to the rest had screamed.

On his way to the nurse he knew he had not been asleep. It was seventh period for goodness sake...it was his "stare at amelia " period.
He walked alone in the halls because unless you were part of the flowering drug trade during seventh period or you had a pass to the shithouse...there was not much to do at this point.
The nurse scolded him and sent him back.
At the classroom all asked what had happened and he answered with a grin "i fell asleep" but as he met Amelia's eyes...
he knew he was probably going insane...or something freaky was going on.
---
On the other side of the glass where Jimmy was being interrogated Amelia sat with her hands on the table and the most stubborn look on her face. She had a pencil in her hair and her glasses were sliding off her nose.
"all right officer...I will tell you what happened and why we killed him...it was sort of like this.
I was not the smartest kid in school. Yes I had A's and B's...but in my previous school someone stole some tests and they blamed me. I got suspended and so I beat the crap out of the girl who blamed me...so they transferred me. But I did nothing wrong....I was fifteen when it happened and I was at the mall when some guy kept following me. I told him to stop or I would call my parents but he put a hand over my mouth and dragged me to the bathrooms where I thought i was surely going to die. But he injected something into me?
what?
I do not know what he injected into me. I just know it was something. But I saw his face. Jimmy and the rest did not... then one day I was reading an article about this scientist who had discovered something that proved aliens existed or something. It was the same guy...Yeah Dr. Heirich. I went to his offices up in central and I found him. Don't ask me how. I talked to him and he told me what was truly going on and what he was doing. I did not believe him. Thought he was crazy.
But by then I had already started to hear the voices and see the things. I could move by then. Jimmy and the rest by this time had not seen any major change but I had. Dr. Hierich gave me this"
She pushed a round metal object "i do not know what it is...or how it does it...but when the things come near people and begin to feed...if I can stand up...i can press it something shoots forward and sends them back...yeah
Dr. Heirich...wanted to form an army.."
"of teenage kids"
"well we are in the time of change...when our bodies are accepting new changes... it would be best to inject it into embryos or even eggs...but...he was not allowed...better take the rejects of society and turn them...what better than the problem children...officer I will tell you what happened two years ago"
_two years ago-
Aemlia was doodling with her hair up in a bun and a bunch of pencils in her hair. She had been hearing things for a while and by now her sences were so acute that she could feel Jimmy's eyes on her back. She knew the kid from a few weeks ago when she had found him stealing money from her brother. He was a coward and ran at the mere mention that Amelia said she would beat him up. Suddenly it became real gray. She knew what was going to happen but still she was jumpy. With a sigh she grasped the metal disk hard into her hand until it hurt.
She saw them clearly. Thin beings that glowed. They would lean into her classmates and open their mouths real big and begin to suck. They were feeding. She stood up with a hatred burning in her heart...but then she heard a scream and turned. Jimmy was terrified, holding tightly to his desk..his eye wide and he was trembling...
and Amelia froze. He could see them too?
She turned back to the monster and with her hand she showed the metal object and said "vanish" and the metal object shot a light forward and the monsters were gone. She sat back on her desk and the grayness went away too. Jimmy fell off his desk screaming and Amelia couldn't help but smile.
As Jimmy was helped up she looked at him and then he went to the nurse. When he came back she was back to drawing.
On her notebook the creatures appeared and they were sucking the life out of her classmates. She had drawn them from memory and if someone chanced to open her notebook they would find equally frightening things.

(oh lol..I am the girl this time...weird.. XD...and you are the guy XP )
---
The cheerleaders were practicing and Jimmy just could not go home before peeking at Sarah the cheerleader who wore tight pants and some guys murmured had a red thong!
He stood there looking a the senior with a dumb little smile until his cell phone began to ring. He answered and went walking to the school benches.
"where are you? I been waiting for you to get home for the past two hours" is mother was always very worried about him.
"I am fine mom...just fine okay. Listen i will be home soon" his mother said something about hurrying up but he was not listening anymore. His eyes fell on the cheerleaders walking out in their little uniforms "yeah yeah...listen mom I will be home "
and hanging up he waved at a cheerleader and sent her air kisses. The girl flicked him off and went to the gym. He smiled and pushed himself up. The road to his house was a regular road with almost identical houses on each side and nice little lawns with nice little pointy gnomes and a clean driveway.
Some children were playing outside but when they saw him they threw rocks and called him "bastard!"
He walked towards them but they shrieked and ran into the house. He had stolen their ball and refused to give it back. He would have given it back too if one of them had not called him a little shit.
He was not a bad guy..nor did he try to be. He just liked to mess with them. everyone needed a neighborhood bully. His house smelled like steaks and mashed potatoes and sure enough that was what they were having for dinner.
"what sort of hours are this to come home? your mother was worried sick...your sister got home hours ago"
Jimmy rolled his eyes and reached for a plate.
"James! listen to me...you can't be going about like that...not after...not after you know what"
Jimmy froze and turned "that's old business dad" and once more he reached for the plate. He had not had an ugly nightmare in months and he truly did feel all better. Except for the fact that he had "fallen asleep" in class and woke up screaming. However he refused to speak about that to his dad because his mom would make a huge deal and talk about taking him to the therapist again. And Jimmy was convinced the therapist knew nothing about anything. Dumb old woman who tried to make him talk about his sex life. She was a dirty old woman...but he had enjoyed shocking her with sexual acts he did not even know existed but had made them up as he went.
After dinner his mom said she was so tired that she could not possibly do the dishes. His little brother snickered and had run to his room with tales that he had homework and his sister was already up there working on her next "A"...His father smiled at him "i got work to do...do the dishes Jimmy"
He did the dishes grumbling and then went to his room where he had all sorts of random things thrown about. His clothes, his books and anything else that found it's way to his room.
He threw himself on the naked mattress because the cover had vanished a while back under the piles and maybe it was under the bed. Last time he searched the contents under his bed was last summer when they forced him to. But now it was all nice and comfortable. At least his pillow was still there.
He fell asleep thinking that his homework could be done tomorrow before class and that Amelia might say yes to homecoming if he gave her flowers...yeah...Amelia might like flowers...maybe he could defend her little brother when people picked on him...yeah that might win huge points in her eyes...Amelia might even kiss him on the lips for that. Amelia with her huge brown eyes and those glasses that slipped down her nose when she was reading. HE would buy her a pack of pencils for her hair. Pencils in all colors. She liked pencils... or maybe he would get her something else...something nice...He smiled sleepily and tucked the pillow underneath his head.

and he was sound asleep.
He woke up screaming. There were whispers all around him. A whisper of someone walking of someone talking...whispers that he did not understand but chilled his blood. He opened his eyes and the room was gray. The things were there again and they had their mouth opened wide to reveal a black emptiness that seemed to have no end. He was cold and becoming weaker. He could not scream anymore. Now he just stood there thinking that this was how he was going to die....there would be no more Amelia...no more Sarah in her tight jeans and red thong...no more anything.
He grasped at the edges of his mind that were dimming and his heart was slowing down until it beat faintly. He could not die this way! not before asking Amelia to homecoming.... He struggled to break the hold they had on him but the more he struggled the more energy he lost. He saw from his mouth a bluish smoke like substance being sucked out. He closed his mouth but it came out of his ears and his nose and his eyes.
What would his mother say when they found him the next morning? his dad? his sisters? would Amelia care...would Sarah wear a black thong to his funeral. if he lived he would ask Sarah...yeah

( Oh lol I know...XP...I just wanted to try to play a guy...I suck at guy's perspectives...but here we go...hopefully it doesn't sound all cliche and stupid. "
---
Amelia moved from the bus down into the crowded street. Her hair in the bun she always had was beginning to curl around her shoulders. She pulled the pencils out and once more put it up tightly with the pencils holding it just right. She crossed the street. looking like the average teenager, with loose jeans and a t-shirt, she stooped to pick up a penny. Once pocketed she stared up at the huge building in front of her.
Dr. Heirich was located inside the massive building. She entered trough the revolving doors and the guards stopped her and made her run her backpack across the metal detector. She waited tapping her foot down and staring off into the distance. Once she was cleared she was led to the front desk were a pretty woman asked for her name.
The waiting was hellish and boring. She took out her notebook and drew as the clock ticked away. Finally the woman asked her to go inside.
She followed the hall and entered a large office.
A man in his early forties, with brown hair and a kind expression on his face sat behind the desk.
Amelia plopped herself on the chair.
"You are a liar" She hissed "there are others"
"yes there are" he confirmed, unruffled by her accusation.
Amelia stood up and planted her hands on her desk "you said I was the only one! But Jimmy from math knows....he sees them too...he hears them too...but he doesn't know what to do"
He smiled calmly at her but she continued to speak "how many more are there/ how many of us..."
"ten...ten little problem children...you and Jimmy and eight more. "
"are we just lab rats to you? those things. those monsters are feeding off human beings. They suck them dry until there is nothing and what do you care about this...we are just your little experiment aren't we?"

She turned away angrily throwing his things on the floor breaking whatever came in her way. She hit the desk with clenched fists while he watched her.
"they suck the life out...it is not just humans, anything with the ability to reproduce, to breathe, to grow and change, anything living is sucked dry. from flowers to insects, bacteria...nothing is safe and when they are done they will move on but leave this world dead...it will be another mars." His words went trough her like an arrow. She slumped on her seat staring down at her hands.
'what can we do?"
"right now, we are studying you...we are studying them. They need to have a weakness. They are like ghost to you...they are nothing to the rest. The rest cannot see them, or feel them. They just know that they get weaker everyday, that their pets are weaker, that their flowers are wilting. You can see them, but you can't touch them..yet. They cannot see you, but they are attracted to you. They feed off you with more ease. That is why you have started to see them more, to hear them more. The more they feed the more they want you..."
"what about the rest"
"some will survive..some will not..even Jimmy at this moment could be attacked and there would be nothing he could do. He would just die. Tomorrow his fathers would wonder what happened...but no one will have an answer"

Amelia stared at him with horror "why...why don't you tell the rest...why don't you help them...why?" she cried.
"because maybe they can evolve...you should...all of you should evolve...change...and then maybe we can do something against this threat"
She shook her head. "you will let us die..."
She stepped away from the desk and picking up her backpack she fled.

She did not take the bus home but she wandered the streets until it turned dark. Her head was exploding. She had to find the rest.
She had to talk to Jimmy first. Yes
She needed to talk to him first. He needed to know what was going on.
She took the bus then and then made her way to Jimmy's house. Everyone knew where he lived. Who did not?
Many mother's had gone there with their children seeking a lost ball, stolen money, apologies for their beaten up eight grader.
She snorted. The guy sure was a bully and a coward. She stopped in front of his house and sighed.
Which one was his room?
She moved into the dark shadows of the porch and looked under the flowerpots, under the eaves of the house, inside the flowerpots, under the rug, behind the ugly fat Buddha...underneath the fat Buddha ..aha!
She took out a key and entered the house, closing the door gently behind her.
The house was dark and it smelled faintly of bleach. She climbed the stairs slowly. One creaked. She cursed under her breath. Up she went until she reached the second floor.
The first room was clearly not his. There was a large flowery sign claiming it to be "Valerie's Room". she opened the second bedroom to find two sleeping forms. She backtracked quickly into the hall. In the third room she was met with luck. It stank of feet and unwashed clothes.
And as she was going to go in...the room became gray.
She could see the things clearly now as they all attacked Jimmy. All of them fought for his life energy, writhing and moaning.
Amelia wanted to puke but she was frozen to her spot. With considerable strength she moved her limbs. It was like walking trough pudding. She had never tried walking trough pudding, but she guessed it would feel like this.
She moved in, while her hand dug trough her pockets until the flat metal disk was in her hand.
"Aler Diu Geshin"
And her whole arm stiffened and thousand of little stings went trough it, as if she had ants running up her arm.
She felt weaker as the ray shot forward, sending them back . Back where?
Amelia wanted to know, but she had no idea.
As the room became technicolor again, Amelia fell to the floor and felt something squishy underneath her. a ketchup packet had burst when her knee had connected to the floor. Groaning she tried to wipe it off.
"You are a pig Jimmy Woods"
---
He was going to die. He felt so very weak and he closed his eyes. Good bye cruel world...and then a light flashed from across his room and the nightmare was broken. He woke up screaming and suddenly a hand was on his mouth. He smelled roses...and ketchup. Did the guy from the other time return? It had been two years since! He couldn't possibly want to harm him...he did not know where he lived? He struggled against the hand for a few seconds until he recognized the voice telling him to shut up. He stopped struggling and finally she pulled her hand of his mouth.
"Amelia" He gasped and grabbed for the non-existing covers.However they were lost underneath his bed. He pulled his jeans over him.
"what are you doing here...and why?"
He looked outside at the dark and then sat up. He pulled his jeans over his boxers and searched for a t-shirt. He was a very skinny guy and his hair was messy.
He still could not believe Amelia was here. The Amelia he stared at. The Amelia he had dreams about. The pretty girl who sat in front of him and despised him. It had to be a dream...and talking about dreams..
the one he just had had been uncommonly nightmarish.
He rubbed his eyes.
"You broke into my house" He said dumbly. She had broken into his house. He did not know if he was pleased or terrified. Maybe even ashamed after all his room did not smell like roses or even fa-breeze. He reached for the can of Glad but only found an empty soda can.
"You know we can't have sex here...my parents are in the other ro-
The blow sent him back. She had a good punch. His cheek throbbed.
"what else do you want me to think? You are here...in my room and kneeling on my floor"
"Not because I have any other choice" She hissed.
Still recovering from the hit Jimmy waded trough his mess until he found a chair. He swept the soda cans and cleaned it with a dirty t-shirt. Well at least he hoped it was dirty.
"here you go" He muttered.
"Jimmy Woods...You are a pig!" She accused.
He shrugged his shoulders "i am not the one who broke into a house. I could call the police...have you arrested for breaking and entering...maybe even with attempt to sexually abuse me"
"Sure...everyone knows you are the perverted one..."
Crossing his arms he yawned "but, I am not the one who is here uninvited"
His dirty socks hit him in the face.
"Ugh" the smell was overwhelming "you are not who I thought you were"
He leaned forward grinning "wait till I tell my friends that you were in here, practically begging me...but I said no"
"because you are a fag" she muttered.
Finally she stood up and wiped the ketchup off with a piece of clothing she found by the bed.

"Come with me, I need to tell you something" She said heading for the door.
"why should I? If you have something to say, say it already....I need my sleep" and to prove his point he stretched on the bed "you can join me if you want to"
"uff" his breath went out of him. For a while he closed his eyes and counted until he could finally breathe once more. He really should not leave heavy things laying about. The snow globe he had gotten for Christmas hurt real bad.
"Fine, I will go" he looked for his shoes and a pair of socks that did not feel too dirty. They were careful down the stairs. One of them creaked. He locked the door behind him .
The night was cold and he regretted not bringing a sweater. Rubbing his arms for warmth he followed Amelia down the road, past all the nice little houses into the other neighborhood. The houses were the same, neat with clean lawns and porch lights on. He looked away from one. That was the place where he almost gotten raped. Well not raped, but something freaky had happened there. Maybe it would have been best to actually have been raped instead. Maybe his mind would block it out and he wouldn't go insane. Or at least his parents would have a reason to understand why their son was so strange.
But then thinking about it again he decided he was glad he had not been raped.
"where are we going Amelia...listen if it's about that time I borrowed money from your brother...I already said I am sorry"
She turned and glared at him "you stole it from my brother....a six grader!"
He smiled weakly "I said sorry"
"Okay it's not even about that...It's about...what you saw in math class...and what happened in your room"
"Okay...I'll stop looking at you...in math...and I really did not mean what i said about having sex"
"You are an Idiot Jimmy Woods" She snarled and went on until they hit the park. There she went into the dark parts, where a random cop would not see them.
He sat under the slide and wished he had a pen. Maybe he could have written things on it. Something along the lines of "Jimmy was here" but with a Z to make it cooler...
yeah
"Jimmy waz here"
"So why are we here...lend me your sweater. It's cold"
She pinched him and he rubbed his arms. "You don't need to be so violent..."
But he realized she was not listening. Instead she looking ahead into the other houses.
"there are things we can see...things we can hear...that others can't...Jimmy we are special. There are others like us...but only very few..we have to change the world. do you understand what i am saying?"
And Jimmy collapsed into wild raucous laughter.
Was she serious? He laughed some more until tears were streaming out of his eyes. "Special....specially retarded do you mean?"
He hugged his stomach and added "how you say it makes us look insane...are you insane Amelia...our poor crazy little Amelia"
But she was looking at him seriously with nary a smile in sight.
He stopped laughing "are you serious?"
---
Never in her life had she felt so violent towards another human being. Not even towards Dr. Heirich and he was a cold hearted son of a bitch. But she had to convince Jimmy to go outside with her and that had been a pain.
They sat underneath the slide and she clenched her fists and controlled herself. He laughed and laughed and then made his oh so funny little snippets until Amelia wanted to fill his mouth with sand.
"That's enough" She bit off but he continued to snort finally he stopped himself.
"Of course I am serious. Do you really think I feel like entering someone's house...yours to begin with and make you go outside...why would I do that? I secretly like you and want to make out ?-
"maybe" said Jimmy with a sly grin.
Her fist connected with his face.
"The day I want to make out with you Jimmy Woods will be the day you become a man...not some pussy excuse for a sophomore" She pushed her glasses up and stared the other way. This really was growing tiresome. He could never take anything seriously and..She wrinkled her nose. He stank of dirty clothes and sweat.
"There is no need to be so harsh" He murmured, but she was sure he was smiling.
Amelia groaned and stood up. She walked around the park for a while, measuring how she was going to tell him the rest, how she was going to stop herself from killing the guy. She really should go to anger-management classes. It seemed she could not go a day without getting angry, without doing something violent...
Well that was not true...only with Jimmy and Dr. Heirich.
She came back and sat down again.
"When I was fifteen a man cornered me by the bathrooms. I was at the mall and he injected something into me. As I struggled against him I was able to see his face. His name is Dr. Alexandre Heirich. I found his name and photo on the internet one time. Well a few months later, after he had shot whatever he did into my bloodstream I began to hear things. I saw things...and I felt weak after this things happened. I thought I was going insane...My mother drugged me practically every night until I was a zombie..But the drugs only helped temporarily. Soon I was seeing the things but I could do nothing about it. I was too drugged up. One night I did not take the pills and ran away from home. I made my way to the city where Central is located. "
"what is"
"don't interrupt me Jimmy Woods. "
"Okay"
"Central are the offices where Dr. Heirich is located. He has the labs there. I made m way there. I slept by the bus station and when the offices were opened I asked for him. After a lot of arguing I ran into his offices..He told the security guard to let me...and then he explained.
We are his little experiment. Back then he told me I was the only one...Today I found out there is ten of us. There are this creatures who have cross into our world from another place. They feed off life energy. They suck everything that is alive...dry. Dr. Heirich refuses to tell me how they crossed over...why they did...anything too important...but he gave me this" She pulled out the flat metal disk.
She handed it to him "it emits a light that drives them away. I do not know if there is something within the thing...or if its the metal...or why it does it...but we are in danger...these things are attracted to us more...and the rest don't know what is going on...you see Jimmy...we are an experiment...Dr. Heirich doesn't care what happens to us. If we die, we die...if we live then we live..."
And she was quiet for a long while. She felt light, because there was someone who was in her secret...because this someone was going trough the same thing she was.
She breathed out and felt her eyes begin to moisten and her nose became itchy. Her throat hurt. She had carried this for so long.
"My parents think I'm insane" she chocked out. Her legs were drawn to her chest and she rested her head on them.
"In school they think I am odd...weird...strange..crazy..whatever you want to call it" her voice sounded wobbly.
"i swear this is the truth. You saw them Jimmy...the things in class and then in your room. I saved you both times. I did. I swear"
And then she was crying. Sobbing like she had never done before because now that she had said it, it couldn't possibly be a lie. She clenched her fist and cried .
"it's not fair..."
Her parents thought she was crazy and rarely wanted her at home. Right now that it was so late they probably thought she was out there doing drugs or having sex. They probably were waiting until she got arrested or reached eighteen to kick her out of the house. Her little brother was afraid of her and she had no friends at school. Only Jimmy had stared at her. Only Jimmy had smiled at her...and even though he was a jerk who had perverted thoughts all the time he did not draw away form her like she had the plague. He probably did not even know what the plague was...but still. He was like her.
"You believe me, don't you Jimmy? "
---
Flayke was ten years old when he was diagnosed. He had always known how to blend in - how to show people he was like them without actually being like them at all. He had always known he was strange... but only when he turned twelve did he discover exactly how strange.

"Your son is a sociopath."

He would always remember those words, and the effect they had on his parents. Living with them, it was inevitable that he would eventually see them cry. In fact, he had seen them cry many times before, but not like this. He himself had even cried... for attention... for sympathy... for anything except to express real emotions. After all, he harbored none of these... except two. Fear. Wrath. Nothing else. He had always been an empty shell, yet he always managed to study the others... to gain the information he needed to fit in. His parents were always so pathetic... they didn't know how to deal with him, especially when he started killing the neighbors' animals - and enjoying it. He would apologize, of course, but only to get out of it. Really, what other reason could he possibly have? They were trying to teach him to be polite... but that was all. They knew, even before his diagnosis, that he would not feel anything. No remorse... therefore, he was not really apologizing.

Now Flayke was sitting in the classroom... he was sitting there and pretending to take notes, but in reality he was drawing something in the journal in front of him. It was a new game he had made up a little while ago, a game that he thought he would really enjoy. Actually, it was possible that it could kill a person, but it was this one thing that gave him enjoyment - games. This particular game consisted of a contest to see whoever could touch fire for the longest... for whoever could endure the pain without showing any emotion. Of course, he knew he would always win at the games he made... it was only reasonable. Why would he make them if he wasn't going to win them? Of course, in most of his games, the winner would always choose how the loser died, so it might have been wise not to actually play any of these games... but the thought of them made his skin crawl with excitement.

He felt something cold surround him in the next few seconds, and he looked up in a moment, suddenly feeling cold and tired... he could see something coming out of the other students in class. To be honest, he wasn't sure how to react to this, but his body seemed to need no instruction... immediately it began to feel weak, like that of a bucket being drained due to holes in the bottom, and then, he fainted.

Strange, he thought in the last second before his world went black. Very strange...
---
Everything matched.
And that was the funky thing that was bothering him at the moment. Everything she had said matched what had happened to him. It made sense. He did not want it to make it sense. He wanted it to sound so out of this world that he could continue with his laughter and ignore her. Call her crazy, snort behind her back.
Tell all of his friends about the weirdo from math class.
However it all fit in. He scratched his head and sighed. Now she was crying, and not the cute sort of crying where you are about to go aww..
But the sort of crying that embarrassed you and made you want to run away. Or sit down and bawl your eyes out too.

"I"
He began but did not continue. It all seemed so unreal. Yes he played video games, but they were all about shooting, beating guys up, stealing cars and banging hookers in the dark corners of the city before killing them and taking back your money. He did not read much. Reading was for losers and old people. The movies he watched were about mafias shooting each other up, drug cartels and underground secret fighting clubs. They were about racing and about hot girls. He had never really been interested about science fiction. He hated star wars and thought it was boring. Lord of the rings had no appeal and even Anime seemed sucky.
There was no possible way he could believe this.
But it all made sense. He too had been injected and he too had weird dreams and yes he did remember those two times.
"I see" He finally was able to say. It was not a joke. This was serious.

Her bawling subsided and finally Jimmy nodded his head "I believe you Amelia...but will anyone else believe us...what if they lock us up...what if...what if we are sucked dry and we die" what if I never see see Sarah the cheerleader and her red thong.
But he grimaced. He should not be thinking about that.
"we find them" Said Amelia.
"How?"
"There has to be a way to recognize them...a way for them to seek us out"
Jimmy picked up a few pebbles and threw them away. That would be like finding a needle in the haystack.
"but...they might be anywhere...anywhere in this world" Said Jimmy.
"no...only in this city...only in this area...he wanted his lab rats to be connected" She answered.
Jimmy shivered. It was so weird being referred as a lab rat. When she said that he imagined himself in a large chamber with a labyrinth in front of him.
"okay boy find the cheese"
"huh?" she asked.
"oh nothing I was just thinking...never mind"

They sat there for a while staring at the darkened park. Jimmy heard the siren of the ambulance far away and he finally stood up.
"I need to go to school tomorrow" He said as if she did not know.
"yeah" she answered.
And they parted ways.
Jimmy returned home and opened the door. He could not go to sleep.
His entire world was shifting. He thought that when he had tried to commit suicide...that that would be the biggest thing in his life...or when he joined that cult. He had imagined that joining that cult would be the thing that would change his life.
But this was bigger than that. This was bigger than him. It made him want to go ahead and commit suicide again. But back then he had been desperate and hopelessly confused. Now it all made sense and he could not possibly leave Amelia to deal with it all.
At school he sat in English and almost started to fall asleep, but sudden;y it became gray once more. They were coming and even though he knew it.
He was not ready.
In what class was Amelia?
It became gay. He struggled to move away from the things. But they continued to come...and out of the corner of his eye...he saw someone faint.
---
The teacher was staring at her again. She frowned at the paper in her hand and tried to make herself smaller. It was a test but they always thought she cheated. They were always staring at her. She finished writing her answers and returned her test. It was not even that big of a deal. a test on the history of the world and the teacher was a dumb ass who had no idea what was what.
She put her head down on the desk and closed her eyes. The bell would ring soon and lunch would begin. Her head itched. She wished she had time to take a shower this morning, but her mother had locked the doors and the windows. She had slept on the patio. She had not slept well. dreams kept coming back and she had been cold. The next day she had just changed clothes and brushed her teeth. All of course under the watchful gaze of her mother. She hated the witch.
Always caring what people would say. People would not think well of her if they only knew she let her daughter sleep outside.
"Amelia come here"
She sat up and with a yawn went to the teachers desk.
" If you can do this well on tests why can't you turn in homework for goodness sake. You will not pass on test scores alone. There are seven missing assignments... I will give you this packet, have it done and turned in by monday and i will give you an eighty for homework grade"
She took the paper and wanted to smile at him. Even though this teacher was a dumb ass , he cared for his students...he actually did.
She sat back down and began to fill in the blanks when suddenly she felt her entire body go cold. They were coming, she could feel it. But it was in a bigger number than Usual. She tightened her hoodie but it was still cold. She stood up and thought of Jimmy,
He had no protection. She had to reach him. The classroom turned gray. She turned to the door and fled. There was still color in the hall but it was slowly vanishing. The gray replaced the colors and she looked down at her hands. they stilll had color. She ran faster until she stopped to look outside. It was all gray.
What was happening?
it had always been a small space. They had always fed in a small space, but now the ring was bigger.
Where was Jimmy?
In what classroom?

She sped and turned down the hall, past the English class. She came to a stop and watched horrified. The monsters were not your usual ones. These one were clearer and bigger. Their mouth was open and with their hands they held a girl. The body of the girl was slowly being sucked dry. She searched in her pockets and finding the metal object she tried to vanish the monsters. The blue light was emitted and it hit the monster straight on, but he only stepped back.
The blow had been small and these monsters were stronger.
"Amelia!"
She turned towards the voice.
Jimmy was against the wall.
she continued to murmur under her breath , from her hand rays of light would shoot forward, but the monsters would not go.
The clock on the wall had stopped. The lights were off. There was only this grayness. Pure gray. Her classmates were shades of gray.
She wanted to compare this to a tv channel where only dots of gray dance about. The creatures though were blue and almost transparent. As if water walked, but their mouths were black . An empty void.
She took out a lighter and turned it on.
"this is no time to start smoking"
She glared at Jimmy "I am not smoking...ugh" She concentrated on the flame and as she began to weaken, the flame grew stronger. The light the flame emitted began to eat at the gray. She motioned to jimmy and he moved towards her.
"flame also works" she said with a gasp. Her hand was shaky, and rivers of sweat crawled down her face.
"It makes you real weak to do this" the flame flickered and she grimaced with the power it took to make it remain the size it was.
"I have no idea what is going on...but the entire school is in this gray bubble...it seems the stronger we get...the more we attract them...if we survive remind me to kill the bastard who did this to us"
She grunted and pushed the flame towards the monster who had the girl. A piercing scream filled the room and Amelia fell to the floor with a cry. The flame went out but the girl was on the floor, crying. Amelia looked at her with a puzzled expression. She can see them. She can move. The others in the room were frozen like statues and the monster was gone.
"She is one of us" Amelia said and Jimmy nodded. She went to see the girl and was surprised to see Alice. she should have known. It was always the weird people.
Alice
She had long blond hair that fell in thick mass down her back and curled at the ends. She always wore it with a bow and she dressed in a pink dress that reached her knees. She wore silver flats . She was small and blue eyed with pale pink lips and rosy cheeks. Her eyelashes were dark and thick while her fingers graceful and elegant. At her sixteen years people could not help but compare her to a child and many had refused to give her work because of this.
She however had a violent temper. At the merest provocation she would lash out and damn the consequences. In her moods she was never shy but cried for little things and laugh hard for funny jokes and ate as much as her little heart wanted. Amelia grimaced. Last year she had eaten two pizzas in the cafeteria.
This girl had no friends. They all disliked her because she was too loud and different.
Alice looked up at them. Her hair had fallen out of the bows in her head.
"fucking shit, it happened again. I told ma that it would and that he freaking voodoo spells would not work...fuck fuck fuck"
Amelia's eyes almost popped out of her head.
She had never heard someone curse so much in the space of a few seconds.
She seemed like the kind who still had tea parties and teddy bears.
The girl stood up. She scratched her nose and pushed the strap of her bra over her shoulder "what the hell is going on...you guys are never in one of my dreams"
Amelia sighed "this...this...is not a dream"
---
9 posts here • Page 1 of 1
Arcs are bundles of posts that you can organize on your own. They're useful for telling a story that might span long periods of time or space.
There are no arcs in this roleplay.
There are no quests in this roleplay.
Welcome home, Promethean. Here, you can manage your universe.
Arcs are bundles of posts from any location, allowing you to easily capture sub-plots which might be spread out across multiple locations.
You can create Quests with various rewards, encouraging your players to engage with specific plot lines.
Settings are the backdrop for the characters in your universe, giving meaning and context to their existence. By creating a number of well-written locations, you can organize your universe into areas and regions.
Navigation
While not required, locations can be organized onto a map. More information soon!
There are no groups in this roleplay!
By creating Collectibles, you can reward your players with unique items that accentuate their character sheets.
Give your Universe life by adding a Mob, which are auto-replenishing NPCs your players can interact with. Useful for some quick hack-and-slash fun!
Locations where Mobs and Items might appear.
You can schedule events for your players to create notifications and schedule times for everyone to plan around.
Add and remove other people from your Universe.
The Forge
Use your INK to craft new artifacts in The Insane. Once created, Items cannot be changed, but they can be bought and sold in the marketplace.
Notable Items
No items have been created yet!
The Market
Buy, sell, and even craft your own items in this universe.
Market Data

Market conditions are unknown. Use caution when trading.

Quick Buy (Items Most Recently Listed for Sale)
None
Discussions
Topics

Replies
Views

Last post
Most recent OOC posts in The Insane
oh god, i have yet to find out...if the rest who joined will truly reply.
But right now its me, then crius and whoever posts next.
Hello, is there a posting limit/maximum? Uhm.. a posting order? XD
This is the auto-generated OOC topic for the roleplay "
The Insane
"
You may edit this first post as you see fit.