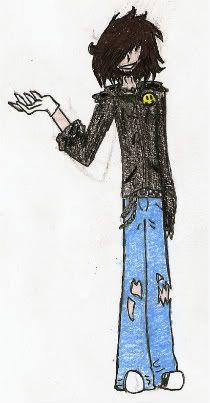 Age: 20
Breed: Hellhound
Sex: Male
Sexuality: Bisexual
Theme Song:
- They're Not Horses, They're Unicorns ; Bayside
- I Write Sins, Not Tragedies ; Panic! At The Disco
- New Perspective ; Panic! At The Disco
Reason for going to prison: Numerous violent murders that were at first thought to be the work of some escaped animal. Victims appeared to be mauled, with their throats torn into.
Appearance: His form could not be described as intimidating - his frame slender and height only 5'6", his strength slightly greater than his visible muscle. His skin is pale, his hair wavy and roughly shoulder-length, appearing dark brown in some lights and black in others. His eyes are black-brown like his hair, but almost always hidden by his bangs. He often has a very short beard, but sometimes he'll shave this. His features are, if not quite handsome, not unpleasant to look at. His smile, though charming when he wants it to be, is rather chilling. His attire consists of a black zipped-up hoodie and light blue jeans that have ragged holes in the knees, both quite obviously old and dirty. The front of his hoodie is adorned with numerous safety pins and a smiley face button. The two chains at his side are from his wallet and pocket watch. He always wears white dress gloves and rarely takes off his black Converse high-tops.
Skills: Olfaction(sense of smell), music(keyboard/guitar/vocals)
Likes: The night, comfy blankets, sweets, blood, canines, 18th century clothes
Dislikes: Automobiles, certain average public places such as department stores or restaurants, rudeness, sunlight, high-pitched sounds
Fears: Automobiles, certain average public places, high-pitched sounds
Fetish: Enjoys blood, but it's nothing extreme.
Violence Level: Probably around a 7. Isn't violent much of the time, but when it rains, it pours.
Occupation before arrest: None, homeless.[/center]