Jellicle Cats come out tonight
Jellicle Cats come one come all
The Jellicle moon is shining bright
Jellicles come to the Jellicle Ball

Jellicle Cats meet once a year
At the Jellicle Ball where we all rejoice
And the Jellicle Leader will soon appear
And make what is known as the Jellicle Choice
When Old Deuteronomy, just before dawn
Through a silence you feel you could cut with a knife
Announces the cat who can now be reborn
And come back to a different Jellicle Life
For waiting up there is the Heaviside Layer
Full of wonders one Jellicle only will see
And Jellicles ask because Jellices dare:

Who will it be?
Who will it be?
All the Jellicle cats meeting again, without Grizabella, some wants to be chosen and some not. Some will scheme to get it, some will be by the book. Who will it be chosen this year?
Up, up, up, past the Russell Hotel
Up, up, up, up, to the Heaviside Layer!
Characters:
Name: Aspargus/ Gus Description: The theatre cat. One of the oldest tribe members. He was once an actor. OPEN
Name: Bombalurina Description: he's a flirtatious red adult female cat. Sister to Demeter. Mother to Victoria or Electra. OPEN
Name: Bustopher Jones. Description: A fat cat, a "twenty-five pounder." Dresses in a snappy tuxedo and spats. Respected by all, as the upper class "St. James's Street Cat". OPEN
Name: Demeter Description: She is very skittish and cautious cat. Had a relationship with Macavity,sister with Bombalurina and mother to Jemima. OPEN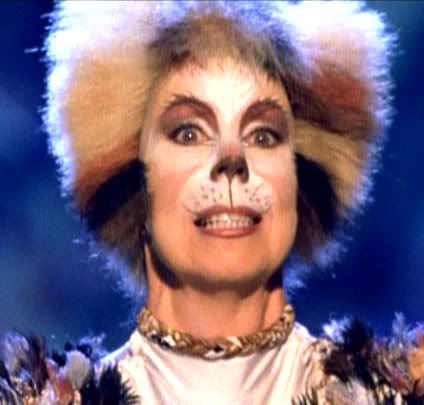 Name: Jellylorum Description: A female who watches out for the kittens, along with Jennyanydots. She has a close relationship with Gus. OPEN
Name: Jemima Description: A wide-eyed beautiful innocent cat with an ethereal voice, her best friend is Victoria. she truly hears Grizabella's plea for re-acceptance and encourages. Taken by RPgamergirl
Name: Jennyanydots Description: The old Gumbie cat. She sits all day and rules the mice and cockroaches at night, forcing them to undertake helpful functions and creative projects. Also, takes care of the little kitten with Jellylorum. OPEN
Name: Macavity Description: Macavity (also called the Mystery Cat, the Hidden Paw and Napoleon of Crime) is a master criminal, he is too clever to leave any evidence of his guilt. Had Relationship with Demeter, maybe the father of Jemima. OPEN
Name: Mr. Mistoffelees. Description: A young black tom with some white who has magical powers which he doesn't fully control. OPEN
Name: Mungojerrie Description: Half of a pair of notorious cat-burglars, with Rumpleteazer. OPEN
Name: Rumpleteazer Description: Female half of a pair of notorious cat-burglars, with Mungojerrie. OPEN
Name: Munkustrap Description: A black and silver tom who is storyteller and protector of the Jellicle tribe. He is thought to be second in command after Old Deuteronomy. Relationship with Demeter. OPEN
Name: Old Deuteronomy Description: The lovable patriarch of the Jellicle Tribe. He is very old and dignified. Leader of the tribe. OPEN
Name: The Rum Tum Tugger Description: The ladies' tom. His temperament ranges from clownish to serious, and often sexual however, he is always flirtatious. OPEN
Name: Skimbleshanks Description: he railway cat. An active orange tabby cat, who lives on the trains and acts as an unofficial chaperon to such an extent he is considered rather indispensable to the train and station employees. OPEN
Name: Victoria Description: A pure white kitten gifted in dancing. The Jellicle Ball begins with her solo dance. Best friend to Jemima and Mr.Mistoffelees. OPEN
Name: The Rumpus Cat Description: A spiky-haired cat with glowing red eyes, as mentioned in The Awefull Battle of the Pekes and the Pollicles, seen as a sort of superhero figure among the Jellicles. OPEN
Other characters: Alonzo, Bill Bailey, Cassandra, Coricopat and Tantomile, Electra, Etcetera, George, Plato, Pouncival,
1. Please post two or three times a week. If you are absent, please inform in the OOC forum. I hate waiting for players to post, it takes the fun out of it.
2. I recommend seeing the musical, but also reading the site is good too.
http://en.wikipedia.org/wiki/Cats_(musical
)
3. Have fun! (If you don't you are banned, Just kidding!)
4. Reservation of characters for 48 hours, didn't send a character yet, it will be open again.
Taking place in...
There are no characters in this universe yet!
0 posts here • Page 1 of 1
0 posts here • Page 1 of 1
Arcs are bundles of posts that you can organize on your own. They're useful for telling a story that might span long periods of time or space.
There are no arcs in this roleplay.
There are no quests in this roleplay.
Here's the current leaderboard.
There are no groups in this roleplay!
Welcome home, Promethean. Here, you can manage your universe.
Arcs are bundles of posts from any location, allowing you to easily capture sub-plots which might be spread out across multiple locations.
You can create Quests with various rewards, encouraging your players to engage with specific plot lines.
Settings are the backdrop for the characters in your universe, giving meaning and context to their existence. By creating a number of well-written locations, you can organize your universe into areas and regions.
Navigation
While not required, locations can be organized onto a map. More information soon!
There are no groups in this roleplay!
There are no characters in this universe yet!
By creating Collectibles, you can reward your players with unique items that accentuate their character sheets.
Once an Item has been created, it can be spawned in the IC using /spawn Item Name (case-sensitive, as usual) — this can be followed with /take Item Name to retrieve the item into the current character's inventory.
Give your Universe life by adding a Mob, which are auto-replenishing NPCs your players can interact with. Useful for some quick hack-and-slash fun!
Mobs can be automated spawns, like rats and bats, or full-on NPCs complete with conversation menus. Use them to enhance your player experience!
Current Mobs
No mobs have been created yet.
Locations where Mobs and Items might appear.
You can schedule events for your players to create notifications and schedule times for everyone to plan around.
Add and remove other people from your Universe.
The Forge
Use your INK to craft new artifacts in The Jellicle Ball!. Once created, Items cannot be changed, but they can be bought and sold in the marketplace.
Notable Items
No items have been created yet!
The Market
Buy, sell, and even craft your own items in this universe.
Market Data

Market conditions are unknown. Use caution when trading.

Quick Buy (Items Most Recently Listed for Sale)
There are no characters in this universe yet!
None
Discussions
Topics

Replies
Views

Last post
Most recent OOC posts in The Jellicle Ball!
May I reserve Rum Tum and Mistoffelees?
This is the auto-generated OOC topic for the roleplay "
The Jellicle Ball!
"
You may edit this first post as you see fit.