---
---
█████████████████████████████████████████████████████████████████████████████████████████████████████
---
---
"There's Pieces Of You In This Town, And They Carry Me Along."
Strawberries & Cigarettes
|
Spanish Sahara
||
Memories
|
Pieces Of You
|
The Way We Were
|
When We Were Kids
|
Leave A Light On
---
---
█████████████████████████████████████████████████████████████████████████████████████████████████████
---
---
F U L L

X

N A M E
Erin Aleena Monaghan

N I C K N A M E (S)
Rin/Ri | Most common
Al/Lynn | Rarely used (old inside joke)doesn't mind it

B I R T H D A Y
March 15th, Pisces

A G E
Twenty-Five

S E X U A L I T Y
Big ol Lesbian

E T H N I C I T Y
Caucasian

H O M E T O W N
Brooklyn, New York

H E X


#800000
---
---
█████████████████████████████████████████████████████████████████████████████████████████████████████
---
---

H E I G H T & W E I G H T
5' 7" (170cm) | 125lbs (56kg)

S T Y L E & A P P E A R A N C E
Having a creamy pale complexion, naturally dark hair (But platinum blond when dyed) neatly shaven down on either size in a low-buzzcut, sharp features and an often intimidating demeanor at first glance, Erin takes on after both her mother and father. There is an undeniable bit of masculinity among her features, but Erin was never bothered by it. In fact, there is something handsomely dark but beautiful about the way she looks. People tend to say that her eyes can be hypnotic, two slightly dull orbs, a mix of moss green and honey. Holding your gaze until you break eye contact. Erin's by no means unnattractive, least by most people's standards. But Erin sees herself as nothing more than average and carries herself about to the beat of her own drum, never really caring how she's viewed by others. She has countless tattoos that she has long since garnered over the years. Most of which are covered due to her choice in clothing. But most notably the tattoos that are visible half the time are the one behind her ear, and the three on either one of her forearms. As for piercings, Erin has 8mm gages in either earlobe, and a small platinum hoop nose ring that she's had since Erin turned sixteen. Erin holds an air of confidence and self-assurance, and a bit of cockiness, but for those that know her, know that she is rather insecure and constantly nervous. And that the confident side is simply a facade.

As for any oddities or scars, she has a few. Mainly from broken glass from one shattering from her earlier days as a bartender, or the accidental slip of the knife while cooking litter the top and palm of her hands. She has a small scar that runs along the backside of her right hip, from an old accident a few years back when being hit by a speeding car, a small piece of shrapnel was wedged into her side. A small scar on her side, which she has never discussed, but is obvious upon inspection to be a slightly aged bullet wound. And lastly, she has two small but rather noticeable scars on her left wrist, but only when someone truly notices it or looks very closely. Which is usually why she wears a variety and multitude of bracelets and accessories. Something that goes with her style, as well as helping to prevent anyone from noticing her scars that she's rather not talk about as she isn't exactly proud of those. As for choice of clothing, Erin wears whatever feels more comfortable for her that day and her mood. Her sense of style isn't anything special of note, except that it fits her and demonstrates how exactly androgynous she is in every aspect. Her preferred go-to outfits are anything that is a t-shirt and jeans, to button up short sleeves with jackets and boots. Essentially, the cliche 'gay dad' vibe if you wish.
---
---
█████████████████████████████████████████████████████████████████████████████████████████████████████
---
---

L I K E S
Music, it shouldn't be surprising that Erin is a big music head considering that the bar she works at has made itself known for being the place to go to for good food and drinks as well as music | Singing and playing guitar, while she isn't strictly speaking the best, she has a love for sitting in her room and just letting herself get lost in the music, something that few people get to see anymore | Romance, it doesn't matter what it is she is a love-struck puppy. She hasn't been into hookups or one night stands as much like she used to back in high school, as long as it means something she is willing to give it a try at least once | Sweets, anything from candy to cakes and muffins is an immediate way to win her over | Small gestures of kindness, anything from a compliment to showing someone cares is an easy way to win her over even in the smallest of ways | Movies, anything from horror movies to romance movies can garner her attention | Rock climbing, spelunking, and all-around extreme sports are something she loves, and as such she knows some of the best hot spots for a good time in the city | Her job, not only doing something she loves but being able to have her own business has finally given her a sense of being stable and in control | Card games, poker, and gambling, anything that costs her money or the thrill of possibly losing is something she looks forward to | Alcohol, from an all too early age she was hooked and has managed to cut back on it in recent years, but has proven to be skilled in coming up with new drinks that cause people to keep coming back to the bar | Making sure people are having a good time, while also being safe, she's a thrill seeker, not reckless | Adrenaline rushes, something about the feeling one gets from doing something one would consider reckless always helps liven her up | Having a good time with friends and those she holds close | Making sure her friends are well looked after and taken care of | Flirting, she is easily one of the biggest flirts out there and isn't ashamed of it. Seeing the looks on people's faces or their reactions from her advances or flirtations are something she usually enjoys, always in a harmless way though | Certain cigarettes, it helps calm her down, she's cut back in recent years| Tattoos, whether on herself or someone else, it isn't much of a shocker considering how many she has of her own

D I S L I K E S
The sound of loud chewing, something about it causes her skin to crawl and grosses Erin out | Loud or sudden noises, especially if the cause is unknown | The smell of something burning, especially toast and coffee | The smell of lavender, vanilla, and certain cigarettes and poorly made or cheap pot | Having a guitar string break while playing, nothing angers her more than a busted chord | Bigotry of any kind, even if it's a joke, Erin doesn't find it funny and will get loud over it in a split second | Erin doesn't like having to talk about her past, and even being asked about it in pure curiosity can shut her down or ruin her mood in an instant | Large amounts of blood, she can handle regular amounts, but seeing large amounts is stomach turning and can cause her to be sick

---
---
█████████████████████████████████████████████████████████████████████████████████████████████████████
---
---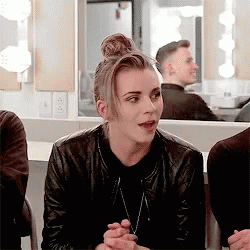 P E R S O N A
Contrary to the first impression that she give off, and her rather rough-looking exterior, Erin is quite the opposite of how she may seem. Upon first seeing her, people assume that she is an angry, angsty 'stick it to the man' sort of rebel, when while yes that is partially true, it also couldn't be the farthest from the truth. Once someone can look past the rough, tattoo-covered exterior, that can see that she is an incredibly kind, caring, outgoing, and loving individual who, that once given the chance could prove to be one of your best friends. She is also what many would refer to her as a "fucking dumbass with a good heart."

She is rather possessive and clingy, once getting close to someone that is, but for the most part, she will give you your space and let you be. When not at work at the Bar, Erin can be seen anywhere in the city. From the local bars and clubs having a good time, or even sitting in the local coffee shop with a book in her hand. Whatever the case, Erin is a very active and outgoing person and simply wants to be someone's friend. Whether that's the older sister part in her or not is uncertain, but Erin will easily become protective and overbearingly so at times when it comes to someone she has known enough and care for.

But at the same time, Erin is very reserved in most aspects. Never prying into anyone else's business or asking questions they probably shouldn't. She's always an open ear to someone and a shoulder to cry on for whoever may need it. Erin is often a very touchy-feely person, usually having to either be touching someone or being close to them in any way. From sitting next to someone, or barely having an arm or leg touching very much unlike her brother Eoin. But if someone tells her to stop or that she's making them uncomfortable, she will and give them all the space they could want. When it comes to romance or relationships, Erin is a hopeless romantic, finding simple gestures and actions to be worth more than the larger gestures. Like someone holding a door open for her or giving a genuine compliment means more to Erin than receiving a gift. As surprising as it may seem, Erin is also the type to make a gift for someone out of something simple, like making a necklace or bracelet from simple twine and simple pebbles or gemstone, and make it something beautiful, or simply drawing an exact replica picture of someone or something and giving it as a gift. Whatever the cause, small gifts and presents aren't an uncommon thing to receive from her.

Aside from the kind and caring nature of Erin, she holds a much darker side. Which, when one knows of her and her brother's past it's not much of a shocker why she can be so abrasive and cold at times. While she can be an absolute sweetheart and want the best for people, there is a part of her that would want nothing more than the filth of the earth to be done away with. One thing people know about her is that she doesn't play around with idiots or trouble starters. If someone starts something in her bar, it results in immediate kick out and even a ban from ever stepping foot back in her bar again. She can easily be your best friend, or easily be your least liked person, depending on how you treat her, she will treat you. If you treat her with respect and kindness and don't cause any trouble at the bar, she will easily let small things slide and even give a few free drinks and food if she knows if you're having an off day or struggling with money. But the last thing you want to do is bite the hands that feed you, and wouldn't recommend crossing her or doing her any wrong, as she could easily make your life hell. People have also noticed she has a short fuse, which can be started from anything, rude comments or harassment towards her which she handles more, but the last thing you do is disrespect others in her bar and you'll soon see yourself being dragged out. In short, she can be your fiercest and most loyal and caring friend who would die for you, or could easily be something terrifying that you wouldn't dare double-crossing or lying to.

But ever since the incident with Eoin, she's become rather cynical in nature. Distanced herself for a while as she tried to piece everything together as reality had hit her. Losing Eoin all sort of messed her up for a good while. It was practically coming to terms with losing her other half and best friend. Something she hoped would never happen, and when it did...It was too soon. All too soon. She's occasionally get irritable and agitated about certain topics and around certain people. She used to be someone filled with so much life and excitement, which has slowly started to come back but, for the most part she has been often referred to as a cynic and rather bitchy by people she isn't exactly close to. But those that have known what she's been through may say otherwise, as they know she wasn't always this way.


---
---
█████████████████████████████████████████████████████████████████████████████████████████████████████
---
---

H I S T O R I A

(TW/CW// Mentions of death, drugs, domestic abuse, and gun violence throughout. Read history with caution)

It all started when a young and dumb couple decided to get married at an all too young age. They were irresponsible and immature, having a family at such a young age, nonetheless in New York City was a mistake, and that was putting it lightly. They were undeniably infatuated with each other and they considered i love over lust or being dumb and young. It was about three months from the delivery date for their first child that the news hit them, they weren't having just one child, but twins. And that fact didn't change anything, they were more excited now to welcome their two kids into the world and raise them in a loving home. But, life had something else in store.

During a stormy, late night back home. The parents' car had been struck by a car that ran a red light, killing them both instantly. The twins were only about five years old at the time, and with no kin willing to take them in, they were forced into foster-care. For the next thirteen years, Erin and Eoin had been passed around from one family to another, when they proved to be too difficult and then they were onto the next one. It was an endless cycle, making them feel like they were never good enough or worth keeping around. It only worsened when they were twelve, and Eoin was diagnosed with Asperger's Syndrome, also known as Autism. It didn't change anything about him in Erin's eyes. It just made sense for certain things he did. If anything, it was what made Eoin, Eoin.

Throughout the years, Erin was known for being the more difficult twin out of the two. For her rebellious nature. Always sneaking out at night, to only come back then next morning drunk or high. Often being caught by the current foster parents. She was prone to getting into fight in the schools. Always on the offense and defense for someone who couldn't protect themselves. Especially her brother. Shielding him from any and all harassment he got. While she was known as the outcast among her classmates. Eoin was known for being the know-it-all kid. The golden child, so to say. What others viewed as making him weird or different, Erin saw it as what made him as smart as he was. Sure he had his quirks, but he was undeniably brilliant, and had the potential to do something great for himself. Meanwhile, Erin was running around with less than savory grounds.

It was finally when they both turned eighteen, that Erin filed paperwork to become the legal guardian of her brother. She refused to keep going back to abusive and neglectful families. And she wouldn't abandon her brother. No way in hell would she ever. For the next two years, Erin had taken on odd jobs around Brooklyn in whatever way she could. From street-side performing acts, to weekend shifts at a cafe. Anything to help keep money coming in while Eoin was busy with his classwork as he was attending college for law.

It was only during an off-day that Erin was approached by a man with an offer. He introduced himself as Jaimie Blackburn. He told her that all she had to do, was keep track of merchandise, made sure the orders were properly handled and transported and keep track to make sure it was as it should all be. She figured doing number work with good pay would be decent enough. And she easily accepted. Erin just didn't know what she had gotten herself into until arriving to a were house. Jaimie informed her she'd be keeping track and sale of drugs. Anything from weed and casual drugs, to the extremes like molly, cocaine, hallucinagins, the whole lot. Erin knew it'd be risky, even illegal work, doing drugs trades. But she was desperate to keep herself and her brother afloat and she agreed.

For two years, Erin had been the top person in charge and proved to be rather good in her new line of work. She kept her questions to herself and did her job. If she didn't question anything, it'd be fine. In the years that followed, Erin and Jaimie had sparked a romantic relationship..but, for the first few months it was the happiest she had ever been. But as time went on, Jaimie began showing a darker side to him. Erin would come back to the small studio apartment she shared with Eoin, and he'd ask if she was okay because of a new set of bruises. She'd brush it off and say she was clumsy. Or something happened at work and she was careless. Anything to pass it off as no concern.

But as time went on, the relationship only grew worse. Erin would come back with more bruises than before, her health was declining as she suffered through depressive episodes. But she did just about anything to pass off worry when her friends asked about her and showed genuine concern. She claimed to be fine. That work was just stressing her out and she'd be fine in no time. And then, things seemed to be getting better, but life was a cruel beast. And of course, before things could get better. They only got worse. Much. Much worse.

There was one afternoon where Jaimie came into the warehouse furiously. Mumbling angrily to himself as he shifted through the merchandise. Erin asked what he was looking for and he finally blew up. Yelling and ranting about how they were robbed. How their last order was short and the people they sent it off to weren't having it. How it was now their asses on the line. As Erin tried to calm him down, he hit her again. And that was the last time he ever did it. Erin finally had it and demanded she was done and that they were over. She didn't want this anymore and she was sick of it. This was his problem to solve. Not hers. If she knew when she walked out of that warehouse, that everything was going to crumble, she would have stayed.

One of the following nights. Erin and Eoin were on their way home late one night. Erin didn't know what was going on, but three figured cornered them.all she remembers, were familiar voices, saying how she brought it upon herself and this was all her fault. The sound of a gun went off and tree sets of footsteps ran off into the night. Erin knew what happened and everything that came after was a blur.

The cops were called, interviews and interrogations were had throughout the week that followed. Erin was informed that they knew she was involved in illegal affairs. And they had been waiting to crack down on the warehouse for months. But now that they had one of the leads in custody, they had no choice but to act now. They offered her a plea deal. If she gave them names of those involved, her involvement would be left out of the report and her brother's death would be exempt from any illegal activity. It'd be staged as a robbery gone wrong that left her brother dead.

Erin agreed easily. Knowing full well who those were involved in that night. Jaimie Blackburn. Tyler Montgomery. Jaiden Winters. And a few others. But those three were the three men there that night Eoin was killed. Infact, it was Jaimie behind the trigger. She knew his voice anywhere. The police kept her in custody as the ordeal had been overseen. And after multiple arrests were made, Erin's name was cleared like they said and she was allowed out. As long as she kept her nose clean and out of illegal affairs. She'd be fine.

It's been two years now. Erin has since started up here own bar in Brooklyn and runs as primary bartender. It isn't what she exactly wanted, but she always had a knack for it and seeing her skillet well. It made sense. It's easy enough work, it keeps her out of illegal work and is a fresh start at a decent life. Erin knows her past is bound to haunt her like a ghost. What happened to her brother, the others who were involved and arrested, and god damn Jaimie Blackburn. She hoped he burns for what he did. Prison wasn't enough. She's just thankful no-one knows of her past, except one person. Somehow god damn Lauren fucking bitch-tits Clark, had found out about it all. Erin doesn't know how or who told her. But someone had. It's since put a strain on their relationship, and Lauren has Erin wrapped around here finger. Whatever Lauren wants or gets, Erin does as told. The last thing she needs is her past being brought back up again, and Erin will do whatever it takes to ensure it stays hidden…

---
---
█████████████████████████████████████████████████████████████████████████████████████████████████████
---
---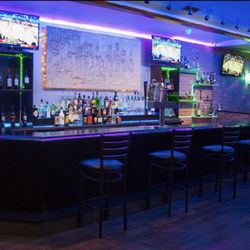 S E C R E T S
TW// Mentions of Drugs, Violence, Death, and Suicide
Legal Record, Erin has a major history with the cops as she had to do some illegal things in the past just to make it by, but she has since cleaned her name and proven to be an upstanding citizen. But, a few years back she was desperate and needed a stable way of income. Which, sadly after being approached by a group, she got one she couldn't refuse. It was simple. She made sure trade trades, transport, and packaging went off without a hitch. It's something she's ashamed about since making amends after the absolute trashfire of a fallout that came later. If she knew then what would have happened, Erin never would have gotten involved. No one within the group knows about it, other than Julian, but even then she knows it could all come out and that idea frightens her more than anything.
Suicide Attempt, She had tried committing suicide four years ago, and had been to rehab for a while to recover after the death of her brother. Thankfully it was after the group dispersed, letting her keep the secret to herself, but something like that can only stay hidden for so long

R E L A T I O N S H I P

X

S T A T U S
Has a history of casual hookups, but is currently very much so single

T A L E N T S
Guitar (both acoustic and electric), drums, and singing, back in high school all she ever did was play her guitar and sing, but as the years have gone on she's left it to being a hobby that she does in her off time | Multilingual, living in one of the biggest cities in America, she grew up meeting thousands of people from all over the world and it isn't a surprise that she has learned several languages over the years, English, Spanish, Dutch, German, Japanese (rather rusty), Danish, Russian, and Mandarin (Chinese) and a few others | ASL, or American Sign Language, this was something she picked up in the past few years and has proven to be rather skilled, it's helped her know how to communicate with those that are verbally or audibly impaired | Unsurprisingly, she knows how to make some of the most complicated drinks to the satisfaction of countless people per day that come to the bar that she works at, and as such, she knows what alcohol has what affects on people | Being able to smooth talk her way through anything, and get whatever information she needs from someone, alcohol is one powerful drug

S T R E N G T H S
Verbal and physical persuasion, whatever the means, Erin is usually able to pull it off, but sometimes things don't always go her way | Languages, from an early age she was able to speak different languages, and as such she is able to understand what others are saying without the other person being aware of that fact, allowing her to know more than she is leading on | The fact that she can put on a false sense of security and confidence, making her seem surer of herself than she may really be

W E A K N E S S E S
Her friends being messed with or brought harm, she hates seeing them in distress and would easily stand up for them if it meant her getting hurt instead | Prone to nightmares, night terrors, and sleep talking if she doesn't take her medication, which often leads to countless sleepless nights and a few health problems | Erin doesn't care much for her personal health, and as such she often looks like she hasn't slept properly in weeks or occasionally forgets to eat as much or as often as she should, which often leads to being light-headed and fainting | Most mentions of her brother, especially if done in an inappropriate and disrespectful manner | Suffers from Depression, Survivor's Guilt, and PTSD, which often leads to spiking episodes

---
---
█████████████████████████████████████████████████████████████████████████████████████████████████████
---
---