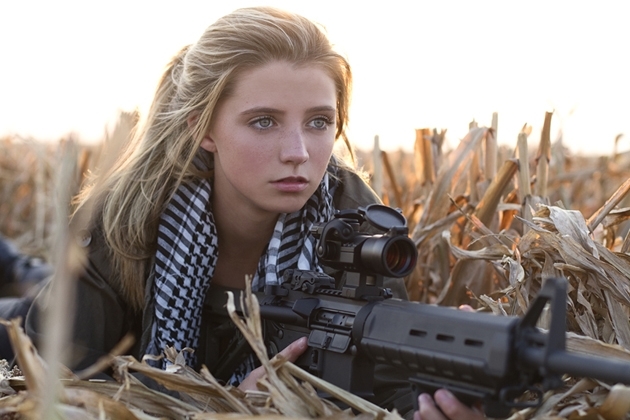 Follow Your Arrow || Kacey Musgraves
---
---
We are born. We die. Somewhere in between we live. And how we live is up to us.
---
---
☩ Full Name ☩


Winter || Knightly || Duke



☩ Nickname ☩


Winnie || Doc || Knightly



☩ Birthday ☩


December 21



☩ Age ☩


Twenty Two || 22



☩ Gender ☩


Female ♀



☩ Sexuality ☩


Heterosexual



☩ Home Town ☩


Fort McMurray || Alberta || Canada



☩ Position Status ☩


Hunter & Medic



☩ Infected Status ☩


Immune || The Cure


---
---
It's more like an absence of sound, almost like nature holding its breath. Like those corny lines in movies where the hero says, "It's quiet, too quiet.
---
---





☩ Describe Physical Appearance ☩


Winter is a very lovely young woman. Like most people now a days she's lean and slightly muscular but still curvy and feminine. She has long pale blonde hair thats usually in a ponytail because its hard to come across a shoulder now a days. Her skin is ivory with a small tan and small white scars litter her back and torso, she receive them when the survivor group she was with in the beginning was ambushed. Her eyes are a pretty ever green. She stands at a good 5'7".



☩ Tattoos? Birthmarks? Scars? ☩


Many small scars litter her body and she has a faded bite mark on the side of her waist from when she was bitten. She has no birthmarks. Even though its the apocalypse doesn't mean you can't get a tattoo, sure its a bit more painful but if you really want it suffer through. She has a tattoo to cover her bite mark. She had the tattoo done by someone she trusted and made them vow never to tell anyone about her bite. 10 ration cards later the person kept their promise.



☩ Clothing Description ☩


Winter's attire consists of clothes that are easy to move in, mosrly consisting of cargo pants or jeans, tank tops, tshirts or long sleeved shirts, a cargo jacket or leather jacket and hunting boots. She has a belt that
holds her knives and hand gun.
Example 1
Example 2
Example 3
Example 4


---
---
What I learned in this tragedy was the eternal lesson of good people going bad.
---
---



☩ Likes ☩


Hunting || Music || Peaceful Silence || Her group || Gummy Candies ||
Reading || Guns || Open fields || Thick Forest || Deer Meat || Family ||
Kids || The Season of Winter || The Season of Autumn || Dogs || Storms
Helping people || Being Immune || Silent Kills || Archery || The color Blue



☩ Dislikes ☩


Zom Zom's (Infected) || Military || Bandits || Hunters (The bad ones) ||
hand to hand combat || Cannibals || The Fireflies || Cities || Mushrooms ||
Squirrel Meat || Clickers || Season of Summer || Abandonment || being useless
Being alone || Death || Being one of The Cure || Pigs || Drugs



☩ Equipment ☩


List of supplies.
Winter was given the standard survival backpack, which each survivor was given when they first arrived in Washington. She's added a few of
her own things.
Dogs
Winter has three Labrador retrievers. They usually hunt small things like rabbits and squirrels but also help Winter find deer. They are also good for avoiding the Infected because the dogs are trained to their scent. The golden one's name is Lugnut, the black ones name is Shadow and
the brown one is Bear.

Horses
Winter keeps a horses named Dusty, Ash, Raine, Smitty and Red in an abandoned stable just outside of the Quarantine Zone.
Vehicle
Like most of the Smuggler's Winter has a vehicle. Having plenty of free time when she was younger Winter went scouting for her own vehicle when the other's were on a job. She found this sweet beauty in the driveway of some rich guys house. She was only 16 when she found it but she has kept amazing care of it over the years. Its one of her ways of keeping sane. She's added a zombie plow at the front.



☩ Weapons ☩


Melee Weapon || Winnie is equipped with an axe and two bowie knives. The axe hangs from her backpack and the bowie knives stay attached to her belt.
Fire Arm || Winter comes prepared with a larue tactical, which she jacked off a dead solider, a .45 Caliber H&K USP with Tac Light and silencer
and a crossbow with arrows.



☩ Skills ☩


Excellent Medic || Sharp Shooter || Group Sniper || Amazing Hunter || Cooking ||
Fast Runner || Good Stealth || Durable || Best Swimmer



☩ Flaws ☩


Not very good at hand to hand or close combat || Not very strong physically


---
---
Remember. Observe, assess and act. No hesitation. No remorse.
---
---




Personality


|| Kind || Caring || Loyal || Secretive || Untrusting || Cold || Ruthless || Rebellious || Bad ass
Winter is a girl of many traits. She's kind and caring but can be ruthless and cold. She's lived in the fucked up world since she was just a child and being one of the Cure she's had to keep her fair share of secrets. Like most people now a days she has a hard time trusting people, cause you never know who will stab you in the back. She only trusts her small group and her best friend, everyone else in the world is viewed as a threat, an enemy and she will hold no remorse in guilty if she has to shoot someone to keep her loved ones safe. She has the tenancy to swear like a trucker and be a bit rebellious when she truly feels against something. She's a very cold and ruthless when she has to kill but when she's around her family or her pets she's carefree and cheerfully, acting her age for once. She will do anything to make sure she and her loved ones survive.



☩ Brief Background ☩


Winter was born to two love struck college kids who realized they had to grow up if they were going to have the baby. She was born on a cold December 21 in Alberta, Canada. She was raised on her family's farm. WIP