Name:
Yun Wéi
Codename:
Koi
Age:
16
Gender:
Female
Physical Description:
Yun is a short and petite girl that is often mistaken for being much younger when she is viewed from a distance or behind, it is only when one gets close that you realize that she is indeed a very well endowed teenage girl .This often can make her angry when someone mistakes her for a young girl, and can raise a temper that most don't expect from this happy go lucky girl. She has shoulder length choppy cut hair that flips and moves freely when she moves, her eyes are a deep milk chocolate color that sparkle when she is excited. Her skin is a creamy white that is not typical of someone from the southern water tribe.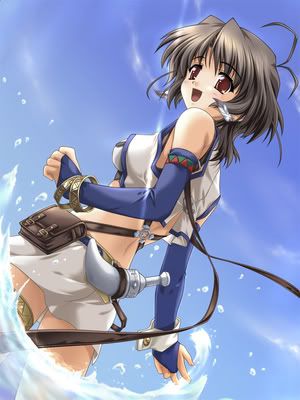 Clothing:
Once again this is an area that Yun differs from a typical member of the southern water tribe. She typically wears short and reveling clothing made in much of the same manner as her tribes, with the use of pelts and skins of animals. But it is lacking the fur and protection from the elements needed in the cold tundra of the Southern Pole. Dyed in beautiful blues and deep browns she prefers this style as opposed to the much more modest and less revealing clothes of her people and being in the Republic City she doesn't need all the fur.
Personality:
Yun is very outgoing and is typically a happy person, but when someone she cares for is threatened she becomes very defensive and protective. She is know to have a temper at times especially when someone thinks she is younger then what she is, or if she is made fun of for being short. Yun is very loyal to her friends and family and would give her life if need be to protect them.
Equipment:
Dagger
Jerky
Water Skin
Golden bracelets given to her by her mother
Likes:
* Swimming
* Fish
* Being outside
* Having fun
* Candy
* Jewelry
Dislikes:
* Someone thinking she's a little girl
* Someone calling her short
* Someone Hurting her friends or family
* Being away from the water for too long
* Sour food
Traits:
Yun is very outgoing.
Shes carefree and easy going.
Can sometime be easily angered.

Quirks:
Yun can be a little ditsy sometimes.
She has a bad sense of direction, but thinks she knows where shes going.
She can be very hyper sometimes.
Fears:
Being abandoned.
Being alone
History:
Yun was born into a small family in the Southern water tribe, her mother was a bender her father a fisherman. When things got hard they moved to the Republic City in hopes of something better. Her father unfortunately got into the wrong crowd and was killed by a gang not long after the death of the Avatar. In a race to flee Yun was separated from her mother and hasn't seen her since then.
Theme Song/Songs:
Ed in a Nutshell- Cowboy Bebop
Bending Type:
Water/Ice
Bending Style/Fighting Style:
Yun is typically very fluid and moves with the water she bends. But when angered it can become a torrential none stop anger filled deluge of water.