---
---
---
It is the day before the departing of the Fellowship from Rivendale, and the sun is beginning to wane. Durhnoram, the Great Eagle, stands perched atop a rocky tor. His sharp beak grooms through his feathers as he looks smugly upon all of you. His talons clutched around an ornate bag, Lothlórien emblems embroidering it's dainty silk.



"Gandalf sends his greetings, my friends, and begrudgingly the Elven Lord send their blessings."



He holds the small pouch out in front of him, indicating the consent of the Rings of Power. His head tilts to the side, scanning over you all. You feel the cold sensation of being judged, before finally his head lowers with a friendly grin. A flick of the foot, and the bag plopped to the ground with a small jingle.



"We are to make way a day ahead of the others. Rally your valor, my friends, for this may be the only peace we'll know for quite some time"
Code: Select all

[b]Birth Name:[/b]

[b]Nickname or Title:[/b] (If any)

[b]Race:[/b]

[b]Height:[/b]

[b]Weight:[/b]

[b]Age:[/b]

[b]Appearance:[/b] (Picture is appreciated. No anime please. If no picture can be found, then minimum of two paragraphs of details is mandated)

[b]Description:[/b] (Personality and characteristics. Little quirks and what-not. Must be at least one paragraph)

[b]Weaponry:[/b]

[b]Armor or clothing:[/b]

[b]Miscellaneous:[/b] (Such as alchemical gear or rune stones. Anything that doesn't fit in the other two categories)

[b]Skills and Abilities:[/b] (Abilities such as racial ones or magical effects or any carried items, such as the Blessing on a sword of a Gondorian Captain or the ability to summon true magic as an Ainur. Please be descriptive. Don't just put "Skill in sword fighting", spell out exactly why that is unique for your character and why no one else can surpass you in it. Also, be sure to list any downsides to said ability here as well)

[b]Flaw(s):[/b] (Why were you not viable to be part of the Actual Fellowship?)

[b]History:[/b] (Two to three paragraphs minimum)

[b]RP Sample:[/b] (For instance, the first time Gandalf came to you asking for your aid. What was offered? How did the scene play out? Where was it? Be descriptive, I will be basing your skills as a roleplayer from this sample)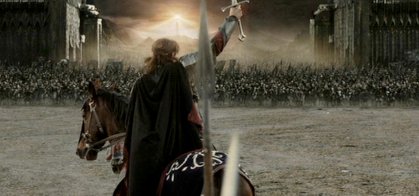 I am the all powerful omnipotent God of this universe. I belch thunder and shoot lightning bolts from out my arse. Do not trifle with me. My word is law, and my laws are ever changing.


This is my second attempt at this story, so forgive me if I seem to stress certain key aspects.


One character is fine, but the max is three.


Must be literate in English, okay with harsh language, and not bothered by intense gore to apply for this RP. Please keep all romance at PG. No one minds if you get jiggy with it, but fade to black.


This will be using a mix of cannon from the movies, books, and games to better add to the diversity. If there's any issue with this, feel free to speak your mind in the OOC.


Magic is not something common in the lore of Middle Earth. Only Maiar and very few others may practice it. Any character claiming an ability with it should have a damn good reason in their sheet.


Be respectful to all in the OOC. I understand disagreements are inevitable, but keep it at a debate level. IIf I must come in to settle it, I will, and the first person to argue with me will be the first to die from a random Balrog attack.


Balrogs CAN NOT FLY. Getting that out of the way right now.


Marry sues, Gary-stues, metagamers, and godmodders shall be victims of Fell Beast snatch-&-grabs.


Please try and be original with your characters. I know Tolkien has done a good job of using almost every archtype one could think of, but it's not that hard to make something new. PM me if you need any ideas.


Diversity is a must. I can't stand a party of like 5 dwarves or 8 hobbits. Please, no more than two characters of similar backgrounds or homelands. We all can't be Dúnedain Rangers. We just can't.


Please reserve your characters by posting the basic concept for them in the OOC. That way no one makes their character only to find someone just made one just like yours.


Rules may suck, but your here to kill a crap-ton of orcs and have fun, so please do so violently and joyfully.


Those who break my rules shall know a fate worse than death. I shall force you to hear The Mouth of Sauron sing The Ding Dong Song for all eternity. And yes, that means you touch his tralala.....


To make sure you read the rules and understand the plot of the story, at the bottom of your character sheet I want you to answer this question: Are we traveling with the Fellowship?
Arcs are bundles of posts that you can organize on your own. They're useful for telling a story that might span long periods of time or space.
There are no arcs in this roleplay.
There are no quests in this roleplay.
Here's the current leaderboard.
There are no groups in this roleplay!
Welcome home, Promethean. Here, you can manage your universe.
Arcs are bundles of posts from any location, allowing you to easily capture sub-plots which might be spread out across multiple locations.
You can create Quests with various rewards, encouraging your players to engage with specific plot lines.
Settings are the backdrop for the characters in your universe, giving meaning and context to their existence. By creating a number of well-written locations, you can organize your universe into areas and regions.
Navigation
While not required, locations can be organized onto a map. More information soon!
There are no groups in this roleplay!
By creating Collectibles, you can reward your players with unique items that accentuate their character sheets.
Once an Item has been created, it can be spawned in the IC using /spawn Item Name (case-sensitive, as usual) — this can be followed with /take Item Name to retrieve the item into the current character's inventory.
Give your Universe life by adding a Mob, which are auto-replenishing NPCs your players can interact with. Useful for some quick hack-and-slash fun!
Mobs can be automated spawns, like rats and bats, or full-on NPCs complete with conversation menus. Use them to enhance your player experience!
Current Mobs
No mobs have been created yet.
Locations where Mobs and Items might appear.
You can schedule events for your players to create notifications and schedule times for everyone to plan around.
Add and remove other people from your Universe.
Orphanage
By marking a character as abandoned, you can offer them to your players as pre-made character sheets.
"When all is lost and you want to end it all, find your reason to keep on living."
The Forge
Use your INK to craft new artifacts in The Lord of the Rings: The Song Unsung. Once created, Items cannot be changed, but they can be bought and sold in the marketplace.
Notable Items
No items have been created yet!
The Market
Buy, sell, and even craft your own items in this universe.
Market Data

Market conditions are unknown. Use caution when trading.

Quick Buy (Items Most Recently Listed for Sale)
With the reach of the Dark Lord extending, Middle Earth's fate hinges upon it's heroes. Heroes such as you.
The perfect place for the Tale to start.....
The Coldfells were a hilly region located to the north of Rivendell.
The Last Homely House East of the Sea.
It got it's name for a reason.....
Discussions
Most recent OOC posts in The Lord of the Rings: The Song Unsung