---
---
Full Name:
Makayla Alexis Wright

Preferred Name
She goes by Makayla, but will answer to Kayla or Kay.

Age:
21

Birthday:
July 21st

Sexuality:
Heterosexual

Hometown:
South Bronx, NY

Length of time on the street:
2 years

Role:
The Mother
---
---
Disposition:
Makayla's personality has definitely been shaped by how her life has played out. It would be wonderful to say that she's the same lively and carefree girl when she was just five years old, or the chatterbox, boy-crazy girl she was at ten, but she's not. She grew up fast and all of those phases tended to either come and go very quickly, or be masks that she wore at school, where she didn't have many worries. She didn't have to chase after kids who always wandering too close to the kitchen "lab", or make sure that one of them didn't screech too loudly as she tried to wrestle them into the bath, and end up with the imprint of her father's belt on their back. She was and is not some extremely intelligent school, and since she never had time to study or do much homework, she was always an average student at best, but school became a safe haven for her. She was able to socialize with kids her age and be a normal child and teenager, even if it was just for a few hours a day.

Even now that she's out of school, she still knows how to turn certain aspects of her personality on and off. The kids she went to high school with would describe her as being an energetic and outgoing girl, because that was the only place she had to actually be herself and act her age. At home, she was never appreciated, despite doing more than her fair share of work, but there, she was diligent, compassionate and responsible. She learned how to keep schedules, clean the house, take care of kids that were not hers, and be a maternal figure to others, when she had never even had one herself. Her home life forced her to be selfless and put others first, not because she always wanted to, but because she had too strong of a conscience than to let those innocent kids (Holly, in particular), be beaten for just being kids.

Once she left home with Holly, she has become a little bit more reserved. She isn't unfriendly or cold, but even compared to her poor upbringing, life on the streets is hard. It's not easy to trust anyone, even the people she's been living with for a couple of years. Having Holly as extra baggage makes things even harder. She's become defensive because she knows how Holly can overstep boundaries but doesn't want anyone to point it out or try to hurt her sister, who is clearly too innocent for her own good. To some extent, she's closed off and prefers to keep to herself. She's not the only one who has trust issues and at this point, she's trying to keep herself and Holly alive, not make best friends for life. She's not someone who's actively trying to cause problems or get into fights, and she really does make an effort to be passive towards most advances or aggressive comments made towards her, especially when they're coming from Brooklyn. Overall, she's easy to get along with, but she doesn't go out of her way to befriend anyone or be overly friendly.

Likes:
Chocolate and alcohol are the keys to her heart. Red wine gets you bonus points, but she doesn't have money to buy a pair of ten dollar shoes most days, so a cheap bottle of vodka will do the trick too. Dealing with the ball of energy she calls her sister inevitably tests her patience, and, well, marijuana is the only thing that has kept her from taping Holly's mouth shut on multiple occasions. Said little sister is one of her 'likes' as well, since Kay doesn't know what her life would be like without that ray of sunshine, though. She likes money (who doesn't?!), but likes the stability that comes with it rather than the thrill of being able to splurge.

Dislikes:
She has common dislikes, like certain foods such as taffy, cinnamon flavored gum, bananas, chicken patties and chili. Even before she was homeless and it was a real burden, she was never a fan of the snow. She hates long bus rides and misplacing her metro card for the subways. She grew up around roaches and pests, but spiders still creep her out, and thanks to allergies,dislikes cats and dogs. Aside from the normal dislikes, there are a lot of times where she dislikes being responsible for Holly. The girl is her world and she loves her, but she doesn't think it's fair that at twenty-years-old, she's stuck taking care of her. She would never say it out loud, but Holly can be a burden and there are times when Kay is sure that if she didn't have to care for Holly, she might have been able to leave New York and gotten her life together somewhere else. It's so hard for her to focus on herself when she's taking care of a girl who has the attention span of a child, but at the same time, it's impossible for her to not love Holly like a sister and that dislike will never be enough for her to abandon her.

Fears:
She has no unusual phobias, but is scared of empty subway stations at night, a lot of the men she sleeps with and horror movies. She hates the idea of being helpless when Holly needs her, but at the same time, is scared that one day, she might force herself to stop caring about Holly and put herself first.

Dreams:
It's probably a common dream among the group, but Makayla desperately wants to get off the streets. She needs to give Holly a life that will actually get her somewhere, and ensure that if something happens to Makayla, Holly will be okay. In an ideal world, she would love to move out of the city and down south, get a nice little house somewhere, go to school and become some type of medical technician, and start over. For now, a tiny apartment and a job would be more than fine.
---
---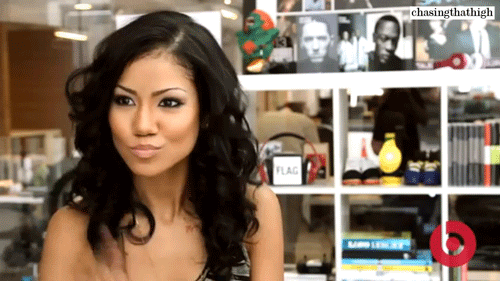 Background:
Makayla's father was the leader of a drug ring in the Bronx. He was in his late twenties when he met her sixteen year old mother and despite their ten year age gap, they became a couple. Her mother came from a broken home and was essentially on the streets already, so she had no parents to lead her in the right direction and Makayla's father became the only support she had. Her mother lived in her father's drug house for only two months before she became pregnant with Kay. She was her mother's first child, and her father's fifth, and like three of the other four children, Makayla stayed with her father after her mother "abandoned" her at the age of two. That's the story she grew up knowing, but in reality, her father let her mother take the fall for a decent sized drug bust which landed her in a state penitentiary for eight years.

As one would imagine, growing up in your picturesque "trap house" was nothing spectacular. Roaches were a common sighting, the place reaked of smoke and marijuana, as well as other chemicals used to manufacture drugs, as childhood was never really something she got to experience. Whenever her father would knock up a new girl, or he'd start seeing a new girl with kids of her own, the trials of caring for those kids would fall upon Makayla and whatever ones of her older half-siblings were around. She learned how to be a mother to herself early on, and it came in handy when she was twelve and Holly and her mother moved in. Holly was a mischievous, loud and energetic child who always wound up getting into trouble. Trouble in their house didn't result in a stern talking to or a timeout, and it pained Kayla to see that no matter how many times Holly was physically reminded that she needed to shut up, she couldn't. It was apparent that she was a little "different" and needed extra attention, and when a nearly identical situation went down, landing Holly's mother in jail, Kay decided she needed to step up for Holly. It was a move that she would sometimes still regret, even to this day, but she knows it was worth it. It's unquestionable that without doing so, Holly would be dead or part of the human trafficking system that so many girls in their situation end up in. Living on the streets is bad, and sleeping with disgusting men is not fun, but she tries to remind herself that this is just temporary... even if temporary has already lasted two years.

Job:
Prostitution
---
---
Height/Weight or build:
5'2 and 100 lbs

Eye color:
Brown

Hair color:
Black

Other:
Scars, piercings, tattoos, etc.

Face claim:
Jhené Aiko