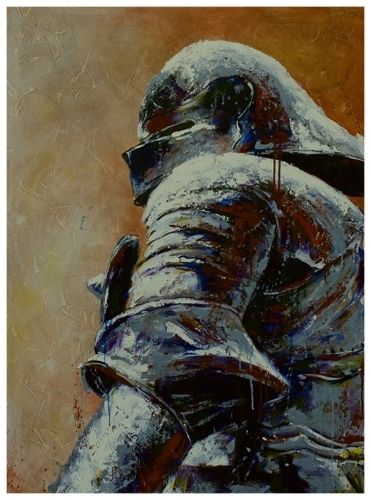 Full Name:
Gallard Rolfe.
Nicknames/Aliases:
The Knight of Rust.
Age:
36.
Gender:
Male.
Occupation/Class:
Inquisition Enforcer; former officer in the Yulian Vanguard.
Kingdom of Origin:
Yulia.
Description:
A tall man with a sturdy constitution, Gallard certainly lives up to his role as a heavily armored knight of the army; his presentation, on the other hand, is not as gallant as one would expect of an agent of royalty. With dark brown, unkempt hair, thick eyebrows and a stubbly beard, he is clearly a man unconcerned with social formalities, and his tanned skin from his days spent in the open field further reveals his disconnection with the politics carried out behind walls. He has sharp facial features, with a prominent nose, thick lips and chuck hazel eyes, usually mistaken for the more common dark brown, standing out as particularly noteworthy. Once a lively and perhaps handsome man in his youth, years of physical abuse and the passing of time have certainly taken a toll on him.

Having been thrust into the rotten land of Elidia with little resources – namely clothes – he is rarely seen without his characteristic armor, save for his obstructive helm. Comprised entirely of metal components, the armor makes Gallard seem even bulkier than he actually is. Spiked ends populate all the joint areas and a withered cape – the symbol of a high-ranking soldier - flows from its shoulders, giving the wearer an intimidating look. An enclosed metal helmet with extended ends on the back completely hides Gallard's semblance from others. The armor is noticeably misshapen from abuse, sporting several dents evenly spread throughout, and its silver coloration has almost entirely given way to an orange cloud of rust.
Equipment:
Wooden Spear – A standard wooden spear with an iron head attached. A far cry from the gracious lances wielded by the knights of Yulia, but still a common weapon found amongst the army's infantrymen, as some preferred the finesse and precision of the lance to the simplicity and versatility of the standard sword. As of late, it has become a tool for hunting rather than slaying.

Hatchet – A small axe, designed with convenience and simplicity as a priority. It's both light and small, making a poor choice for a weapon, but an invaluable tool for long trips.

Kite Shield – An iron shield made to resist sharp and blunt strikes alike, large enough to cover the entire torso of a well-positioned man. It proudly bears the Yulian emblem of the griffin at its center.

Rusted Armor – An armor that used to represent the troops of the Yulian Vanguard, crafted from the strongest ores of the Pradus mines and tempered by the most skilled blacksmiths of Yulia, now rusted and beaten by the same men who ordered it built. While still feasible to wear, it is an extremely cumbersome artifact and only remnants of its formerly great protection remain. Still, the garment continues to serve as a great conductor of sorcery and can be easily manipulated by a skilled sorcerer, be it for the benefit or loss of the wearer. Its silhouette still evokes the wrath and suffering of the defeated kingdoms.
Personality:
A cynical and soft-spoken man, Gallard almost invariably comes across as a cold individual. Very few appreciate his grim yet calm sense of humor, and his ironic smile is more unnerving than it is comforting, making most interactions with the man an awkward affair. His bleakly dispassionate delivery and general disinterest for others' personal matters can also make him seem downright cruel, but while he is certainly a detached man, he is rarely ill-intended.

He is not without virtue, as even in his surrendered state, he boasts formidable strength of character, and his subtle displays of kindness reveal a sharing spirit, at least towards those close to him. Though most would be quick to deny the idea of Yulian knights having any form of honor, the truth is they do find solace in a code they abide by, and it's a code Gallard genuinely sympathizes with and honors to this day. He is respectful towards the warriors of other nations should their deeds prove them worthy of it and, true to a man sworn to a knight's oath, is protective of those who seem in need and deserving of help – "deserving" being a terribly subjective word in this case. He is harsh and demanding towards those who walk beside him, but his severity is always accompanied by a helping hand.

While he holds no personal grudge against the cultures of the other kingdoms, merely seeing them as the weaker forces of a passed war, Gallard is still a product of Yulian doctrine, and is very close-minded in regards to gender roles and religion. He does recognize the idea of different mindsets and backgrounds yielding different people and beliefs, but is no less taken aback by the notion of female knights being sent to war or the desire of a man to lay with another man. Clerics and the general notion of religion are particularly appalling to him, and he does display a degree of hate towards their dogma with no remorse whatsoever attached to it.

He does his best to hide his weakness with jest and irony, but continued interaction will reveal him as tired and disheartened by circumstances. Whatever force continues to push him forward in this pointless quest, he will not share.
Skills:
Strength – Trained to fight with heavy gear in the frontlines, Gallard is capable of lifting weight that would immobilize many men and resist blows that could fell greater beasts. This also allows him to wield heavy, medium-ranged weapons the likes of lances, glaives and halberds to devastating effects. Furthermore, marching across many lands while covered in his heavy equipment has trained his body to exert commendable stamina, and be it in battle or simply travelling long distances, he is slow to tire.

Strategist – As a former officer that attended strategic meetings and commanded small groups of soldiers, Gallard is an effective leader and a cunning tactician. He can quickly identify different skills in others and utilize them to the best effect and complement a larger group, and is a versatile enough thinker to adapt these strategies in response to unexpected variables.

Survivor – As the Yulian marches were famed for their long journeys and lengthy campaigns, it became the norm for the kingdom's battles to outlive the army's resources. In particular, the conquest of Aressa – the furthest and most resilient of the fallen kingdoms – forced the Yulian soldiers to learn to survive separated from their home's aid. Hence, from his time as an officer in the war, Gallard has learned to hunt, cook (poorly), improvise shelters and track game and foes alike.

Rider – Though mounting animals were a rarity in the unwelcoming, mountainous territories of Yulia, Gallard showed an interest in the use of such creatures in warfare, and hoped to learn more as he ventured into new lands. As the war neared its end and he gained influence within the kingdom, he employed much of his time to learn the art of horse-riding, and culminated his training by taming a wild steed himself. However, he would soon after part with it, not wanting to grow attached to the thing. Nonetheless, the lessons have certainly stuck with him.
Weaknesses:
Not a Duelist – While a formidable opponent, Gallard is a man trained for war and skirmishes, not for duels. This is not an instantly recognizable and exploitable flaw, but a contender with a more refined technique and experience in single matches could certainly pick up on his lack of awareness in open spaces and find a way to outmaneuver him on the long run. Considering Elidia is a land of lone travelers and not a meeting point for armies, this is certainly a setback.

Magic – The interior of his armor is covered in runes carved to augment the effect of enchantments. While the intention behind this was to accelerate the enhancements placed on soldiers by Yulian battlemages, it also makes the wearer susceptible to any form of magic that could hinder him as well. If a mage wanted to immobilize Gallard, it would take very little effort.

Long-range - Gallard is not equipped - nor is he proficient with - a bow or any long-range armament of any kind. At most, he is moderately skilled at throwing his hatchet and spear a good distance, but the precision of either is hardly enough to compensate for them being a single shot each, nor are they likely to outrange a weapon designed for such combat.

Yulian Emblem – Quite consciously, he was sent to the lands of Elidia covered in Yulian symbols; his armor, shield and weapon of choice are all icons of the empire that slaughtered and pillaged during its conquest of the land. Proud trophies in Yulia, but a death sentence for those roaming the Lost Lands, where the remorseful spirits of kingdoms passed wander and the conqueror becomes a pariah.
Fatal Flaw:
Haunted – Gallard's arrival in the cursed lands of Elidia has given way to terrible visions. Crimson dreams filled with slaughter, illusions of lives that could have been and whispers of the suffering yet to come, and the deeper the tired warrior ventures into the Lost Lands, the more vivid they become. Horrors adopting many forms may appear to him at any time and in a wide variety of ways, harmlessly dancing in his head but intent on depriving him of rest. Thus, as the land feeds off the man's growing despair, his sanity wavers.
Brief History:
Born to a family of merchants, Gallard was a Yulian youth with humble origins and dreams of greatness.

Disillusioned with the unremarkable prospect of exchanging menial goods his family offered him, he instead grew enamored with the gleaming presence of the enchanted Yulian knights, and yearned for the embrace of iron and the glory attached to it. He spent his early years in preparation for trials to come, training his body with others of his age and carving improvised weapons from wood. Sure enough, when he came of age, Gallard enlisted in the army carrying the blessings of his parents and siblings.

For his raw strength and natural gift in the use of spears and glaives, he was assigned to fight in the army's frontlines, along the infamous Vanguard of Yulia. Comprised entirely of soldiers equipped with heavy, anti-cavalry gear, the Yulian Vanguard was famed for being one of the highest achievements of the Wizard's Guild. Subjected to hours-long sessions of ritualistic sorcery from specialized battlemages before each battle, the soldiers of the Vanguard charged into battle with still more enhancements than regular Yulian troops, showcasing strength that could casually bypass any shield, speed to outrun mounted units and resilience to fight for a full day, even when subjected to mortal injuries.

To fulfill their duty adequately, soldiers of the Vanguard were thoroughly disciplined to ignore the severe strain caused by the massive flow of magic coursing through their bodies and concentrate solely on battle, their duty being to act as both an advancing force and an impenetrable line of defense for the subsequent raids of battlemages. Still, it was common for men to succumb to the process, either falling to the ground in a broken mess or losing themselves to the madness of battle. Gallard counted himself amongst the lucky who endured and, after long years of of tempering his skill and mind, he joined his Yulian brothers in the frontlines when the fated day came, to the conquest of Pradus.

He fought with the passion that had driven him for so long and, one battle after another, he continued to return home with new anecdotes and trophies. His contributions during the takeover of Pradus and Miriand, cunning mind and loyalty earned him the favor of his commander, and by the time Yulia turned its attention to the land of Aressa, Gallard had become an officer of the Vanguard and a highly trusted confidant and advisor to his superior.

Gallard's dream of having his name sung across all the lands never came to be, but within the walls of the Yulian palace, it became synonymous with the heroic Vanguard of the kingdom, and his deeds were rewarded handsomely once the Wolf Knights fell at last. He was sired by the king himself and the Royal Inquisition offered him a seat amongst the rapidly growing Royal Guards. Merely because "it felt appropriate", he even married himself to a noblewoman, though neither ever quite took to the other, nor did she bear him any children.

And yet, he felt unfulfilled, his title holding no weight and his crowns no value.

History would not wait for him to contemplate such menial matters. With no more wars to fight, many troops that had served Yulia became instead explorers of the forsaken lands after the failure of the initial, minor campaigns; a large portion of the Vanguard was but one example of many. Chance spared Gallard of joining his brothers in arms to their doom, but not of the misery of witnessing the broken shells of the few that returned crazed and mangled. Yulia did not mourn them, and one after another, more continued to cross the border to Elidia under the pretense of treason for miniscule crimes, only to continually lose themselves to the land. Witnessing the growing obsession of the Inquisition costing the lives of innocent people and the corruption of its principles, doubt settled within the knight, yet he continued to loyally fulfill his duty.

It came as a surprise to many when years later, Gallard was accused by the Royal Inquisition of the crime of venerating a deitiy of the clerics of Miriand, thus knowingly betraying the empire. No one advocated for him, but being the first of the Inquisition Enforcers to have broken Yulian codes, an example needed to be made of him. The answer, as with many crimes before Gallard's, seemed much too obvious: the man would be sent on a quest to reawaken the origin of sorcery in the Lost Lands of Elidia, and only with success would he regain his honor and forgiveness.

To further accentuate the ridiculing nature of this quest and as a final insult, Gallard was paraded dressed in an old armor of the soldiers of the Vanguard, rusted and malformed from mistreatment. Imprisoned without chains, he was guided through the streets of Aressa, all while the masses mockingly clamored for "the one who fell", "the fool", "the Knight of Rust".
Other:
Has one of the deepest (and sexiest) voices out there.