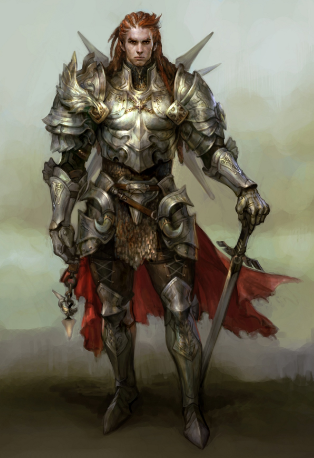 Full Name:
Razi Sigvor
Nicknames/Aliases:
Raz. (Informal) Titan of Storms ( Rider title)
Age:
57
Gender:
Male
Species:
Mixed human. ( A quite recent in family terms mix of orc blood with humans)
Occupation:
Former member of Imperial Order of the Dragon. Currently works with a travelling merchant has a labourer.
Description:
Measuring 6' 6" Razi is taller than the average but easily the first thing about him that stands out is his bulk. This is due to a recent orc blood introduction to his family line a few generations back. Naturally muscular and a fierce demeanour often means Razi can be imposing, earning him the title of titan. Hailing from a northern lineage, Razi also can be distinguished by his fair skin, and red hair.
Personality:
Razi inherited more than just his size from his orc blood, a fierce and forceful spirit drives him. Having trained within the order, this spirit can be used within the world of politics though its very rare Razi would involve himself within such things, only when hard politics are needed such as with the orcs. However he does not jump into fights as willing as some people might think, he saw the orders purpose to work with dragons not provide military prowess
During his time within the order, he was stern in his view, not afraid of arguing with the other members, though he would always support them in the end. The order was his home and he stood loyal until it came to pass that the order was no more, now he tend to his own survival and that of his Dragon Samir.
Skills:
Razi like all Dragon riders is an impressive warrior, his main skill though being in large or heavy weapons and full armoured combat. More commonly a halberd if mounted and a long sword wielded in a hand and a half fashion. He is not a fanciful rider but he is a determined and daring one. He also holds knowledge over predatory magical creatures and in hunting.
Weaknesses:
Razi is not a flexible man, and nor is he agile, being completely reliant on dominating the space around him, not moving into others. His large size also means he stands out and needs a large amount of food to meet his energy requirements.
Brief History:
Razi like most riders comes from a family line of previous riders, however the sigvor name was not one of grandeur. A northern family with proud hunting traditions in the harsh lands which formed hardy people.
He questioned his fathers methods early on in his development, he spent more time hunting and labouring than he did training, the times he did spend training he used weapons far too large for his young frame. In his later years he looks back in fondness at this kind of training but at such a young age he did not agree.
As with all riders, when he was a teenager he had to venture out to meet his dragon. The stormy highlands cracked with energy. The deep blue scales of his dragon Samir, a storm dragon blending in with the dark clouds. At first the two were at a stand off, both fiercely locked in a stare down which neither one broke their gaze. No one knows who broke first, but the respect earned in that moment set them both on their intertwined path.
His carrer as a rider has seen him through many conflicts, he was instrumental in helping deal with the orcish tribes of the north.
When the time came for VEGA and the ETs taking over, Razi retreated away from the capital to the north, grounds that were familiar to him and the empire did not look upon too often. Despite hunting well with Samir, he need coin and so he sold his hands to labour with a merchant who travelled selling many miscellaneous wares, Though Razi did not expect to find himself back into the capital.
Other: