「Elementals (Mizuchi) | Male | 27 years old」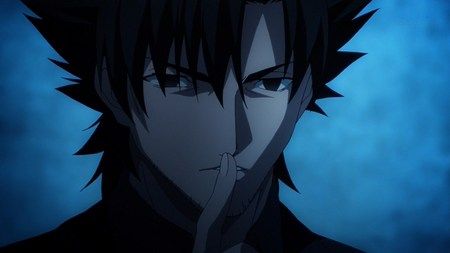 I do not own this image. All rights are reserved to their respective owner.
"If you see me inspecting you, it mostly means that you're in great trouble."
---
[font=Batang]General Info
---
「Nickname」
Shark

「Occupation」
Detective of the southern district.

「Equipment & Weapons」
.45mm calibre Glock pistols [Usually charged](2);
.45mm chargers [Contains 13 bullets each](2);
A pack of cigarette, never opened;
A lighter, brand new;
A pocket watch with a bit of rust on it, but still working perfectly;
His detective badge;
A small notebook with a small pencil;
A pouch of water.
---
---
「Skin Color」
Lightly tan

「Hair Color」
Jet

「Eye color」
Blue sky
Standing at around 6', Adris weights around 152 lbs. While his hair is short, it is usually in a big mess and as in a result being very thick. His body is a bit slender; skinny, but lacks of muscular mass. There is noticeable marks on his neck that resembles like gills, which is why he earned the nickname of shark around the workplace and school. Thos marks are believed to be birth marks. It is a shade redder than his skin as if it was only burned on him. He usually wears an all-black outfit which includes the suit and tie, pants, shoes and coat. There is also holsters on each of his sides, between his arm and chest. His other equipment is hidden in his various pocket, often changing of places in the course of the day.

When comes to his true form, Adris becomes a serpentine dragon. His long and stretched body reaches around 70 ft. in length. His back side scales are of a deep blue color while his larger belly side scales are of a white color. Despite from his serpentine body, he has very small hands and feet that acts as articulated fins, helping him to swim his massive body. His eyes are still of the same color, though his pupils are more slit like a lizard. He has gills that helps him to breathe underwater
---
---
On duty, Adris is a much lifeless as the rest of his peers. He won't be much friendly with people, especially with those who are the suspect of some case that he is assigned for. On his time off, it seems that he looks the world in a new way. He has this kind of awe of the world that is around him as if he was still a child in his mind. However, he doesn't go about and cause trouble. He's the more of the passive thinker kind. Adris is a very serious guy and often don't get a joke, no matter how obvious the latter is. Another thing is that he always seem to be a collected and calm person, but he it is easily noticeable when he is angry even if his facial expression doesn't change much. It will be in his gestures and way of talking that changes the most. In example, if he is angry, his tone will get a bit harsher and he will move more rudely.
「Likes」
+Water
+Observing
+Chocolate chips cookies (esp. the soft-baked kind)
+Oranges

「Dislikes」
-Jokes
-Cigarettes
-Alcohol
---
---



[Arcane] Elementalist: as part of the Mizuchi family, Adris is able to do such abilities:
[Active/Ability] Hydrokinesis: The manipulation of water. It includes moving and lifting water mass, solidification, vaporization, condensation and sublimation of water. It also works on other liquids.
Weakness: The more water mass he uses, the more it is tiring.

[Active/Ability] Shapeshifting: under the right conditions, Adris can shift between his human form and his serpentine dragon form.
Weakness: The shapeshifting can only take place in order that he is in the right environment. He can't just shape back into his humanoid form in the middle of the ocean nor can he go in his serpentine dragon on land.

[Passive/Ability] Serpentine Dragon: As it is said, under this creature form Adris is able to explore the deeps of oceans thanks to collapsible organs. He can also adapt his vision to the very low light and use a passive electrolocation to detect other live forms that might be out of his field of view or during complete darkness.
Weakness: This ability doesn't work under his human form. Like human eyes, it takes a bit to adapt his eyes to light variance. Electrolocation is useless if the electricity is contained such as the pulse can't travel to him. He can only use it inside of a water mass. The inhibition of electric currents can also confuse him to think it is a being.

[Active/Ability] Breath weapon – Water: As a serpentine dragon, Adris' breath weapon is literally water. Although it sounds useless, the stream that Adris can create is such that it can punch through steel easily as it creates an amount of psi above 100000 psi. The stream is continuous in water, reaches up to 25 meters (80 feet) and has a radius of only 1.5 meters (5 feet)
Weakness: The stream's power decreases over distance. Such as if you're right up his nose, you'll take the full blast of the stream, but if you're in the safe 25 meters radius, you'll feel almost nothing. On land, this weapon can only be used for 10 seconds and he would need to rehydrate himself afterward unless if he wants to die from severe dehydration. This ability can be only used in his serpentine form.

[Training] Detective: As a member of the police force in the south district, Adris received a good training to serve his people. Through his training he developed such skills:
[Passive/Skills] Gunmanship: He has been trained to multiple firing weapons. And such, his aiming is precise and the manipulation of most guns are correct.
Weakness: It doesn't include explosive-based weapons (in example: Grenade launcher, bazooka, etc…)

[Passive/Skills] Investigation & Interrogation: Adris has an acute sense of finding evidences on a crime scene and find himself to be persuasive during questioning.
Weakness: It doesn't mean that the information that he'll gather will be truthful.

[Passive/Ability] Stamina: through hard physical training, he had shown to be able to keep his endurance longer than a normal being of his physical.
Weakness: Despite that, lifting over 30 lbs reveals to be a chore for him.






Due to his affinity to water, he dehydrate quicker than a normal human.



[/font]

---
---
「Home Country」
The United Teker States

「Home Town」
Katren; This small town near the coast of an ocean. It is known for its port since it is the only place where people can freely trade in The United Tekers State.
Adris' birth isn't known to people, and he doesn't know himself. When he asked about it, he always pointed towards the ocean. People didn't quite believe him since most of them doesn't believe that someone could be born in water. It also had been proven that there was nothing special in the ocean so far. People supposed that he was only a lost child and so posters and notices popped up in the known land, but nobody answered to the call. He was soon given to a foster family whom welcomed the kid warmly.

Despite that minor detail, Adris had a normal childhood. He got to go to the public school and hang out with beings of his age. He was first picked on because of his gills marking, calling all sort of names related to fishes. It wasn't until he shows signs of violence, and more specifically when he beat up a kid that he earned the nickname of shark. Like a shark, he was feared to strangers that didn't know him, but people that learned who he is started to get more friendly and close to him. He did got suspended for it, though, but it never happened afterward. He was known to be a bit shy as well, but he was always nice to people that was nice to him.

Unlike Tekers, Adris wasn't huge on technology. He liked to look around in his world in awe – being very curious –, but he couldn't be smart enough to learn about all the little details that makes up this world of his. It didn't bothered him much since there was other things to do in Katren. He enrolled to become a detective in which he was accepted due to his overall good marks in school.

Adris used to go swim alone when there was an opportunity to do so. He often did it in the day, but when the rumours got around about a monster living in the depth of the ocean and it is said to look to destroy ships, Adris started to do it at night. He like to swim a lot, and especially in his serpentine form. He thought that he would get questioned if they knew that he could do it. He tried to be secretive about his abilities, which is why he go swim alone. If he needs to go in a group, he would avoid to transform at any cost. The rumours never caught on to actually survey the waters near the town more regularly as it is now.

Adris had been at his profession since the first day after his school time. He wasn't a full-time detective at first. As any beginner, he was assigned with a more experimented detective until he learned the real drills and bits of the job. Unlike his colleague, Adris is more of the quiet thinker. He spends more of his time outside of the office to think of the case. If he had anything interesting in his mind, he would write down in the little notepad he carries around everything. The thoughts that are written range from theories about the case to how good the coffee was this morning. It is almost like a personal book for himself to write. The profession slowly hardened his feelings, but keeps having the awe of a child about the world.