Don't mess with the bunny!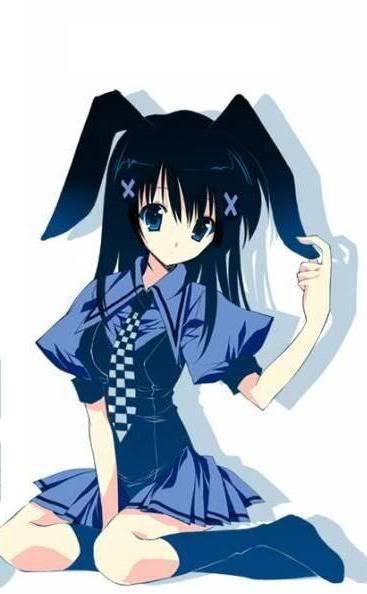 Name:
Fera Rainglore
Gender:
Female
Age:
18
Race:
Kindred (Rabbit)
Physical Description:
Fera stands at about 154.78 cm (Excluding her ears) and weighs a rather light 49.8 Kg. Her large ears add another 45 centimeters bent at about ninety degrees, and about 91 centimeters straightened out. She has no scars, though has branding her left hip, signifying that she was exiled from her village. She usually wears a long rather grey cloak, with a hood that is able to cover her ears. Though with the hood off, she has her ears perked halfway. She is relatively thin, not having too much in the way of muscle, not saying she is weak, though compared to the others of her kind, she isn't the one to be the heavy lifter. Since Fera is a "bunny" her ears are like radars compared to others, and she typically stands more on the balls of her feet and toes when moving, allowing her to be a bit quieter. Though her on weakness is that she is far-sighted and can't see any sort of detail up close.
Skin color:
Pale, Fera isn't one that can really "Tan" and she isn't in the sun too much.
Hair color:
Black, ears are black as well.
Eye Color:
Blue
Occupation:
Wanderer. Though can dance and shoot well.
Bio:
Fera grew up in a super-small unnamed village with just her mother. Her father abandoned her mother at birth. Thus it was jut those two. Life was relatively normal with her village raising her, and the about four other children in her generation. Even with her normal upbringing, she was still the odd ball in the village. She was the hypothetical "Black Sheep" in the bunch, since she was born with black hair and fur, compared to the others being gray, white, and brown. Yet, even still, she grew up rather normally and uneventfully for her first fifteen years.
Though, her life changed one day. In the village, there was a forbidden area that held something special to the village, it was a gem of the people in the area. Being young and rather dumb at the time, Fera went into the cave with a friend. Nedless to say, they were caught. Fera, taking the noble fall, took all of the blame in order to save her friend. The village leader, didn't take it well, since she was the odd ball in the village, and gave her the worst for the village. Exile. That night, she was dragged out of bed, almost kicking and screaming, and soon enough, was branded with a mark that her people knew, a Rose within what looks like a wolf's head. With her flesh still burning, Fera was soon dumped off into the forest. With no way to get home. Left to wander the world alone.
Hometown:
A small village, it has no real name.
Home country:
Sylvana
Personality:
Fera is rather scarred by her past, that is, within the past three years. She presents as a rather cold and cut-throat person, though in actuality is a very shy, and rather scared person. She's not exactly a coward, but isn't going to charge into battle without a second thought. Though she plays the best support option. Though she is a timid person, she always wants to help others in her party. Though she can fight, and is an aggressive fighter, when in combat defending either herself or any ally or friend, her mercy is out the door. Fera though is always a timid, and rather quiet person, since she can't even come to terms with her home. Which has affected her for three years of built up guilt and pain. Her branding is an everlasting reminder of said resentment and guilt.
Likes:
Carrots (Didn't see that one coming!), time to have tea, range.
Dislikes:
Being alone, Puppets/dolls, fire, foxes, Hot metal, arrogance.
Skills and Abilities
Because of Fera's far-sightedness, she is a very good marksman and is able to use a bow very effectively
Equipment & Weapons:
She has few things, but manages:
::Combative:
A re-curve longbow with about 45 to 50 arrows in her quiver at a time
Her staff, which contains a Holy Icon of Sele the Lightbringer.
A utility knife
::Non-Combative
Black cloak, bears the emblem of the village. Which is a Violet Rose.
Carrots. She's gotta eat.
A Canteen filled with water.
Her reading glasses.
Magic:
Holy Magic, Spiritual Magic. Usually Kindred are masters of Spiritual Magic, but that is where Fera was never able to control effectively. As in, she can't really bond, nor control the spirit. She can use it, but she's usually pitiful at it.