I was never here, okay?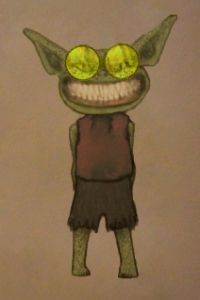 Name:
Spotface
Gender:
Male
Age:
20
Race:
Goblin
Physical Description:
(Kinda slapped the picture together, but it works :P) Short even for a goblin at 2'9", with a button nose and a disturbingly wide grin. He always wears black, often wears gloves, and is known for the bright green goggles that comically magnify his beady little eyes. He's called Spotface because he was born covered in freckles. Not pictured in the image is his climbing gear, which all sprouts from a black backpack.
Skin color:
Pea green
Hair color:
(No hair)
Eye Color:
Black
Occupation:
Sneak-thief, spy
Bio:
Spotface grew up in a Harlequin troupe, and he still has a healthy respect for Writhka, but it wasn't long before his aptitude and appetite for the more dangerous and explode-y sort of tinkering convinced his parents to send him to stay with his uncle, Bonefinger. Known throughout the world as a premier engineer for the success of his inventions in War Walker battle tournaments, Bonefinger had the resources to help him learn and experiment. Though guns and mechs were the tech of choice for his uncle and the other engineers he met, Spotface still held a soft spot for the entertainers of his old troupe. He spent his time designing climbing gear, jumping boots, gliders, grappling hooks, and other inventions for trapeze artists and acrobats. Fairly acrobatic himself, he would test them by climbing, crawling, and gliding anywhere and everywhere in his uncle's large workshops and garages. The thrill of going places no one had been before--and going where no one would expect him--led him to explore further, until his aunt and uncle routinely had trouble finding him. The more they tried to keep him in their sights and on the ground, the more Spotface defied them with stealth and new gadgets. At first, they all decided that his interests had simply moved back to the trickery and acrobatics of Harlequin life, but Spotface knew it was more than that. He was addicted to the shadows, to dancing right on the line of getting caught, only to slip away unseen. He loved his inventions, because now, no matter how small he was, he could go
anywhere
.
Hometown:
A suburb near the capital
Home country:
Goblin Trade Conglomerate
Personality:
Cheeky, excitable, and prone to getting into trouble.
Likes:
A challenge, exploring, sweets, good humor
Dislikes:
cloudy days, wide-open areas, getting caught
Skills and Abilities
Spotface is incredibly adept at hiding, and getting in and out of just about anything. Though that generally means locked shops and safes, he's also a skilled pickpocket. He's an acrobat, great at dodging and moving about; he's fast, and he needs to be, because he's incredibly weak and puny. His inventions help quite a bit, and his talent and creativity in making new devices out of whatever's to hand is admirable. Because of his unique access to war mechs, he's adept at piloting them and is familiar with their construction (though were he to make his own, they would never be as good as his uncle's).
Equipment & Weapons:
Spotface has his special green goggles, that protect his eyes and afford him improved night vision. He rarely goes anywhere without a toolset, which includes generally lockpicks, a small blowtorch, a bright lantern, and hand-crank power generator, among other things.
Climbing Gear:
4 spider-grip gloves
2 jump boots- capable of jumping 15ft in the air (also, landing up to 20ft without injury)
2 grappling hook shots with 40ft of light-weight cord
1 gliding apparatus
He doesn't technically carry weapons, though some of his climbing gear can do some real damage. A hookshot capable of piercing into stone will leave quite a mark, for example; he avoids risking his equipment, though, and much prefers to avoid fighting altogether.
Magic:
There were some practitioners of darker magic in his Harlequin troupe. The troupe also had a strong relationship with a tribe of Rat beastmen, who often traveled with them. From those two groups, he knows about dark and spiritual magics and a little of how they work, but he had no talent or interest in the stuff himself.