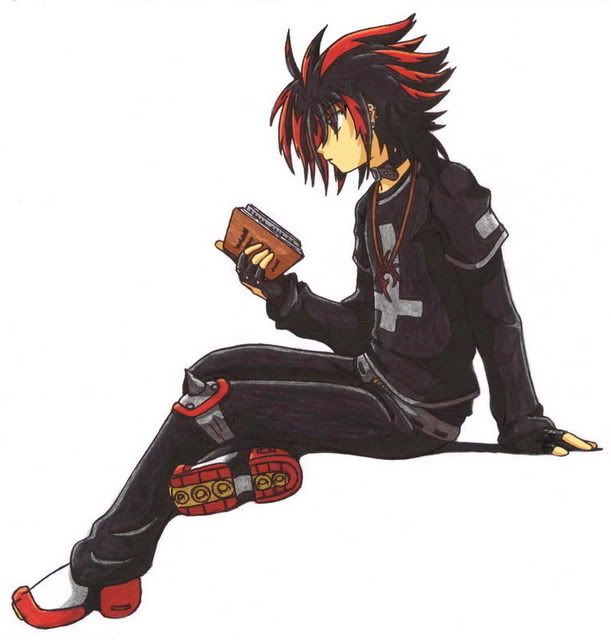 || 17 || Male || Dam, Dami ||
---
---

General Appearance
Damia stands a t a mere 5'9, which is pretty small for his age, and weighs about 147lbs. He has a pretty slim frame that is just built enough to tell that he plays sports, but sized down enough to tell that he doesn't lift weights. However, his shoulders have a good broadened shape. He constantly will bring up the fact that he's still a growing boy if anyone asks about it.

His hair seems to have a red dye highlighted around it with black being the main color, but, if you ask him, you'll find out that this is his natural hair color. Another cool thing about his hair is that it has a natural messy and spiky look to it, which he tends not to touch due to him thinking he looks good the way it is.

His eyes have an unnatural red coloring to them and it seems he has tribal red markings on the outer rims of his eye lids. Other than those markings his tan skin is only altered by the 3 holes for piercings he has on both his ears and the smudge like birthmark he has on the left side of his back.

Other
Damia has red tribal markings that shadow the lines of his eyelids. Sometimes he wears three earrings on both of his ears but mostly prefers to only where one at most times. Coming from a family that has a strong tribal relationship, he carries his tribes tattoo on his right shoulder.

Normal Attire


Damia is rarely seen wearing anything but black. Besides from his white tank top that he wears under all of his clothing, he has a black furred jacket with red lines on the sleeves and his families tribal mark on neck of the hood. To accompany this he has black sweat pants that also have red lines down the sides. He also has specially made sneakersjust for him that have air pushers at the sole of each shoe, allowing him to skate freely on any terrain besides extremely bumpy terrain like rough mountains. It should also be noted that he likes his hands covered when he's fully clothed, either bywhite gloves with ring colors, or fingerless biker gloves. As accessories go, Dami isn't really much of a fan of jewelry but does wear earnings depending on how he feels. He also dawns a black choker from time to time.

One thing you can always see him carrying around is his black book bag. He keeps everything from maps and pokéballs, to food and extra clothes.

If the weathers nice he'll wear a black long sleeve undershirtwith a black T-shirt underneath it. He also has one spiked knee pad that he wears with all of his pants.



---
---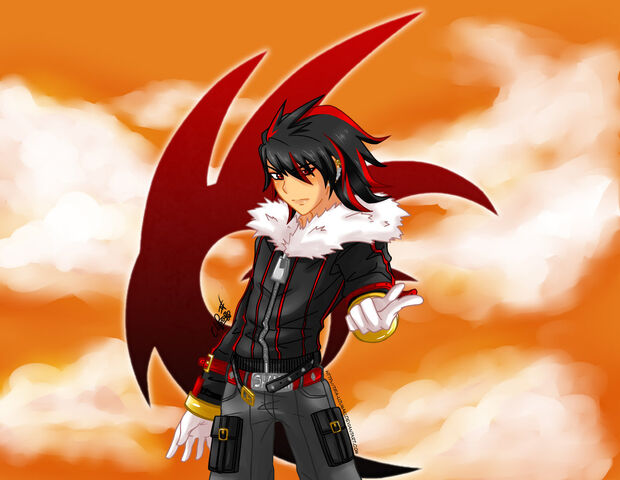 Likes
- Rock music
- Fire and dark type pokémon
- Black colors
- Adrenaline educing events
- Motorcycles
- Challenges
- Manga
- Puzzles
- Meat

Dislikes
- Vegetables
- Boring people
- People who hurt pokémon
- Being told what to do
- Having to grow up
- Staying in one place for too long

Hobbies
Other than reading manga and playing games that require strategy, Damia also enjoys riding motorcycles and traveling. He also makes music and different kinds of songs for the band he's in, although they haven't came out with a single in the last half of the year.

Fears
Aging- Being able to live as a kid and do all the things he's been able to do as one, Dami doesn't want to become an adult. HE dreads the day he becomes trapped in a position where he has to give more than half his life to work instead of fun.
Staying in one place for too long- Branching from his first fear, he loves his current life of traveling around the world. He really can't see himself living in a house inside of a town or even a city. He wants to see new things and feels that if he had to live in one area he wouldn't be able to.
Getting into a relationship/Falling in love- He has nothing against girls. In fact he likes them allot. However, this has to be the thing he's most afraid of. Being in a relationship means he has to confront both aging and having to be an adult and staying in one place to support his counterpart and possible family. He tends to think about this anytime he gets close to a girl whether it be in friendship or just someone who he might end up liking. This causes him to become distant or overly anxious.

Personality

Being born to two Pokémon trainers, Damia has always loved pokémon. His love for them is easily shown when he eats with them and let's them out of their pokéball often. He also makes sure to groom them and keep them healthy and beautiful for battle. Usually seen with a smile on his face, the boy tends to keep an upbeat persona, even during times of hardships. Because of this, he may sometimes come off as a person who never gets sad or angry, but in truth, he's just the type of person to hide those feelings. A bad effect of holding in his feelings is that when something really bad happens, or if he's introduced to too much chaos, he'll have a spurt of anger that comes out hard.

When it comes to other people, Damia loves meeting them. He's pretty friendly and talkative at times but is also a good listener. Since he knows so many people, he constantly forgets allot of their names, but tries to remember as many as possible. He likes people, but because of his past, he doesn't seem to like getting too close to them. This in turn makes him feel kind of lonely at times, but the way he see's it, if he has pokémon by his side then he'll never be alone. However, the loss of lifetime human friendships can be deemed negative in some ways.

One thing that should be noted about Dami's personality to anyone that travels with him, is that he's sort of an adrenaline junkie. He loves doing dangerous and heart pounding tasks and is never afraid to take on the greatest of challenges. To him, everything is worth doing once, as long as it's not a danger to someone else. Where most people have to think about running into a burning building, Damia, on the other hand, runs in without thinking. He tends to run into allot of dangerous situations without thinking, showing that he is a major risk taker. If you were to ask him why he takes so many risks, he'd answer with, "Well. The greater the risk, the greater the reward."

Feelings About Their Journey
Traveling for as long as he has, and being put through everything he's been put through, (see history), the main feeling he has about the up and coming journey would have to be surprised. He feels that being a hero of legend is wasted upon him. Sure he deems himself a nice guy, but he doesn't think he has the right to accept, or is even worthy of this role. However, going to a dangerous island sounds pretty fun and he's very excited for it. Even with all the doubts he places on himself, he's willing and ready to do whatever he needs to do to help.


---
---


History
Damia was born in Edgecliff city. Known for its wealthy inhabitants, it's not hard to guess that he comes from a wealthy and loving family. His mom and dad were both pokémon competitors and to this day, allot of people still know the Dantz name. When he was growing up he grew a deep love for pokémon. He even went as far as acting like a pokémon whenever he had the chance. His childhood dream was to become a pokémon, though when he got older he realized that it was impossible for him to become one. His father didn't help though, because he always encouraged him to follow his dreams. Even if his dreams were so far fetched.

When he was ten his mom and dad decided to get a pokémon for him and let him start his career as a trainer, just as they did. He couldn't decide on which one he wanted to get from them so there was a long pause before the conversation was brought up again. One day however, he saw a wild Sneasel running through his trash. At first he was a little hesitant on approaching it, but it didn't take long for him to swallow the courage to confront it. He remember that the Sneasel was really hostile and put up his guard. Being a kid, he didn't know that he was no match for the wild pokémon, thus he challenged it to a fight saying that if he won then that Sneasel would become his pokémon. It was almost as if the pokémon understood each word he was saying as he accepted his fight. Of course the kid was no match and ended up loosing the fight. The Sneasel didn't have to use any of it's abilities to win either. This event seemed to constantly go on with the days that passed. It went by one year after another until the day his father left home.

Without a warning or anything, Damia came home, just like he'd always done after school and found out from his mom that his father had gone missing. He was distraught. So much so that he skipped a few days in school and even skipped meals. Not only that but he skipped his daily battle with the wild Sneasel. It wasn't until late one night that he heard a noise coming from outside of his window. On impulse he went outside and saw that it was once again the Sneasel going through his garbage. It came later than normal so it was a huge surprise for him, but it seemed like he really wasn't in the mood to deal with it that day.
"Why do you always come here?" He asked. "Stop coming here. Stop going through my trash. I don't even want you anymore."

Even though its been years since then he can't forget the look the pokémon had in its eyes when it looked up at him. It was a determined look. One that said, "Let's fight." Not being in the mood, Damia just shrugged it off and went back towards the door.
"Ow." He yelped. He rubbed his head in the stinging spot and looked at the ground and saw a rock. Looking over at the Sneasel he realized that it had thrown a rock at him. When it was about to throw another one, Damia dodged and the Sneasel darted towards him. The fight was inevitable. The Sneasel wanted to battle and Damia was angry at the time. It seemed as if they were fighting all night long and before Damia realized it, it was morning. Laying on his back and out of energy he realized he felt so much better. He turned his head and realized that the Sneasel was laying down next to him, also exaghsted. He reached into his pocket and pulled out one of the empty pokéballs his mother gave to him and threw it towards Sneasel. It didn't fly very far since his arms were also tired and heavy, but instead landed right next to Sneasel. Sneasel turned towards him and gave him a confident look. It rose up and walked towards the pokéball and let himself be caught. Ever since that day, Damia and Sneasel continued their daily battles and also battled many trainers and their pokémon. Everything seemed like it was going perfectly. At the age of 15 he finally set foot outside of his home to start his journey through the Shannia Region to become the best in the region. He wanted to win as many competitions and gym battles as he could. However, he didn't count on one thing happening.

Not too long after leaving Edgecliff City he found out that some man that was described to look exactly his father was the leader of a group in Morick City. He hadn't seen his dad in years. This news made his heart sink so much that he was almost on the verge of crying. It wasn't much to go on, but the fact that his dad could be somewhere in Morick made him go there. He had to know. The group his father was said to be head of seemed to be a group of pokémon thieves who would take pokémon from trainers who they deemed unfit to carry them. He had to join and make his way up the ranks if he wanted to see the boss. Being as young as he was, he was easily tricked into stealing many pokémon. Some of those pokémon he added to his own team. He found himself not only becoming a stronger trainer, but making up excuses for everything he was doing. It seemed that the more he did, the worse the next thing he would have to do, would be. Finally, after a whole year, he was ranked up to meet the boss face to face. It was his father. The man even seemed to be happy that he was found. His father told him that his mother had always known his whereabouts and hid it from him. When he asked him why, the next words from his father made him regret everything he had done. His father told him the true nature of his organization. It indeed started off as a mission to save pokémon from bad trainers, but somewhere in the midst of it all, his father had gotten the idea in his head that no one was worthy of having pokémon. That's why the missions kept getting more and more questionable.

Damia had to make up his mind then and there on what he was going to do. Would he follow his father's plan and take everyone's pokémon away, or would he follow his conscience and call him out on his wrong doings? He decided on the latter. He realized that pokémon have the right to pick their own trainers, just as Sneasel had chosen him. His father in return, didn't like his ideals. He challenged his son to a battle and the two used all six of their pokémon in a battle that almost destroyed the teams hideout. Damia ended up winning and realized that even though he couldn't change his dads mind, he could still make amends some way. So he went and returned every pokémon he owned to their original owners and let the rest of his that he caught go free. He even told Sneasel that he should leave his side because he didn't deserve to be a trainer anymore. He realized that he wasn't a stronger trainer, but instead a weaker one.

Instead of leaving, Sneasel stayed by his side, just as he did all those years before and kept on being his partner. Thanks to Sneasels loyalty a now 16 year old Damia went out once again on a journey of his own. He didn't catch pokémon for awhile thanks to him becoming a guitarist for a band. That seemed to take up allot of his time. He didn't mind much because it was fun but he kept wondering if he should quit the band to go back on his pokemon journey. It wasn't until the beam of light shot from the sky covering him and his Sneasel that he was finally taken out of the traveling life of a rock star and thrown into his new life of adventure. He was 17 when he went to Orrene City and once he got their his excitement almost seemed to go over his head. He didn't know if he could be called a hero, but he did know one thing. If this was someones way of giving him a second chance at his dream of being a pokémon trainer and cleansing him of all his past wrong doings, then he was ready to do whatever it took. He sets forth on this journey wanting to prove that he can be of help.

Relations
Monica Dantz: Mother: Damia loves his mother and forgives her for keeping his fathers actions secret from him. He feels as if she was only doing it to protect him. She currently still lives in Edgecliff City. On the last word from her, it seems she is planning on running for a spot as mayor.
Jerome Dantz: Father: Damia doesn't think he can forgive his father for choosing crime over his family, but he does miss him allot. He had heard word that his father's organization had been closed down shortly after he left. He wonders at times, where his dad is today.
Sneaks: 1st Pokémon: Damia has known Sneaks for almost seven years and over the course of time the two have become very close. He feels as if Sneaks is actually part of his family now and would risk his own life for him. Damia can't explain enough how grateful he is for having a loyal companion such as Sneaks.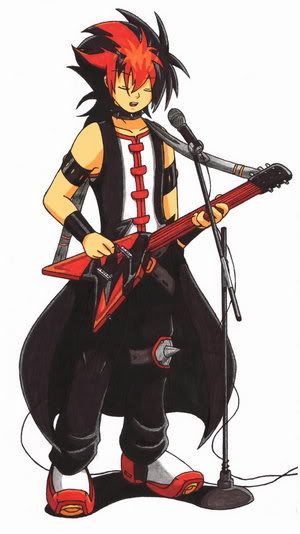 ---
---
Sneaks

Species- Sneasel
Gender- Male
Ability-Keen Eye His eyes prevents loss of accuracy and ignores boost in enemy evasion.
Held Item-Quick ClawAn item that Sneaks holds as an earring that gives him more of a chance of going faster than his opponent in battle.
Nature
Hasty
Just like his partner, Sneaks is quick to jump into dangerous situations as long as Damia is by his side. Once he gets his mind set on something he darts forward until his goal is accomplished. Sneasel can be found eating all the food his trainer eats. He loves food with a nice sweet taste to them, but hates spicy and hot food. When it comes to pokémon battles, Sneaks is always fired up to fight and always trying hard to win using his speed as an advantage. He feels that his trainer is more like a brother than a trainer and is willing to do whatever it takes to make him happy. While the two were pokémon thieves, Sneaks decided to stick by his side, even though he knew that what they were doing was wrong. After they settled down to the life of musicians, Sneaks grew pretty bored and the thought of finally being able to go on a legit journey to help save the world makes him even more fired up than ever before.

On a side note, Sneaks is usually quick to make friends with pokémon and their trainers. He's easy to get along with and usually likes whoever Damia likes.
History
A little while before Sneaks was found rampaging through Dami's garbage, he was taken away by a storm and separated from his family. Actually, based on his DNA, it is hard to decipher whether he is a Sneasel from Shannia or from another region. His thoughts are always with Dami, and doesn't care what type of event or place it is. All that's known is that after Sneaks was seperated from his family, he wondered around the Shannia region, searching for food and a good place to live. Coincidently, he found a nice home in Damia's backyard and a large supply of food in their garbage. Seeing Damia grow from a kid into a young adult has been a thrill for him, and the fact that he never gave up no matter how many time Sneaks beat him, gave the Pokémon a higher form of respect for him. This respect stayed with them all the way through the gang of pokémon theives trials. Even though Sneaks knew what they werte doing was wrong he never left Damia's side. Even when Damia gave him the choice to be free when it all came to an end, Sneaks didn't have to think twice about it. He knew from the very start that Damia was the trainer for him.

As a couple months went by, it was Sneaks who got Damia into playing the guitar. He also, by a string of good luck, had a run in with a Charmeleon, whom the two thought was a wild pokémon, but instead ended up being the bands lead guitarists pokémon. This was the event that brought Sneaks and Damia into the life of rockstars. It was fun while it lasted, but only took about a year for them to go on their next destination. It happened so fast. The light coming down from the sky and then a group of people surrounding Dami. It was a usual thing considering he was a musician, but it felt different somehow. It wasn't long before Dami took them to Orrene City. When Dami finally told him they were going to finally go on a real adventure, Sneaks couldn't contain his excitement. He was ready and had been ready since they first stepped foot out of their house. He looks forward to the upcoming journey.
Moves
Faint Attack
Shadow claw
Icy wind
Shadow ball
---
---
|| Delusion || Novelist ||
"I've forged myself on what I've been living. Not on what I was supposed to be."