---
Name: Jason Sutton

Gender: Male

Age: 49

Rank: Alpha

Mate: Rachelle Sutton
---
Appearance:
An ageing man Jason Sutton has streaks of grey in his once dark brown hair. His forehead crease shows his head the stubble of his grey beard neatly trimmed. His eyes are a clear blue however the pain he has felt in his life can often show within them. For his age Jason dresses trendy and in style keeping up his appearance of a sophisticated man however his expressions show his emotions and intent towards his wolves.
Wolf Appearance:
As a wolf Jason is a common grey wolf, a black streak runs down the back of his tail merging into a dark grey along his back before the gray mingles into the white of his underbelly.
---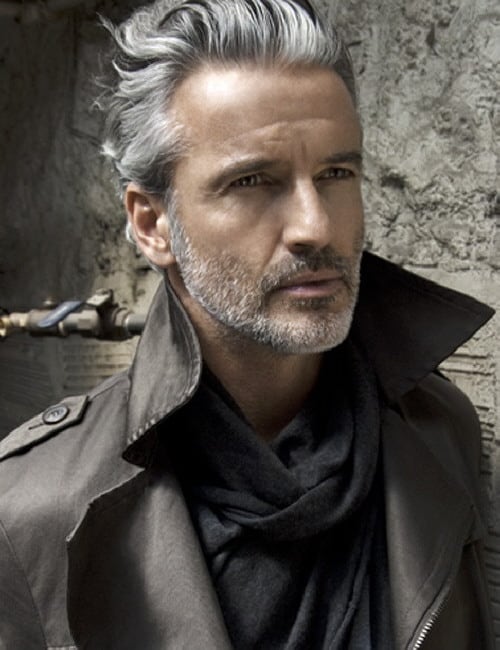 Personality:
Jason is a pensive soul. Often he can be found within his office and his paperwork working through the finances of his pack house and keeping track of his pack wolves. He can be hard to talk too when he is concentrating on a project or if he has a lot on his mind however Jason has a free spirited side. He will often joke and play around with the wolves in his pack however he knows how to keep a distance of authority.
No matter what he puts the safety of his pack first even at his own expense. He is a man of duty and strives to lead by example. However, his duty can sometimes force him to punish rule breakers despite his personal relationship with them. He will not hesitate to punish those who step out of line and will often carry out the punishment himself if not asking his Beta to do so.
When not thinking as an Alpha Jason is a kind and warm man. He will look out for those that can't protect themselves and goes out of his way to keep them safe even if they don't ask for it. He will try to understand a personal situation even if he doesn't fully understand their point of view. He can be quite teasing to some of the wolves he is close too such as his wife, and mate, Rachelle, whom he often playfully teases.
Overall Jason has an open mind and will embrace change if he must do so. This open mindess is what gave him the acceptance to allow other wolves born outside of the pack to join his which has made his pack grow stronger. He embraces the new world now that humans are aware werewolves but keeps a sceptic eye on outside humans who travel too close to the pack house.
---
Likes:

Boxing
Running as a wolf
Teasing Rachelle
Listening to classical music
Protecting his pack
Pool

Dislikes:
Rogue's
Disiplining his pack
Letting Rachelle down
Acting before thinking
Wolves breaking the rules

---
History:
Jason was the son of the previous Alpha. He grew under his father's advice who trained him to become the man he is today. Jason didn't have the ambition to become Alpha but he knew he was the best man for the job during his generation so he accepted the role willingly. As a teenager, he was a boisterous young man always causing pranks and socialising with other wolves. He was often called the life of the party celebrating and joking around all the time. However the moment he accepted his role as the new Alpha he knew he had to put duty first. He pulled away from his social life of mischief and grew into an independent man his mind becoming more focused on his pack and his duty than himself. When he met Rachelle she was the only woman capable of pulling him away from duty giving him solace to be the man he used to be when alone with her.