Name:
Silvestra Lilith Roberge
Nicknames:
Silver, Sil, Sylvie, Lilly, Lilith
"Silver or Sil. If you call me anything else you'll be ignored, if you're lucky...."
Gender:
Female
Age:
19
"My birthday was two months ago."
Rank:
Omega
Crush:
---
"I don't do crushes."
Mate:
---
"He doesn't exsist."
Appearance:
"You're looking at me, why do I need to tell you?"
Silvestra is one of the smallest females in the pack, standing at 5'1 and weighing 106 pounds. Despite being so small Silver works out daily and sports a toned physique, being mostly muscle and bone the girl somehow still has enough fat on her to give her a decent amount of curves. Her eyes are blue though occasionally they can appear grey. Her hair is naturally platinum blonde though she occasionally uses temporary dye to color streaks of it, the streaks currently being black. She has a handful of piercings and a collection of tattoos, including the brand on her thigh.
---
[img]Another%20Real%20life%20image%20here%20if%20want%20one[/img]
Personality:
"Figure it out yourself."
Since the first things most people find out about Silver are how aggressive and sarcastic she can be it's hard to like her right away. She is extremely guarded, rarely letting people in. She didn't even trust most of the pack members for the first two to three years she lived with them. And even wen she did finally start to let someone in she was distant and very temperamental. Of course, the situations she's gone through have done nothing to help. Most of her life trust and happiness led her to pain.
Despite her horrible temperament, Silver has a pure heart when it comes to those she trusts and loves. She is one of the most trustworthy, loyal people you could ever meet. If it ever came down to it Silver would die for the people she loves. This protective factor is quite surprising since it goes so much at odds with how she usually acts. Silver, despite having an ice shell around her heart, can show an extremely caring and loving side though usually only to children and animals.
Despite not being the sharpest knife in the drawer she has a good moral compass, is extremely observant, and has the quick-wit that most people can only get from living on the streets or having some other dangerous lifestyle. Her stubbornness, while extremely aggravating at times, is only put to use when needed since Silver can be extremely lenient or open-minded at times. That being said she only has an open ear for a select few who she feels have earned it.
Pro:
Loyal, Trustworthy, Observant, Caring, Protective, Quick-Witted
Con:
Aggressive, Distant, Sarcastic, Hot-headed, Guarded, Stubborn
Likes:
Motorcycles
Animals
Music
Pulling her Weight
Her Job
Quiet
Fantasy Books
Sweets
Dislikes:
Strangers
Cities
Spoiled/Selfish People
Bullies
Crowded Spaces
Studying/Non-Fiction Books
Talking about her past
Being Useless/Feeling like a Burden
Strengths:
Combat
Speed
Archery
Resourceful
Observant
Weaknesses:
Insomnia
Achluophobia (Fear of the Dark)
Animals - Especially her Pets
Kids
Distrusting
---
Original Name:
Serena Penelope Duval
"My name is Silvestra. What people called me before doesn't matter."
~WIP; ANY QUOTES FROM EVIE ARE OPEN TO CHANGE BY KURA~
History:
"It's in the past. Why should it matter?"
Serena's story truly begins before she was born, with her mother. Jennifer Duval was a strong-willed, passionate woman and such was her right being the daughter of an Alpha. Jennifer took her birthright very seriously and her father was extremely proud, that is, until she found her mate. She had been out on a run with some of her friends, patrolling pack territory when the scent of an unfamiliar werewolf caught her attention. As one of the others went to go get help Jennifer and her remaining friend crept up on the stranger, her friends both having completed their first changes the ear before. Jennifer knew he was a rouge but when she saw him she could pull up no anger or even fear as she faced a turned werewolf in human form. Instead, she felt the connection. When her parents and the betas arrived Jennifer refused to let them kill the rouge, declaring him her mate to half the pack. It caused a huge uproar and for two days Jennifer tried to convince her father to let the rouge join the pack. On the third day, instead of accepting him in he announced that the rouge would be killed. Jennifer had an extremely heated argument with her father in which he gave her a choice, the rouge or her pack. She didn't even bother to answer, walking out the door without ever looking back.
Jennifer and Damon got along extremely well, Damon becoming a Loner after meeting Jennifer, and a few years later they realized she was pregnant. Sadly, she didn't survive the childbirth and Damon was left without a mate and with a little girl who looked exactly like her mother. At first he forced himself to go on for Serena. He got a job and provided for her like a father should, even looking into non-rouge packs for her to join. When she was six the stress and depression finally caught up with him and he started drinking. At first he just came home drunk once or twice a week, going straight to bed. Then it changed to every day, then sometimes he wouldn't come home, and by the time she was eight he had stopped coming home almost every night. When she was nine was the first time her father came home drunk and angry, though that time he only yelled at her. As the year progressed he moved on from yelling to breaking stuff and then to beating her. Five months after her 12th birthday her father got fired from his job and came home drunk. That night he beat her until she blacked out and it solidified her decision to leave, something she had been contemplating for a while. The next morning her father woke up to find her gone, not even a note.
Using a small amount of money she had saved, mostly by putting away little amounts of money left over from her father making her do the grocery shopping and other errands, she bought a bus ticket for the farthest city on the bus route. Once she got there she took two more buses doing the same thing and going in the same direction. The trip took 5 days and the city she stopped in was big though not a prominent city, Sterling being a city that you would only know the location of if you lived within driving distance. It was hard at first, being only 12, but after a little over a week of living on the street a group of 'street rats', as the police often called them, took her in and started showing her the ropes. Teaching her how to fight was the first thing they did, though none of them were very well trained themselves, mostly teaching her how to be agile and quick. She stayed with them for a while, becoming a pick pocket and a shop lifter. The rare occasion that the cops got there before they were gone Silver, the nickname given to her by the group, was never caught and would often help the others if any of them did get caught. She lived with the group for a year and nine months, turning 14 when she was still with the group.
Sadly, her wit and agility, did nothing to help her when the two grown men grabbed her off the street and stuffed her into the back of their van two months after her birthday. She had no idea who they were, nor did she know that they had been stalking her for over a week, but she would come to find both out very soon as well as the fact that there were two other man with them. The cabin they took her to was at least 8 hours away from Sterling, something she figured out since it was dark when they got there, and since it was in the middle of a forest at the base of a mountain Silver knew it was in the opposite direction of the city she grew up in with her father. At first she thought it would just be like living with three of her father since all the men did for the first few days was beat her, her big mouth not helping cool their tempers in the slightest. Though, one of the men didn't touch her for that first week, just watched in amusement as his friends got angry at the cutting words of the 14 year old girl. He was the worst of all though. He was the first one to rape her and not only that but he marked her, tattooing his name on the inside of her left thigh. Over the seven months she stayed with the men she found out that two of them were brothers, the older a tattoo artist and the younger a mechanic, and the other two were just friends of theirs one being another tattoo artist and the other being a drug dealer. Silver's life was a living hell, constantly being abused in some way. Shortly after her 11th month with the men ended she got a chance to escape since only the drug dealer was there, usually there being two or more of them there. When he went to leave she shoved him and, not expecting it and being extremely drunk, he stumbled out of the way and tripped down the stairs. Silver made a run for it and escaped but not before the man got his bearings and shot Silver, the bullet grazing her right side. Despite her injury she ran and ran, ignoring her blood loss and the pain of rocks and twigs cutting into her feet as well as the tears that clouded her vision and eventually she collapsed.
When she awoke she was surrounded by people she didn't know and her wounds where cleaned and bandaged. They told her that she would be staying with them until she was healed and there didn't seem to be much of a choice. During that time a full moon happened and despite their efforts to hide it from her she could tell what they were, it wasn't like you could live with a guy for 13 years and never figure it out. They were extremely surprised when the day after the full moon she had barricaded herself into the room she had been staying in. More so surprised that she had managed to move the heavy oak furniture by herself in her injured state. Her only experience with other werewolves being her father she had panicked. She refused to let them in, stating that werewolves were evil, this shocked them as until that point all she would do was stare mutely at them or scream any time a male came near her, and she somehow knew about them. At first they let her have her way as they tried to figure out how she knew but after a day they came to the conclusion that they would have to break down the door to get her to come out, being unable to give her food or check her wounds. Everyone, including Silver, was surprised when little Evie's voice came from the window. "You should really let them through, they won't hurt you. Besides, why survive only to starve yourself to death?" Silver was shocked but wary all the same as she watched the girl hop through the window. "How do you know?" Evie had rolled her eyes and smirked. "If they were gonna hurt you why would they save your life and feed you?" Despite Silver's better judgement she had trusted the little girl and helped her move the furniture away from the door.
For her first year she was with the pack the only person she talked to willingly was Evie and her parents, and even then she would often refuse to talk to them if she wasn't in a good mood. She was still extremely wary of men but she made a friend of Mrs.Sutton about 6 months into her first year there, since Silver liked to help with the cooking and cleaning. She hated feeling like a burden and was always helping out around the pack house. When she found the shack in the woods, not far from the house she didn't even ask what it was for and fixed it up, using it as a distraction from her insomnia at night. When she had finished it she told Alpha Jason and to her surprise he told her she could keep it. At first she tried to refuse but he insisted and it ended up becoming both a dog house and a workshop about a month later. During that first year at the pack house Alpha Jason and Mrs.Sutton tried to get Silver to study with Evie but the only classes she would take part in were the martial arts, hand-to-hand combat, and archery classes, all of which she excelled in. When she wouldn't take interest in studying Alpha Jason suggested she get a job and she instantly did so. When she saw the 'Now Hiring' sign on the door to the mechanic's shop she froze, her mind going to the men, but then she remembered how often the man would complain about working on motorcycles. She took the job on the condition that he would teach her how to work on motorcycles and then let her do that part of the job herself. At first he was hesitant but when Silver told him step-by-step how to take apart and rebuild an engine he agreed. She grew to be friends with him, it probably being easier due to him looking nothing like the men with his blonde hair, and he often called her his apprentice. Eleven Months into her time there, Frank the Mechanic gave a puppy to Silver as a birthday present, since his pit bull had puppies during the year. Around the same time she bought a beat up old motorcycle from him and started to fix it up.
The two years she showed improvement, opening up a little more and actually talking to other people, though the only person she trusted completely and considered a friend was Evie. Despite her improvement in temperament her nightmares, a side affect from her time with the four men, only got worse and Silver tended to spend more time in her shed than sleeping. Her insomnia is what led to her finding horror movies, her current poison of choice. On nights that she isn't in her little shed she can be found either in her bedroom or in the living room watching them, usually with all the lights on since they've made her afraid of the dark.
Her 18th birthday, marked her third year with the pack. Using money she had saved up, a surprisingly large amount since other than the part of her paycheck she gave to the pack she almost never spent in, she got some tattoos. She was quite surprised that Alpha Jason let her do so but she was happy to add more art on her body to distract herself from the brand on her thigh. Evie suggested getting it covered but Silver refused knowing that whatever she covered it with would be something she would grow to hate even more. After getting her tattoos life went on and Silver seemed to settle into her own skin. Russel's arrival, while a bit unsettling, brought no hostility from Silver as she saw pain in his eyes that she could sympathize with. Though she was still very aggressive and guarded she would greet everyone in the morning, including Russel, and even started going to most of the gatherings, spending her time entertaining the kids or glaring at everyone from the back (a huge improvement as her first time ever going she had gotten into a fist fight).
Five months ago, when Aziel returned, it threw Silver a bit of a curve ball. She didn't trust him at all. She hadn't known him, like everyone else, for years. He was a stranger in her 'safe' world and suddenly it didn't feel safe anymore. Evie, as well as most of the other pack members, could sense Silver's unease but instead of becoming more aggressive like everyone expected she avoided him. This was mostly due to the influence of Evie since Silver knew her best friend would be put in the middle of whatever she started. She made sure to eat and leave early or late to be able to avoid him and when she did get stuck around him she was usually silent, wearing a blank expression. Evie tried to get her to open up to Aziel but it was no use. While Evie, in all her stubborn glory, has refused to give up on them getting along everyone else has settled on waiting until Silver begins to feel comfortable around him.
Other:
FC - Avril Lavigne
Has three pets, two dogs that are kept out in a small shed she built herself (the main condition The Alpha gave for her getting the first one). One is a three year old male
Pit Bull Terrier
named Shadow, and the other is a 7 month old female
Siberian Huskey Wolf Hybrid
named Angelina (angel for short) after Evie though the pup is just as much of an angel as Evie herself is. The last is a
female northern pine snake
That is about 6.5 feet long and is named Selene ,or Luna since she picked the name for its Roman Goddess origin.
Her Wolf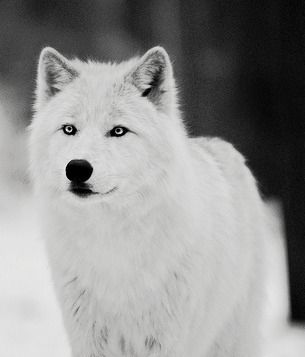 The thing that really sticks out about Silvestra's wolf is her pure silver eyes, a trait that only appears in Alpha bloodlines and even then is still rare. Other than that she is smaller than the average female and has white fur. She's more built of speed and agility than anything else.