---
---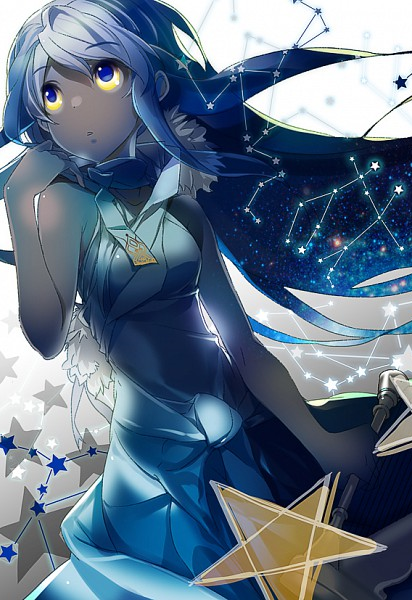 Name

Fotiá (Fo-She-Ah)

Nickname

The Shooting Star

Age

Appears in her mid-twenties

Race

Elemental Creature

Sexual Preference

Asexual

Appearance


She is a woman who, more often than not, will have a windswept look about her--but contrary to making her look disheveled, it fits her style rather well. She stands at above-average height, very nearly reaching 6' if she bothers to stand up straight. Her eyes are a startling azure but, every so often, reflect the pale golden from the moon if she glances upwards at night. Her eyes are her most noticeable feature, highlighted by slightly rosy cheeks and a tanned complexion. her eyebrows are a little thick and shorter than normal, but she hides them behind long bangs. Her blue hair tends to be wild and unruly and it is not uncommon for strands to randomly stick up at times. The best she can manage is to tame it down so that it curls around her cheeks and against her back. When allowed to hang loose, it falls down to her knees.

Her body is slim, her curves subtle, but there is something of childish charm there--an ironic appearance given that her manner is cool and distant. Her manner of dress falls more on casual-formal wear, making it ideal to please situations that demand a more elegant form of dress. She also wears clothes made out of satin--a fabric she adores for its softness and silky feel. She prefers high-rising collars that brush the tips of her ears, or scarves that shield her neck and collarbones from view. Most of her outfits are accompanied by thigh-high boots, the material thin enough to still allow her flexibility when in combat.


---
---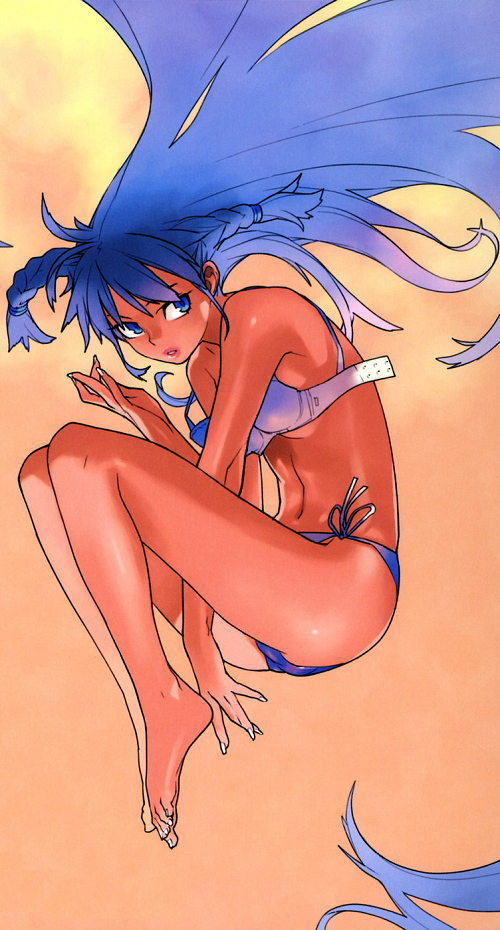 A blank slate would be a good place to start, if any. She is best described as a more neutral being, due to her lack of opinion regarding most matters and her seemingly unattached disposition. From the outside, this can look like a lack of caring but in honesty, it's because she just doesn't get what all the hype is about. Most things cause her to pause and regard them with guarded curiosity. Material plane matters are a mystery to her and the laws that govern this version of existence are exotic and foreign. The emotions that such beings possess are something of an enigma for her and it's completely beyond her comprehension how so many different creatures have so many conflicting morals. She's never really sure where to start or which side to take when there are debates over values. She's evasive when it comes to voicing her own... mostly because she doesn't have any.

In truth, it confounds her how so many people give in to the temptation of violence--especially when there is so much vibrancy in living. In her mind, purely existing was what her world composed of since she came to possess consciousness and she is confused as to why other creatures cannot be content to do the same thing. Other physical beings are obsessed with property, possessions; but all of that is pointless to her. She's never really needed those things in order to be content. This, in turn, can make it hard for her to form attachments with others. She can't quite bridge the gap between the acquaintance and the friend and doesn't really know how to go about moving beyond just a mere conversation. She's never really had a reason to. Elementals don't function on the same logic as apparently all of these other creatures do and this conflict of upbringing is what causes her dissonance with others.

From her interpretation, it seems to make other people uncomfortable when she doesn't smile, so she does. They seem pained when she does not return their friendship, so she does her best to mimic what they do. Material beings are odd to her--so many customs and so many social ques that just seem flat-out unnecessary. She never quite got why people can't just say what they mean, or stick to what they say. All the double-meanings, undertones, indirectness--it bugs her to no end and by the end of the day, she'll arrive at a point where she doesn't want to interact with anyone else. It all gives her a headache anyway. She has a strong sense of duty but that's because it's rational and doesn't rely on bias... or so her understanding leads her to believe. If she's given adequate reason for it, she'll preform any action she is asked. The whole "socialization" thing in between--needlessly complicated and far too boring and long.

She can come across as cruel or brutal, but to her, she's just carrying out a task. She doesn't have much of a sense of empathy, because fire has never really had a need to feel like creatures of flesh need to. She is somewhat conscious of how her actions appear to others and this can cause her to close off because she doesn't want to insight fear in others. She wants them to show her how they go about existing. In fact, if given the chance, she is often full of questions--each answer a contributing piece to the larger puzzle. In the end, she really just wants to understand, the problem is that she may not always know how to communicate this desire. She usually resorts to using crude body language when her words fail her. Perhaps in the right light, this could be viewed as almost cute... but she'd be pretty oblivious to that sort of thing. In fact, that sort of thing just goes right over her head. Compliments befuddle her. She knows she has a lot to learn and it can embarrass her how inexperienced she is with emotions. But she tries.


---
---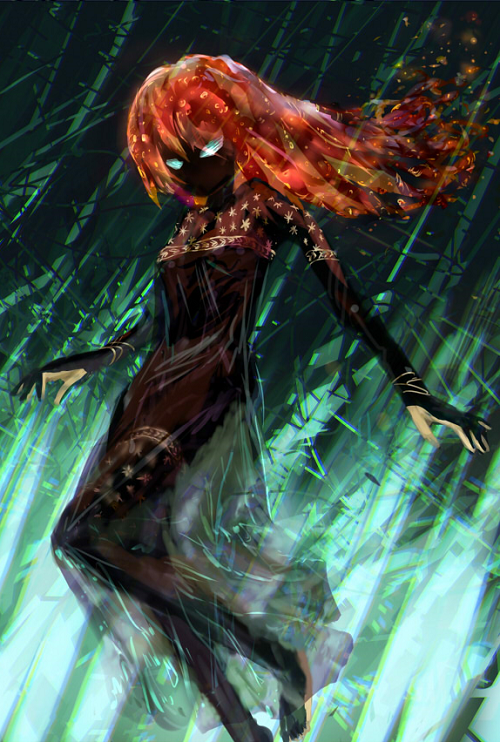 She dual wields a pair of cutlasses, each with its own nickname: Ivory and Plume. To an unobservant eye, the weapons will appear identical but with further inspection, the names of each of the weapons are engraved into both the hilt and as part of the design at the base of the cutlass. Both she carries on her person at all times and she refuses to let anyone else polish, sharpen, or even touch. She is very possessive of these weapons and sleeps with them (after bundling them in in their sheaths) against her breast. In fact, hugging her cutlasses close to her person is the only way she can get to sleep at night. Something about it just gives her security.


Living up to her nickname, she can alter the form of her body to resemble that of a star. Her skin darkens to a rich, raven black as her facial features seem to disappear into the void of darkness. Only her eyes are clearly visible, and those shine with a rather passionate, turquoise hue. She has no pupils, which can be a little disturbing to one first witnessing this alternate form. Her blue hair seems to light on fire during the transformation, seemingly burning at the very tips. Her body becomes clothed in a thin material, glowing markings clearly visible on her shoulders and on her upper thighs. But don't let the cloth fool you. This form is just her attempt at still looking human--she will literally burn any who try to touch her.

Much akin to a fire mephit, she has a breath weapon that allows her to expel flames from her mouth. The strength of these flames are reliant upon how much energy she has stored in her body--which is in constant flux due to the energy she draws from the atmosphere. Fire is free-flowing and she can further alter the form of her body to anything she pleases--a flame whirlwind, a pillar of fire--she just needs proper time to change her body into energy and spread out the particles from there. She can also fly--a lovely little ability that has brought flame to many a tree branch.


She uses the sun to re-charge her fire energies, but the sun is also something of her rival or nemesis. She can't morph during the day as the sun's rays are too intense, too strong and would blot her out from vision and over-power her abilities. In fact, transforming during the day is flat-out dangerous since she could run the risk of losing control of herself and going on a fire-impassioned rage. Therefore, she is equally reliant upon the moon--as its rays are gentler and much more controlled. She can only shine at night and must return to human shape before the sun rise.

While she is re-charging, she is physically weaker and has less stamina. The early afternoons are especially grueling for her because they come with the most caution. Drinking in too much solar energy will cause her to be off-kilter for the rest of the day and being in direct sunlight between noon and 3:oo is an absolute no-no. Therefore, she attempts to resolve this by staying indoors and simply sitting by a window to get adequate sunlight. If she absorbs too much early on in the day, her body will be unable to hold its completely human shape and she may suddenly light on fire--which would be rather unfortunate as well as endangering to her health. The whole process is oddly specific and she takes absolutely no risks... which puts her in the quirky position to suddenly, without warning, go darting off--promptly abandoning her previous position for safety.


---
---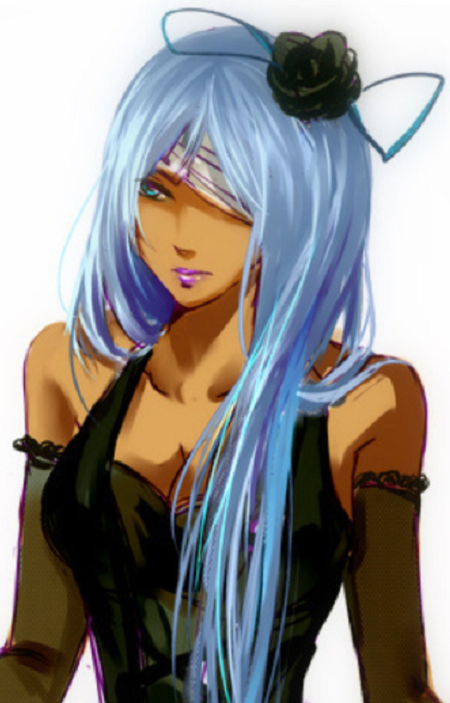 To ask after the birth of fire is a rather ridiculous question and one that would make her laugh. Fire has existed for a long period of time, so the better question to ask would be when she gained consciousness. To that, she would say that her mind formulated when her desires were too much for mere particles to encompass. A tricky and evasive answer but the most honest one available. Her existence was on another plane, one that is made purely of fire and one in which no mortal could ever survive. But to her, it was home and beloved. Here was where she learned to temper fire, to experience the greatest freedom of being pure energy.

Time does not pass quite in the same manner for an elemental as it does for a creature of the flesh. As opposed to the instinctive thought, time moves a lot slower for her than it does for other manner of creatures. Her concept of what a year is is rather... skewed, to say the least. To her best memory, she simply came into being and shortly there after, was summoned away from her home to the material plane by a strange cult of humans that seemed to worship some sort of moon deity. She didn't really want to ask a lot of questions--they were wearing bizarre masks. And weren't on fire.

She was taught the rather harsh sounding "common tongue" of humans, which did not flow nearly as nicely as her own tongue. She soon learned that her existence on the material plane hinged upon two things she had never witnessed before--the sun and the moon. She had trouble in her early days with controlling her flames but over time, (how much, she couldn't even remotely take a stab at) she learned how to properly materialize within the physical realm. She discovered that creatures of flesh could melt and that they could not withstand the heat that she could. Yet, these other creatures possessed things that she did not... and understanding that confounded her.

Confusion seemed tied to her time on the material plane and she waits to complete her assigned task so she can finally return home... that's what she was promised, anyway.