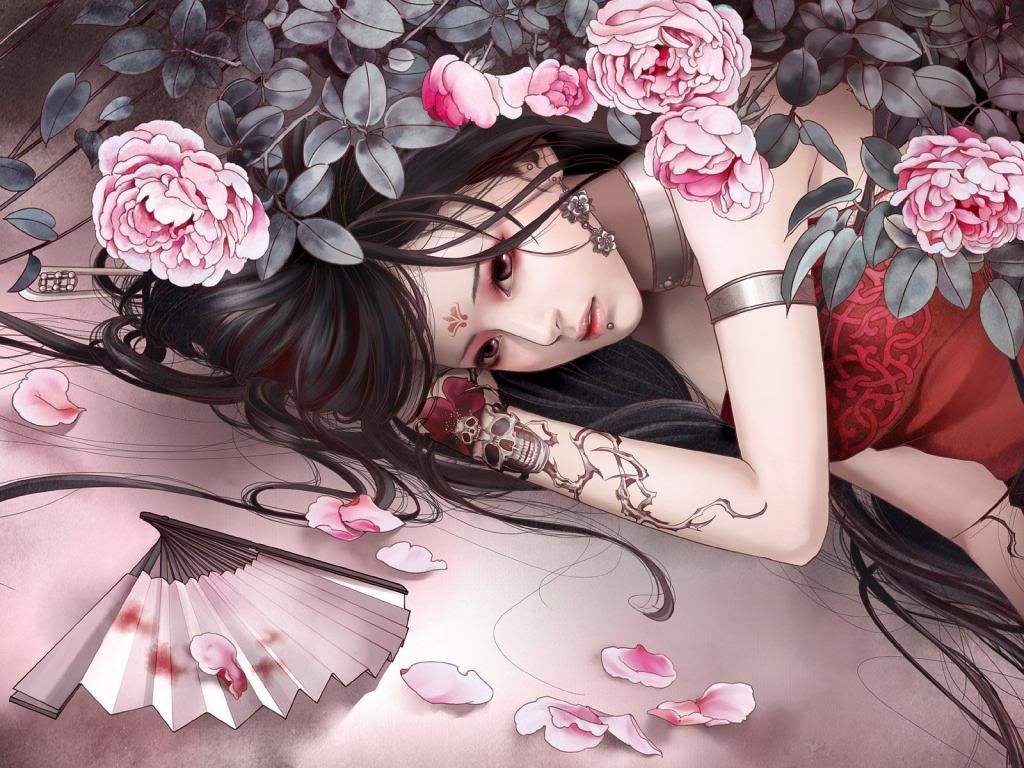 ---
---
Sakura is nearing her twentieth birthday and has grown into a very beautiful young woman. Long silky black hair frames a delicate oval face. Almond shaped violet eyes sit under thinly curved black eyebrows. Her skin is a fair pale color as she's never been out in the sun before. The mark on her forehead is the marking of royalty in Iverien. Her ears a pierced with small glittering jewels. In her right ear is a single long earring of beautiful steel flowers. It is a memento from her father. Around her upper arm is a silver band and around her wrists are silver bands as well. Sakura prefers to let her hair flow freely, never tying it up with anything unless she really needs to.

In the palace she wears fine silks and long dresses of deep reds and purples. However, once freed from her castle prison, she wears commoners clothing. Tall knee high boots with thin leather pants tucked into them. A short white and brown leather skirt covers her hips with the front only coming down to mid thigh and the back of the skirt just down to the back of her knees. A white shirt is covered with a dark brown leather vest that curves to her supple frame. Her shoulders are bare as are her arms with the white tunic's sleeves being very small on her upper arms.

---
---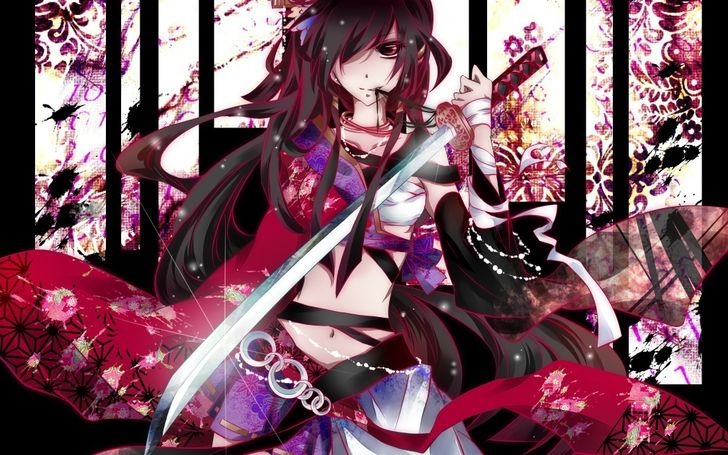 ---
Sakura at first doesn't wield any weapons of any kind. When she does, she's more suited to a long, light weighted sword. In this instance a katana or rapier is more her style. Small knives and daggers are also good for her, but she would need to learn how to fight in close combat. Of course, either way Sakura would need to be trained in how to fight. The only things that she's kept since leaving the castle were her silver bracelets and the arm band as well as the single long earring that she wears as a memento from her late father.
---
• Despite her confinement, Sakura is rather brave and is very good at hiding her emotions.

• She is determined to do things on her own as much as possible and learn as much as possible to not be a hindrance to anyone. In light of this, she is a very fast learner, taking things in with an almost childlike demeanor. She wants to know everything.

• Sakura has a strong determination and inner will, and takes everything head on with as much energy as possible.

• Once she's gotten the hang of wielding a weapon, she's very good in a fight.

• Later on as her magic becomes apparent, she is extremely powerful. Wielding her power will take some time, but once it's been controlled she can be a devastating opponent.

---
• Any strong negative emotions will trigger pain in her chest and depending on how intense the feeling is, she might collapse or pass out due to it. Even though she's very brave and doesn't let things scare her openly, she still feels fear and any other negative emotions.

• Because of her intense wish to learn everything, she can get into lots of trouble more times than not.

• Sakura's wishes to do things on her own can put a strain on her and also get her into trouble as well.

• She's weak against multiple attackers at first. Very weak against magic users and long ranged attackers.

• Her power is too strong for her to control easily so when she's first starting out it can prove to be dangerous and almost deadly to herself and her allies.

---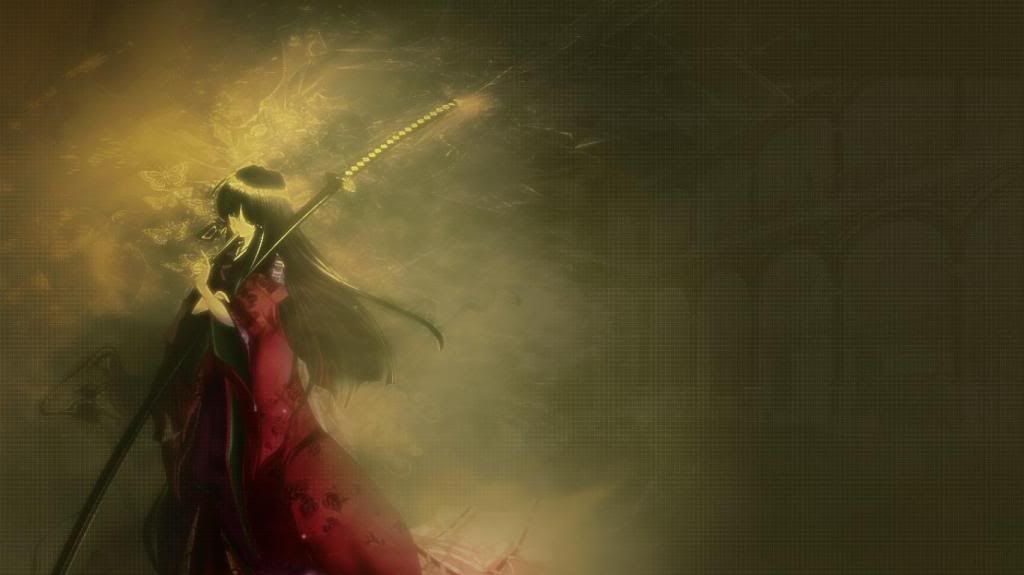 ---
Sakura is a very brave and strong willed young woman. She enjoys having company with many other people due to her isolation for most of her life. Her fears lie with being alone. She hates not having anyone around her for she's never had anyone aside from her nursemaid and the mother that she's only ever seen a few times. Dark places terrify her, especially if she's alone. There are memories there that she doesn't wish to go through again. Despite her ability to keep most of her emotions under control, once she's alone its an entirely different situation. Sakura has a hard time coping with her new found emotions if there's no one there to help calm her. She will fight hard to not be returned to her palace as she hates being there and knows that once she's back she'll be isolated again.

She laughs easily and smiles often, preferring to think on the brighter side of things than the negatives. Even so, Sakura can become very serious when the time calls for it. She rarely gets angry, and doesn't like it when others are angry especially if they are angry with her. She'll become very sad if she's done something wrong without knowing it and will wish to try to fix it to the best of her ability. She likes to try to cheer up other people because she loves hearing laughter and seeing smiles rather than the opposite. She's a great listener and though she doesn't know much about the world she often says things that may make it seem like she knows more than she lets on, especially if she's trying to cheer someone up or help them with a problem.

The princess doesn't like titles and will insist on being called by her first name rather than Princess Dieriean or Your Highness or anything like that. In light of this, she'll keep her heritage a secret as best she can. Which adds to another reason why she allows her hair to flow freely because she wishes for her long bangs to cover the small mark on her forehead. She doesn't want to be treated any differently than anyone else just because she's got royal blood. Even so, she wouldn't know how to act as royalty to begin with. Just the thought of it makes her uncomfortable.

She dislikes those that wish to hurt others purely because they can. In all honestly she doesn't understand the reasons behind hurting others. It honestly doesn't make any sense to her. If at all possible she won't fight because she doesn't want to continue the cycle of hurting each other. However, when it comes to her new found relations, Sakura will do just about anything to protect them because they are precious to her. She's afraid of her magic (once she knows what it is) and will refuse to use it almost all the time until she absolutely has to.

Sakura is very open with her thoughts, speaking whenever she feels the need to and asking many questions. This is all in her pursuit to know as much as possible about the world that she's never been in. She might not realize that she may be quite a bother when asking so many things, and it's almost an impulse to ask so many questions. However, she doesn't wish to be a burden on anyone and thus tries her absolute best to do what she can on her own.

---
The lady Dieriean had her daughter Sakura on the night of the new full moon, on what was known as the lunar solstice. During this time, the spirit world is far closer to the living world than normal. Strange activities during the night time hours in the month of the lunar solstice were not uncommon. However, what was uncommon was the single birth during this month which was of Sakura Dieriean. The power of the moon was something very sacred especially during the lunar solstice. With Sakura's birth, an anomaly happened. Her tiny body had connected with the power of the moon and that of the spirit world, though this was unknown to both of her parents at the time.

At her fifth year of life, Sakura was introduced to the power inside of her and she collapsed from it. Still unknown to her parents, they thought that something else had happened to her. Calling a healer, they asked him to figure out what was wrong with their daughter that had suddenly collapsed after being scared by one of the nurse maids accidentally dropping a platter full of dishes around her. When the healer had finished his examination of her body, he only told Sakura's father and mother that she had a heart disease, one that was affected by strong negative emotions. Should she be exposed to such things, he feared that her heart would stop and she would die. Taken in by the words of the healer, her mother confined Sakura to her bedchambers.

Sakura knew nothing more of the world beyond the castle, and knew only her bedroom very well. Her mother and father only visited her a few times each month. Her mother was a very cold woman, while her father was much warmer. She remembers the day that her father had gifted her a single earring with two lovely steel flowers dangling from the stud. The steel flowers were actually from his royal crown. Sakura had been astonished that he'd do something like that to the crown, but he didn't mind it at all. He wanted her to have the earrings as proof of his love for her, even though he couldn't do anything to help her. It was about that time that she noted how sickly her father was looking. Several years later, when Sakura was fifteen, her father passed away after having not seen his daughter all that much.

Sakura had another attack of her power as she was washed over with guilt and sadness. She cried for several days and nights, all the while trying to cope with the pain in her chest. Her mother never came to console her, probably because the woman was partially to blame for her father -the Kings- death, and didn't know how to approach her grieving daughter. Almost five years later, Sakura has gathered up her means to escape the bedroom that is her prison. Having gathered up several bed sheets and tying them together over the course of the years, she managed to get enough to climb out of her window which is situated two stories above the cobble stone road below. It is here that Sakura begins her journey with the group of mercenaries and is enlightened about the world and her own strange condition that she knows nothing of.
---