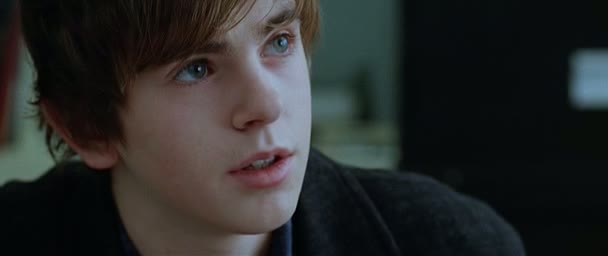 I was born under the name of:
Gracen Chase Elston
Call me:
Gracen
I was born on:
October, 15th
I appear to be:
17
I was born in:
New Jersey
People would describe me as being:
Shy and aloof, often detached from the situation at hand and doesn't pay much attention. Often walking into things or staring off into space. Always deep in thought and almost never speaking unless spoken too. Can say some pretty insightful things and is intelligent beyond his years, but does not have the confidence or guile to do anything with his intelligence. Keeps to himself mostly, and can be quite quirky. He has a habit of not being able to look others in the eyes, and always looks like he's ready to bolt at a moments notice if approached. He isn't completely opposed to social situations though, and can hold a conversation with someone if he trusts and knows them well enough. Its not hard to get his walls down, its just hard to get him to
let
someone take his walls down.
Despite his socially awkward tendencies he is quite focused when working and does well with any task given to him. He doesn't question what people ask of him and he does things in a neat and orderly fashion. Some would even say he's a bit of a perfectionist, and it isn't too far of a stretch to say he has slight OCD either. He pays attention to some of the most ridiculous things and can get quite agitated when things don't fit together just right or something isn't where its supposed to be.
Really once you know him he isn't so crazy. He can be nice and sweet, though still just as socially awkward as ever. He doesn't make friends easily so it isn't like you can really blame him for being a tad weird. Some say that when he finally lets you in its like he's a whole new person.
I ended up here because:
Gracen wasn't a planned pregnancy and his parents being young and foolish didn't stop partying, or doing things that teenagers usually do just because he came into the picture. In fact, during Gracen's mothers entire pregnancy she didn't take caution in keeping him healthy while he was developing. She smoked, she drank, she was the picture of a rebellious teenager and its a wonder he didn't die or develop anything debilitating after birth. He was born a month and a half early but other than having under developed lungs he was expected to recover. Though his immune system was horrible and he was forced to use an inhaler for most of his life he was still alive and that's all that seemed to matter.
Because his parents weren't particularly great they ended up getting in trouble with the law. Gracen isn't actually quite sure for what since he was still barely talking when it happened, but it was bad enough that he was removed from the home and made to live with his grandparents. Again, due to circumstances he couldn't control and was too young to remember he was taken from his grandparents and entered into the system. For the next several years of his life he was moved from home to home. Nobody kept him in their home for very long once he hit thirteen and his apparent issues became noticeable. He was odd, there was no doubt about it and people just didn't like the way he would act.
He was due for a change in homes when he decided he would rather find his own way in the world. So he packed a bag, stole some money from his foster parents at the time and left. He hitchhiked a lot, which considering the danger in that its surprising he never got killed or worse. He did manage to get into a few sticky situations out on the streets but managed to get himself out of them before things got too bad. He realized he didn't really know how to survive on his own, he had ran out of money and was living of off trash and sleeping in fear every night until he managed to stumble upon the carnival and joined them.