---
---
---
---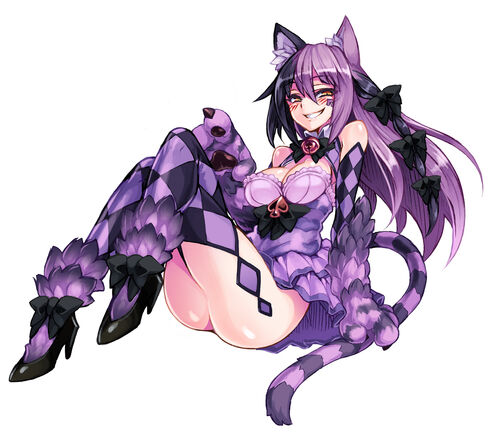 "I'm not crazy, I just have a diffrent reality than you." -Cheshire Cat
---
---
Name: Aryll (Ar-e-yell) Lilac Banks


"I love my name...<3"



Age: Twenty-One


"Don't I look younger?"



Alias: Twisted Cheshire (people just say Cheshire instead)


"Cats are gorgeous things aren't they?"



Height: 5"6


"I know I'm really short...."



Weight: 89 lbs.


"Lightness is a benefit for me."



Infamy: Known as "Acro-Cat" in the underworld. This is because of her unusual flexibility, and sometimes while she is in her human form, she will put on shows.


"I'm famous? How delightful.."



Appearance: While in her human form, Cheshire will have long brown hair, and honey orange eyes. You could say she is slender, with a few nice curves below her chest. She also has faint purple tips in her hair, they go unnoticed unless you have good eyes.


"Do you like what you see?"



---
---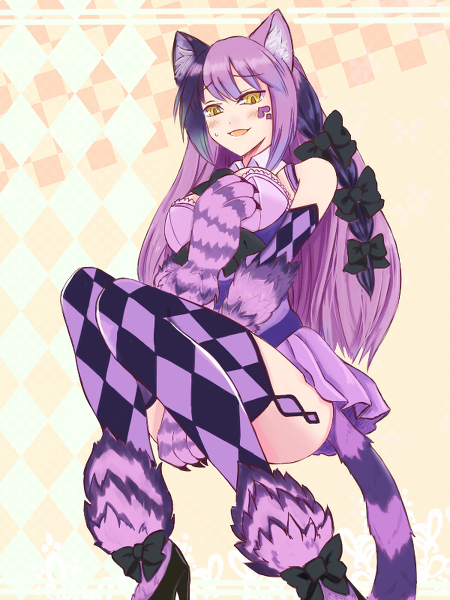 Personality: Cheshire is what you might expect her to be. A mischevious, intelligent, insane cat. She's as crazy you could get. But aside from that, she's a genius. That's why her pranks always succeed. She is very nice, but a little shy, she barely says a word around people she doesn't know. Cheshire is socially awkward. She can't hold a conversation for long.

Cheshire also gets embarrased easily. This side of her personality, the genius, shy girl is her normal self. Her alter ego is the opposite. This is when she is in her cat form. She turns into a mischevious, mysterious, crazy lying cat. Only so many people can put up with her sudden riddles and pranks. Both her human and cat self can communicate with cats just by looking at them. Cheshire absolutely LOVES the adorable kitties.


"You better watch your back, or I'll catch you off-guard!"



Power: Cat-like abilities and toxic gas abilities. Her cat-like abilities is what allowed her to transform into a cat. Her toxic powers are things like blowing poison gas onto someone with her mouth, Or making it appear. Her personal favorite is her 'Toxic Kiss' which is when she kisses someone on the cheek or lips, leaving them to die from poison and toxic touch.


"Make sure not to kiss me~"



Bio: When Cheshire was young, she had no friends. Nobody liked her. She isolated herself from the world. When she got her powers, she tried becoming a super hero. One of the heros said her power was worthless and of no use. Cheshire was furious. It was her one chance to make friends, and for everyone to like her. Instead she became a villian. Wreaking havoc on the city and stealing things. Her main crime is stealing jewels, jewelry, and anything pretty that is worth a lot. With her cat abilities, she was able to sneak around easily. She never really ranked up, so she is still a C-List villian.


"I've had a difficult past.."



Strengths:
Sneakiness
Being hidden (her eyes glow in the dark)
Using a sniper
Attaking from afar (attacks close with gas and far with sniper)


"I'm not weak... and you know it!"



Weaknesses:
Water (she can't swim or she'll drown)
Shiny or pretty objects
Sharp objects
Her past


"Don't spill my secrets!"
---
---