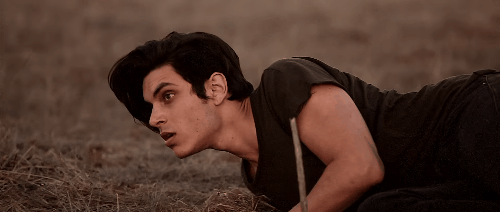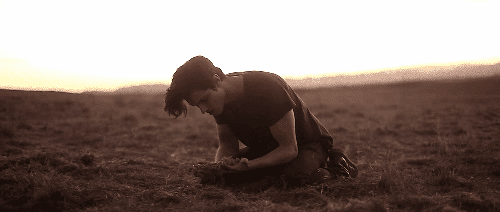 "After a while, you run out of things to keep yourself numb"
---
---

| N A M E |
Dustyn Elias Merle

| N I C K N A M E |
Dusty, Dust | Only by close friends and family
Merle | By anyone that doesn't know him

| A G E |
18

| G E N D E R |
Male

| E T H N I C I T Y |
American; Mexican and Persian decent

| B I R T H D A T E |
October 31st; Scorpio

| S E X U A L I T Y |
Pansexual

| POWER |
Therianthropy
---
---
---
---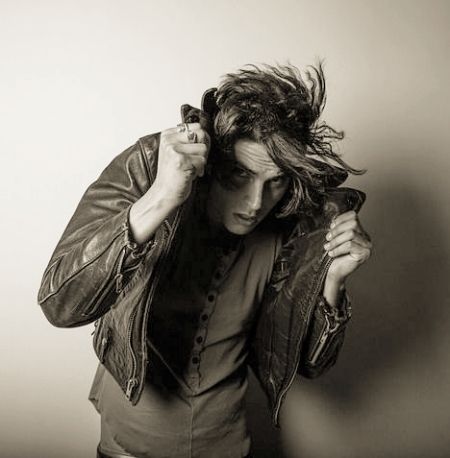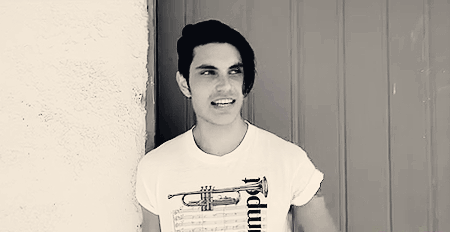 | HEIGHT |
6'2"

| WEIGHT |
165 pounds

| EYE COLOR |
Green

| HAIR COLOR |
Black

| ODDITIES |
Apart from the general splatter of bruises and cuts that always reappear before they can heal, Dustyn has plenty of scars covering him. From fights mostly, many from his short time in juvie. They don't faze him, just like it doesn't faze him when he gets a new one- its all just apart of his life now.
| APPEARANCE |
All angels and sharp lines, Dustyn looks like a dangerous predator. His strong cheek bones jetting out over hollowed checks and his sharp brows furrowed over his lidded green eyes give him a haunting appearance. Dustyn's gaze is one of the most jarring things about him- even when he seems relaxed and at ease, his eyes tell a different story. Harsh, cold, criticizing, and intense, the vibrate green hue looks more like a snake then a humans. And like a snake, Dustyn's eyes cold charm you one second, mesmerize you into thinking he is as docile as a dog... and be at your throat the next.
Though quite tall, he is not overtly large- more lithe and toned like a cross country runner. He carries himself high and walks with a 'I don't give a fuck' swagger- rarely does Dustyn make eye contact or lower his gaze to others. Although he is one of those guys that takes a shower maybe once a week and barely takes care of himself visually, Dustyn is generally considered a very attractive man. If his social skills and constant scowl were different, his popularity would me enormous. But as it is, Dustyn's rigid posture and 'go fuck yourself glare keep most others far away. His knuckles are always bruised from fights and its not unusual for him to be sporting a swollen lip or black eye. And with his constant ensemble of black clothes- black t-shirt, black skinny jeans, black converse, black leather jacket- Dustyn entire aura keeps people averting their eyes and stepping out of his way when he comes prowling towards them.
Of course, Dustyn is one of the rare few that can change his appearance at will. In Animal form, he usually takes on the appearance of a large, dark, predatory animal. Even if the species has naturally light fur by nature, Dustyn's transformation will automatically create a slightly darker furred being. He blames this on his black, greasy hair as a human, though it may also be because of his dark personality. Though he can generally change into whatever he wishes, Dustyn's favorites are raccoon, doberman, harris hawk, and panther.
---
---
---
---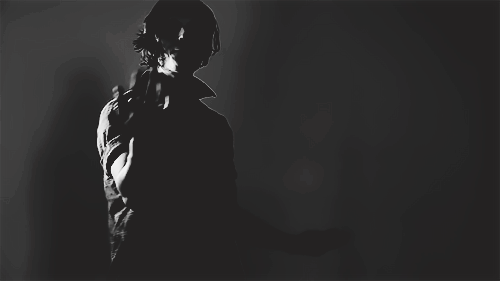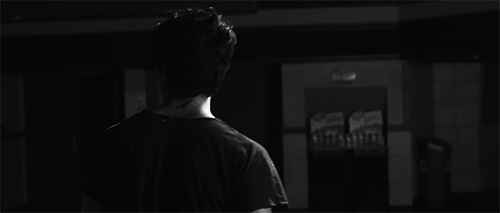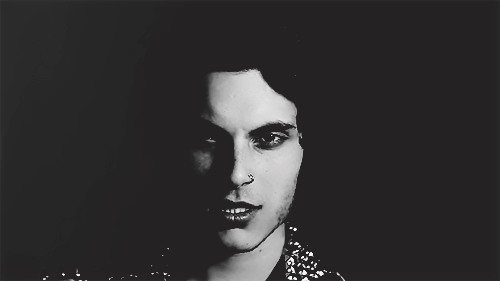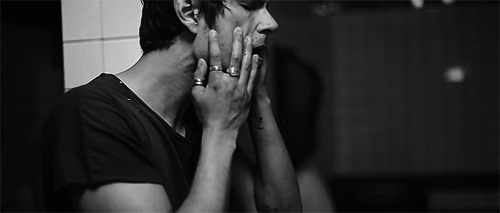 | PERSONALITY |
His powers didn't change much about Dustyn- for the most part, he was always a bit animalistic- instinctual in who he chooses to trust, unhinged in his love for violence and fights, and savagely temperamental towards those that rub him the wrong way.
On first appearance, Dustyn is the kind of person you shift your eyes away from on the street. His stringy black hair, daunting posture, and hollowed intense eyes send chills down your spine and force your feet to move a bit faster. And he doesn't care- he actually very much enjoys that his presence makes people uncomfortable. It makes him feel powerful, a feeling that is hard to come by for a kid that lives in a trailer with his drunk father. While most of his personality stems from watching how his father acts, a lot of it comes from simply anger problems. Dustyn might be angry at the world for the short hand he's been given, maybe he's angry for loosing his mom so early. But these aren't things he thinks about- Dustyn isn't the kid of guy that thinks through his actions, nor does he wonder 'why' when something unexplained happens. He's instinctual, follows his first thought and doesn't think back to the past. Dustyn's whole outward persona is meant to appear distrustful and guarded- he does not want people talking to him in public, he does not want to make friends, and he does not care to get close to others.
This being said, if he does decided to trust someone... he trusts them whole heartedly. Dustyn loves, not likes- everything for him is about the here and now. He feels much more deeply then most, allowing those that get under his skin to settle there forever. This is one of the reason's he's so guarded- letting someone into his life is opening himself entirely up to that person, which is the most terrifying thing in the world to him. He would rather beat the living shit out of everyone in the school then be hurt emotionally by a relationship turned wrong.
And he does. Dustyn will fight anyone that looks at him the wrong way, whispers his name too loudly, or attempts any sort of hostility towards him. His powers only increased him temper, so letting fully loose on another human truly is like letting loose a panther. While he knows to keep his powers in check- revealing them would only get him caged- he greatly enjoys the look of blood coming from another being because of him. Bruises, cuts, broken bones- anything that shows his power is greater then someone else's. For the most part though, the school knows to keep clear of him. A few have tried to fight him, but after a few public beatings, his reputation has created a bubble of averting eyes and shifting bodies around him.
There are few people that are close enough to Dustyn to know this about him, but he actually has a very lighthearted and fun personality, when the constant irk of 'attack' isn't on his mind. While his sense of humor is a bit crude and juvenile, when Dustyn laughs into the kind of laugh that infects everyone around him. If he wasn't frowning all the time, if his face wasn't a grim mask of rumbling temper, Dustyn could actually be a very warm, settling person. Maybe if he'd grown up differently, but those weren't the cards he was handed.

And Dustyn enjoys being an animal at heart.
---
---


---
---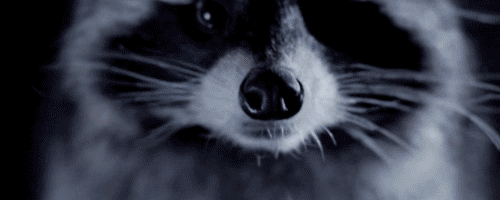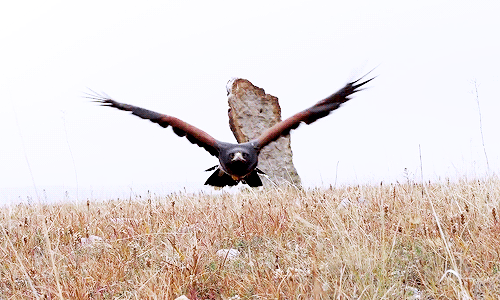 | POWER | THERIANTHROPY |
The ability to shape shift into any animal of your choosing. As long as Dustyn has seen the animal before, he can change into the beast at will by rearranging his own DNA structure to take on the abilities, traits, and physiology of that animal. Though Dustyn is usually in full control of his changes, the power is also triggered by extreme mood changes, specifically rage. Being a person fueled by rage, Dustyn has to battle against his temper constantly, or else risk releasing a panther or wolf on a crowd of people. Rage is the most pure animalistic emotions human's feel, an emotion that allowed us to survive through centuries alongside the creatures with claws and nails that sought to kill. Dustin's ability allows him to change into one of those animals- he can now defend and attack with all the fury of a wild thing.

Being that he has to have seen an animal in order to change into it, Dustyn has seen most general American forest wildlife and anything kept in a zoo or aquarium. For the most part, he sticks to large predators. His ability it triggered by rage- although he always can change, in order to trigger that change he has to make himself mad. When he does that, his body does not immediately think to change into a rabbit or kitten- he usually becomes something that can rip and tear. Dustyn's favorites are as follows;

Raccoon- Easily the quickest and most comfortable change for him. He has thumbs, can walk on two feet, and generally behaves like a human. His raccoon form allows him to accomplish things he usually can't as a human, and get away face in case of trouble. Raccoons are around everywhere- he doesn't stand out when he scampers by. But, the raccoon is not a form that generally appears in his rages. He has to be quite calm in order to pull off turning into a bandit.

Doberman- His go to. Both in a rage and as a choice, the doberman is Dustyn's other form. It has the terror and teeth of a being that could do harm and the innocence of a dog. He gets away with a lot but also has to be wary of being caught. For these instances (much to his embarrassment) Dustyn has a black leather dog collar that he wears when he plans a change- the tag reading Dusty.

Harris Hawk- Generally his least common form, but he uses the wings when he needs to get away or wants a vantage view. Dustyn is an uneasy flyer- his wings are wobbly and unstable when he takes to the sky, but he is attempting to get better. Something about the height- even with his bird senses and abilities, the ground that far away just isn't right.

Black Panther- More common then he would like. The panther only comes out when he is incredibly angry- it itches and claws at his soul at all other times. He has to fight the urge to rip people apart with the terrible back claws and sink his massive fangs into their muscle. Dustyn dreams in his panther form, wakes with the urge to change into it, and constantly feels the never ending growl inside of him. It scares him how easy it would be to let it go, release himself, allow the feral creature to take over...
---
---
---
---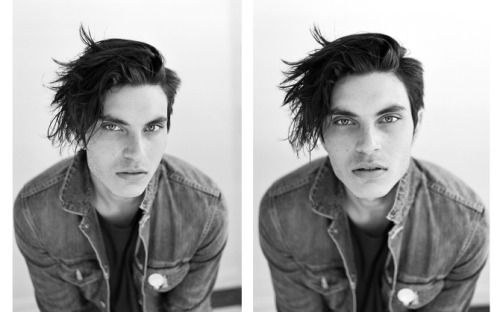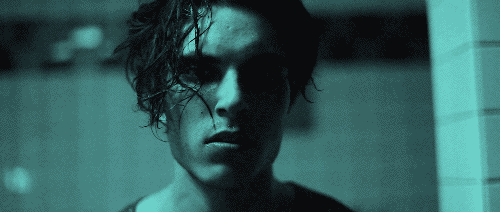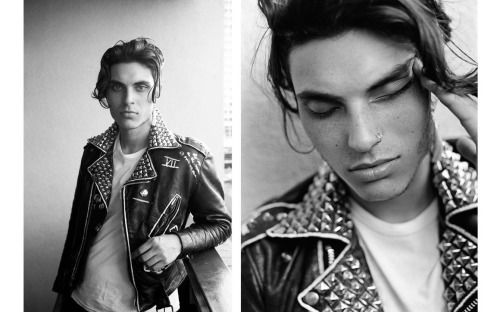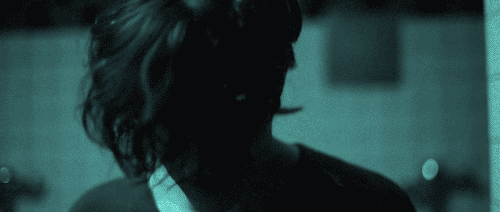 | HISTORY |
The best way to describe Dustyn's history is this- he had fucked up parents, thought he could be better then his dad, but ended up becoming just like him. For a while he fought it- the anger, the violence, the constant need to break skin and bone- but it became exhausting fighting the animal inside. His mom died before he remembered, and with her went any love and adoration that may have allowed Dustyn to turn out differently. He was raised by his drunk father and his parades of girlfriends- a montage of fake boobs, penciled on eyebrows, bad tattoos, and the smell of sex in their little trailer. He figured out when to stay clear and when to come home- the trailer walls were thin and he could always make out his dads pig like grunts or the screams of a female from the outside.

He didn't hate his dad though. They had a mutual respect for each other- while Dustyn viewed him as a sloppy drunk, his dad kept food in the fridge and money on the table for him to spend. He didn't ask about where the money came from- he knew he couldn't hold down a real job, so he figured it was illegal. Dustyn didn't care though, as long as the lights stayed on and his stomach full the money wasn't an issue. His dad checked up on his grades and commented when he noticed things declining or when he was doing well, which made Dustyn focus on school more then he normally would if only to get a little attention from his father. But for the most part, they didn't run into each other. Two people exactly alike but separated by awkward family bonds and two very different schedules.

It was no surprise to anyone that Dustyn ended up going to juvie his freshman year of high school. He inherited his fathers quick temper and penchant for trouble- Dustyn would often prowl the city at night and involve himself in situations far too mature for someone that was barely 16. He made friends with the wrong crowd, a group of thugs that passed the time smoking weed, drinking hard liquor, and stealing from convenience stores for fun. Dustyn was fast and sly- he became the runner pretty quickly, especially because of his hostile appearance and temper. People didn't fuck with him due to the fact that he looked like an unhinged animal, and for the most part that saved Dustyn from getting caught.

He'd had a plenty of minor run ins with police before, nothing major, but enough that they recognized him on the street. His group decided to pop a local Quik-Mart without much preparation- the guys in the back seat were drunk when Dustyn stepped out and let loose a billow of marijuana smoke, coughing and surprising laughter at some raunchy joke. They were cocky, thinking they could pull this off with minimal forethought or precations. He ambled inside, did his usual perusing of the aisle, before holding the cashier at the end of a .45 pistol. Usually, Dustyn's dark eyes and intensity make the victims do whatever the fuck he says without having to so much as wave the gun. Usually, he gets out within minutes and they high tail it out of there, cackling their heads off at the success. Usually, though, they don't forget to check to surrounding areas of the dirty street- a cop was parked a block away and answered the distress call in seconds

Because of his dense rap sheet and nasty personality at his court meeting, Dustyn landed himself three months in juvie and 200 hours of community service. Inside, Dustyn fell in well the ranks of nasty-ass trash kids that looked way older then they were. He fought well, landed vicious punches and knocked peoples head back, and became mostly untouchable. After the first few months, the juvie kids got the picture- people stopped fucking with Dustyn and he became some-what of a celebrity. Despite his mean appearance and constant scowl, he actually does have a good sense of humor and generally doesn't hate people that have done him wrong.

He got out in the middle of freshman year, but by then the rumors had already spread. He was a pariah, rejected by most of the school out of fear. Some people thought he shot someone, some thought it was for hard drugs, some spread a nasty rumor that he killed a woman. Whatever people believed, he was avoided- even his group that he used to spend so much time with stayed clear because of his jail time. In contrast to the comfortable life he had for three months in juvie- the first place that his violence had been openly accepted- the real world was hard for Dustyn to re-acclimate to. So, he shut himself off, allowed the rumors to label whims dangerous, and kept to himself.

Dustyn regularly got detention- if he looked at a teacher wrong, they slapped him with a pink note- so on the day the lightening storm struck it was no surprise that he was amongst the crowd of detentioee's. While he had always been violent, instinctual, and quick-tempered before, the bolt awoke in him a savagery that terrified him at first. The constant growl of a panther filled his chest, an animal that wanting to break free so badly that Dustyn was unable to compel it away. The first time he changed, he killed a neighbors dog. But not just killed- ripped the thing to shreds and pulled the guts loose on the lawn. Normally, he would have been revolted by the scene...but the next morning, when his neighbors were crying and the police had no idea what they were looking for, he couldn't help but let a savage smirk stretch across his face.
---
---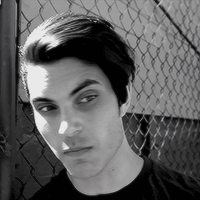 | FACE CLAIM |


Samuel Larson