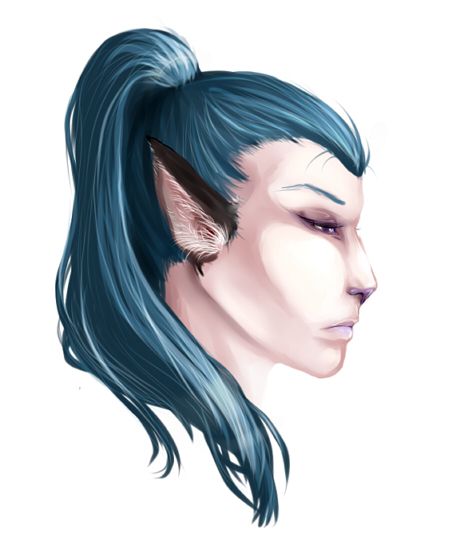 Description

Appearance
Slender and lithe, this pale complexioned individual has a flawlessly streamline body with just the most subtle hints of curves and vague muscle definition. It's hard to tell at a cursory glance the gender of this individual, but upon closer inspection, the long torso, flat chest, and distinctive, tapered jaw would suggest this to be a man. However, some of these features are confused with the occasional use of an array of feminine clothing. His long dark blue hair does little to help in identifying him as a man. Noteworthy features are also his velvety, cat-like ears, and medium-length fur tail that is black with a pale blue tip. When his toes are exposed they show a set of claws on each toe, and when he smiles in a way to expose his silver teeth, his canines are notably elongated. A minor detail some may not take note of is, when wearing clothes that expose his slight midriff, is the lack of a navel. Furthermore, the odd chance his chest is exposed, there is a distinct lack of nipples. Lastly, his dark eyes have an absorbing, almost dizzying depth to them, like staring into a vast void.
Scent
Yet another odd trait of Adonyss' is his lack of body odor or natural musk. Sometimes manufactured scents can be traced to him, but he rarely uses colognes and perfumes.
Those with heightened olfactory capabilities would get a whiff of something reminiscent of a cold winter night.
Temperature
Adonyss has at an unnaturally low body temperature, and is cold to the touch. His average resting temperature is around 10 degrees Celsius. As such, touching him can sometimes be disconcerting if one is not expecting to feel a slight chill. However, his body does heat up after exertion, but even still, will not reach the average human body temperature.
Demeanor
Calm and collected, there is very little that will phase Adonyss. He tends to be aloof, and does little to hide his rather elitist attitudes. Nonetheless, he is usually very civil and can even come across as pleasant when it suits him.
Presence
Adonyss has a strong and very demanding presence when he wishes it. With overbearing confidence and his steely determination, commanding the attention of an audience comes naturally to him. However, there is also something very cold and guarded about the man, even when he is using otherwise inviting body language.
Extrasensory Perceptions

Empathy
For most, Adonyss has become adept at guarding and blocking away his emotions, and expresses only what he feels will merit him. For strong empaths, despite what expression he may wear or body language he may use, beneath the surface roils rage and contempt that contrasts startlingly against his otherwise calm demeanor.
Telepathy
Adonyss is not a 'loud' thinker. In a crowd, it's not his thoughts that will scream above the other inner monologues. However, those who make a focused effort on him will often find an analytic mind in constant motion. There is a definite signature of a schemer in his thoughts, and a nasty turn of prejudice running through his mind. He is also the sort to often have one song or another stuck in his head, which may or may not be distracting to the untrained telepath, and the sorts of songs may even be surprising considering his demeanor and severe thoughts.
Energy
There is no doubt that Adonyss has almost purely magical energy. He has a stunning lack of spiritual energy, suggesting the lack of a soul. One who senses energies, spirits, or auras might be overwhelmed by the sheer abundance of energy he embodies. His magic signature indicates it to be of an elemental variety, and there is also a strong lunar influence in his essence.
Misc
To anything that feeds off of, manipulates, or otherwise has some affinity to blood, he would seem empty. When cut, he 'bleeds' a concentrated magical essence that would offer no substance to a sanguivore.
Any creature capable of looking in to a person's soul would find nothing there. Any form of alignment or virtue detection would also come back blank.
Briographical Information

Full Name
Adonyss Diamond
Aliases
None
Race
Magikin
Sex
Male
Age
N/A
Marital Status
Single
Place of Birth
Silverlake Village of the Goaldtin Kingdom
Current Residence
Wing City
Vocation
Gentleman (Fancy term for the unemployed wealthy)
Possessions
Handgun
Adonyss keeps a handgun concealed on his person. It shoots 9-mm bullets. Nothing special about it.
Audio Recorder
Adonyss rarely goes anywhere without a way of recording and playing back sound. Whether it's personal notes, playing music, or discretely recording a conversation, he keeps one on him. His particular one just looks like a bronze medallion with a turquoise in the center, and runs off of magic rather than electricity.
Nightrose Brooch
Considered a Magikin Artifact, this cameo is made from a hard black substance that might be a form of ebony. It is matte, lacking any veneer. A relief of a rose is highlighted in a lighter tone. It resonates mystical power, and responds to areas where worlds interlock or portals are prone to appear. It has the ability to create a small pocket in space, a pocket dimension or plane if you will, that Adonyss can safely retreat to for a time.
Money
Adonis keeps money, in the form of gold coins, on his person. Usually no more than around 20 as small change, but when he expects to make larger transactions, he may be bold (read: foolish) enough to carry much more.
Assets

Tight-knit Race
Due to near genocide, Adonyss is related in some way or another to most other members of his race. And having to stand against odds, the Magikin community tend to be defensive of each other. Thus, he can usually rely on them for support and to help him out of a bind. However, he is unlikely to ask for help, but quite comfortable buying or extorting it. However, he doesn't always have to even ask, for there are those who look out for him from a distance.
Rich Family
Adonyss father is quite wealthy, and thus has access to to a fair amount of wealth from his home world. However, it does not necessarily translate well int other world currencies, and he may have difficulty transferring to a credit system of more advanced societies. But any time someone is interested in trading for gold, silver, or jewels, he can usually deliver.
Fame
Adonyss was famous in his homeworld, but he is an unknown on Terra. However, his success from his home does shape his perception and behaviour. It also provides him with alternate revenue should his share of the family fortune be revoked.
Powers

Ice Magic:
Adonyss' primary element is ice. Being a physical manifestation of magic, he wields ice with just a whim and subtle command. He can freeze the area around him, creating mist. He can also summon ice that is made purely of magic, which has different properties than freezing already existing water into ice. Magical ice is harder to shatter and evaporates more like dry ice, straight into a gaseous form of magic. It can leave 'freezer burns'.
Dark Matter:
Adonyss can create vacuums or rifts of dark matter. This takes more out of him and isn't as easy to control as his ice magic. It is also extremely dangerous to both him and any living beings in the area.
Lunar Magic
: Adonyss can cause lunacy in others, and also has an array of minor charms. However, this magic is only available to him at night time. He can also concentrate his magic into a pure sort of energy, almost like focused solar energy, but diluted. It can be used offensively to cause pain and/or confusion, but does not leave any lasting damage. It isn't lethal unless directed at any sort of creature with a weakness to lunar magic. He can also stimulate anything that responds to the lunar cycle, such as transformation of a werewolf (assuming it responds to the moon).
Summon Armour
: Adonyss can manifest Magikin Armour, which consists of a highly magic resilient, skin tight fabric, and some metal portions on the chest, arms, and knees or shins. The metal is impenetrable by most mundane materials, and deflects most lasers or rays of energy/magic. The bodysuit can absorb a certain amount of impact, but is not wholly indestructible.
Transformation (animal):
Adonyss can revert to a black cat. In this form his magic is much weaker, but he requires less magic and can recover his magic much quicker. In this form he is able to speak, but when remaining in the form too long, he takes on an instinctual persona, and may even forget how to communicate verbally.
Transformation (incorporeal):
Adonyss can also drop his physical form, making him impervious to all physical attacks. However, energy and magical attacks still effect him. His magic is amplified in this form, but it is also draining to maintain this form for too long. Magic absorbing attacks are also far more effective, even lethal to him, while in this form.
Weaknesses

Magic Dependency
: As much as Adonyss is a source of magic, he requires magic to live. Magic is the air he breathes, the nutrients he needs, the blood he bleeds. His body is in a frequent state of a sort of magical osmosis, balancing his magic reserves with his environment. If his magic reservoir runs dry, then his body begins to metabolize more physical structures in his form to produce magic, starting with non-essentials. Thus, areas with absolutely no magic in the environment are dangerous, and left there long enough, lethal. Anti-magic fields are also lethal given time. Lastly, any ability that drains magic can be lethal.
Fire/Heat Vulnerability
: Adonyss does not do well in hot, dry environments. In hot and humid, he can at least cool the moisture in the air around him to keep himself comfortable. However, that method will drain his magical reserves quickly. Over exposure to heat and sunlight can significantly weaken his powers, but is not at all life threatening. Magical fire or concentrated thermal energy, however, can easily overwhelm and damage him. Natural fire does not easily leave lasting burns on his flesh as it would most creatures, but he feels the pain and discomfort more keenly. When confronted with fire, he regenerates his magic reserves much more slowly regardless of the amount of magic in the environment.
Vanity
: Preserving his own appearance, not just physical but social, can be a bit of a vice for Adonyss at times. It takes a lot of guile, but this weakness can be exploited to shake Adonyss up or otherwise manipulate him. Careful, though, if he catches on, he might just have some counter-maneuvers to turn your efforts against you.
Attributes

Unique Physiology:
Unlike most humanoids, Adonyss' "heart", a black pump-like organ responsible for delivering magic like a nutrient to all parts of his body through a circulatory-like system, is situated around where the stomach on most humanoids would be. It is more central to his body, and closer to the magical reservoir, an organ that accumulates and maintains excess magic so that it is ready for casting. Destruction of a Magikin's heart is lethal, and perforation of the reservoir will cause a critical condition. His chest cavity is wholly occupied by a singular 'lung', also called the magic sac, that draws in air to make speech possible, but also it removes lingering magic from the air, much like lungs extract oxygen, and sends it to be processed and converted to Adonyss' magic type, or used to form condensed magic that is the makeup of his physical form. Asphyxiating Adonyss by cutting off his oxygen supply doesn't work. He doesn't need oxygen. He also can't be drowned, as his magic sac can as easily fill up with water and draw magic from it as it can the air. However, completely cutting off air flow can significantly harm him, as he is not getting in new magic as quickly. However, it takes a lot longer for him to die from blocked airway than most organisms, since any part of his being can be broken down and reassigned to accommodate for a lack of incoming magic from the air. Adonyss is heavier than he looks due to his silver bones.
Lunar Affinity:
Adonyss is overall stronger at night time. The closer a satellite is to the planet he is on, the stronger his power.
Cold Immunity:
Adonyss does not suffer from freezing temperatures, and cold-based weapons or spells do not faze him. He cannot be frozen. He regenerates health more quickly in cold environments.
Infertile/Magic Sharing
Adonyss cannot reproduce organically. Although his body simulates humanoids, down to pseudo reproductive organs, their purposes are altered, like most other organs, to replenish or slough off excess magic. A euphemism for sex that his race use is called 'sharing magic' since their mock reproductive organs are directly connected to their reservoirs, where they cast their magic from. Since this magic is already converted to a Magikin's type, or element, sharing magic allows each other short term access to their magic type. So, for example, should Adonyss share magic with someone, they would be able to cast ice magic (his dominant element) for a short time afterwards, and he would have access to their form of magic. However, he could never have children through this method. Producing offspring is a highly ritualized and magically attained process among his race. It is said that not only are they sharing magic, but a part of their essence, so it is usually done with a trusted partner. Caution to those who do not cast magic that take a Magikin Partner, for they may be threatening their lives. If there is no magic to be exchanged, a Magikin Partner loses a fair amount of magic, and the signal to 'close off' the reservoir is never received, so even after intercourse, they continue to lose magic at an alarming rate until it is life threatening.
Not a Cat Person
Despite the fuzzy, pointed ears, triangular, porous nose, clawed toes and fluffy tail, Adonyss isn't a cat person. He has no ancestry of cats, no genetic relationship to cats or cat people, or is much effected by things which would effect cats (IE catnip). When his race began assuming physical forms, they took on feline appearances since most of the common races had some sort of feline aspect to them. It was merely an adaptation to blend in.