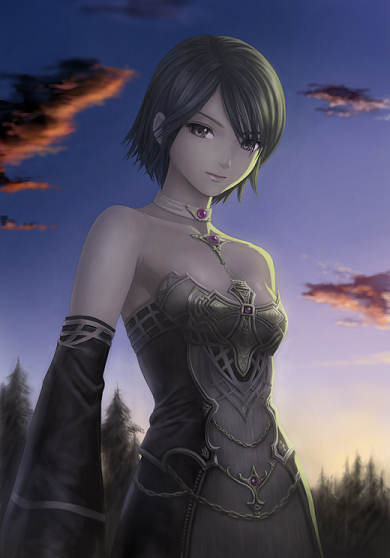 Sourced from Gelbooru. Not mine. Never mine.
Basics

Name: Adrienne Emeris
Alias: Anna.
Title(s): Princess and heir to the throne of Emeralia.
Age: Eighteen.
Gender: Female.
Culture/Race: Emeralian/Human.
Occupation: Wanderer.

Adrienne has lived the past ten years of her life safely in the knowledge that although her family had been overthrown, she was by no means an enemy of the people though she has been hidden from them. Safely tucked away inside a monastery somewhere in the Emeralian countryside she has grown up, a peaceful life under the guise of a simple serving maid, understanding the need for secrecy as time went on and she grew up happily, as a child should.

However, Fate is a cruel mistress and it is foolish to think she will not meddle. The prophecy of the Golden Age has now come into fulfilment, with the tyrant ruling over most of Celicarum. But with the princess recently fled the safety of her monastery in secrecy, is there any hope for Celiacarum?

~*~*~*~*~

There was an Earth saying Adrienne had learnt on her way here that said it wasn't the destination that was important, but the journey. Over time, she had come to quite adamantly disagree with that, hazel coloured eyes staring at the archway that marked the main entrance to the new city before her. It had taken a while, but she finally felt like she had made some headway in her task and yet, her circumstances hadn't changed at all.

So much left to do and no clear way of achieving it.

Still, the young woman was nothing if not an optimist, choosing to focus on the good points of her venture rather than the bad. She had made good time, arriving at Wing City just gone noon, meaning that she had at least a few hours of sunlight and relative warmth before the chill of autumn's night set in. Luckily, she had been thrifty with what coin had been generously given to her preceding her departure. Hopefully, that it would be enough to find lodging in a decent establishment for at least a few nights whilst she found her bearings.

In truth she was quite far from home, in an unfamiliar place surrounded by strangers. Her saving grace were that none knew her identity, nor would recognise the marking across the back of her right hand, if she ever removed her gloves, that signified her position as a member of the dislodged royal family that once ruled Ceras.

Absently, she reached up a hand to brush back her black hair from her face, trying to locate someone who might actually be able to point her in the direction of a good, respectable inn. There seemed to be guards posted at the archway, but they were otherwise occupied. So, with patience that Adrienne was almost certain was bottomless now within her, she waited until one of the guards stationed at the archway was available.

It surprised her to learn that currency was quite universal here, on account of the fact that so many cultures and races tended to gather. Father Jacob had been right; it was risky getting here but if she could only sift through, she was sure she could find an ally amongst all these people. After obtaining directions to an affordable but reasonably safe inn, Adrienne thanked the guard again for his help before heading towards the city's main square.

Apparently, it was a good landmark to familiarise herself with, in case she was ever lost. Certainly as she walked along Main Street towards it, she could recognise and remember some of the surroundings immediately. Cautious optimism brought a soft smile to her face, tugging her cloak around her to stave off the cold that threatened to chill her skin.

The choker that she had worn since she was a little girl hung around her neck. The band was made of simple leather and frontally adorned with a cluster of fine but precious jewels, with a tiny etching of the family's crest beneath them, sparkling in the afternoon sunshine. It was tattered from years of wear and there were visible marks where one could tell that it had been extended continually, the colouring differing across the leather strips. Perhaps not fit for a princess to wear, but it was hers; it was all that she had had on her when she had been taken from the palace as a babe and she would relinquish it to no one.