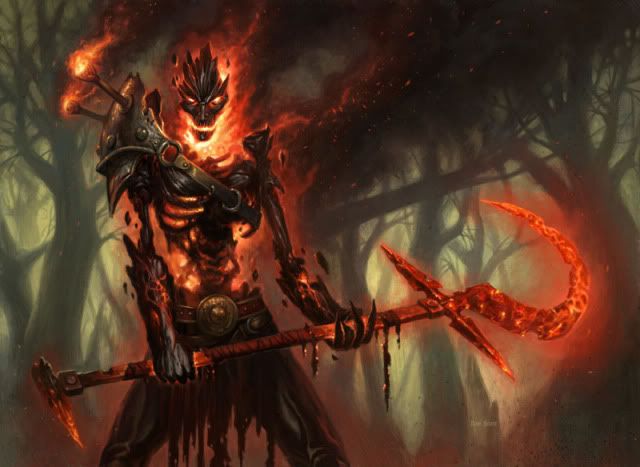 GENERAL INFO
Under what name do your followers call upon you?:
–Akanatur the Eternal Flame!
To mortal men and immortal beast alike what would they consider you? God, Elder Thing, or possible immortal?:
– The truth is illuminated in my light, 'boy', and I did not think it was that hard or elusive for those to see an Elder Elemental when one was present.!
Domains?:
- The Burning Planes and the Library of Illumination.
Pacts or deals made with any mortals? Please note them in order.:
– N/A
Personal History/Background:
– It all began in the Age of Ancients, the world was unformed and shrouded by fog. It was a land of grey crags, archtrees, and everlasting wars between the warring factions who would want you to believe that they were the true founders of what is now and forever will be. It was in the midst of this war that a single spark would come to life and soon with that lone spark there was fire. With the birth of fire those who had claimed to be 'Gods' took a step back and watched as from that little spark came disparity. From that little spark the 'gods' of this new world, this multiverse, found that heat greeted them and soon after the cold of their long charred remains as the wind would scatter their ashes across the multiverse. It was from that one little spark that the fires of the new age brought in that Life and Death came into existence and finally Light and Darkness. You see child there is nothing to fear from one such as myself as I am the only true divinity left within this vast bowl of glowing embers and possibilities. Let it be known that from that tiny spark the Eternal Flame was harbored into the world and its name is Akantatur.