"They say a Belduran Witch can make even the fiercest warrior buckle at the knees from fright."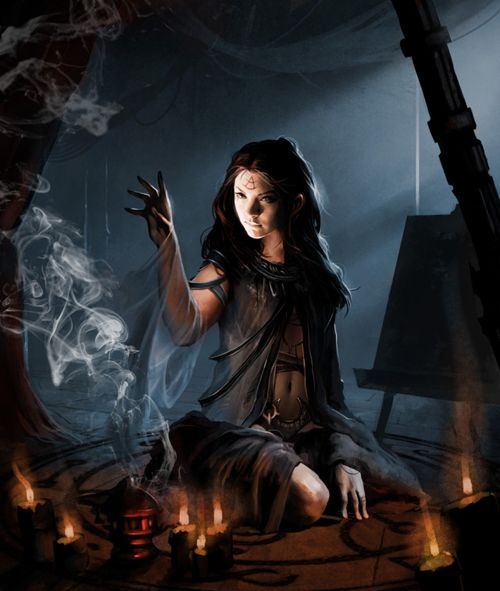 Aldarine, at first glance, is not an intimidating woman. She is all of 5'5", with a slight figure, and little musculature. There is power in her sharp, smokey gaze, however, and the tattoos upon her skin further allude to her magical background. She has the Triple Crescent upon the back of one hand that can be clearly seen. Often, she will wear very light, silky clothing. She wears a silver Witch's Knot around her neck by a thin black twine. She normally carries a dagger, a book of spells, chalk, and numerous herbs and medicines.
Though Aldarine's knowledge of spells and curses goes much further than the list, most of them take a significant amount of power and preparation.
Curses
Paranoia - Causes the target to feel hounded and haunted by nightmarish creatures at all times until the curse has been lifted. The visions and hallucinations that the target will often see can cause pain and injury, which are often self-inflicted by the target, much to their confusion.


Broken Glass - Makes the victim feel as though every step they take is upon broken glass.


The Itch - Causes the skin to itch, often provoking the victim to scratch the skin off.
Spells
Slow - Allows the caster to slow down people, objects, and select other spells for a limited amount of time.


Dispell - Grants the caster the ability to undo spells and curses.


Hawksight - Allows Aldarine to see closeups into far distances.


Levitation - Self explanatory!