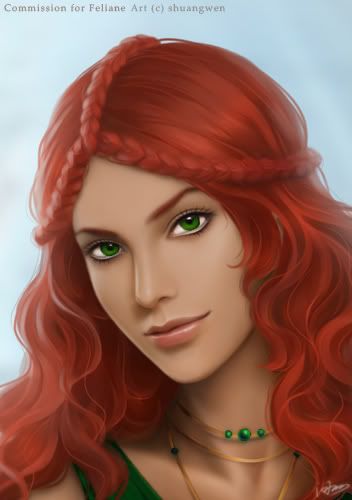 © *shuangwen of deviantart.
Name:
Aliana Chevaleux
Alias:
Aria Balladé
Age:
24
Race:
Human
Significant Relations:
Arrow Flight, Oriel Garcia, Kirae Tzilia; The Patronus - allies by association with Arrow.
Height:
5' 7"
Weight:
128 lbs
Overall Appearance:
Proud and fiery in both manner and appearance, Aliana looks every inch a leader and holds a commanding presence. Her red hair is fiery and difficult to tame, falling to her shoulders in wavy locks, and her eyes are a vibrant forest green that most often clearly display her emotions. Aliana dresses practically - in times of conflict she usually wears leather armour almost constantly over basic, tough clothing; more recently, however, she has taken to the modern clothing she has access to via Wing City, jeans and tops and the like. Aliana abhors over-decorative clothing, and would never wear a dress if she could help it. Aliana's build is a slim one, but with evident upper body muscle necessary to wield weaponry. Her fingers are calloused from spending most of her life playing stringed instruments.
Personality:
There is little that is restrained about Aliana; she is vocal, passionate and emotional in matters that concern her, and while she is a rational person most of the time these aspects can cause her to overflow into less than sensible words or decisions. Incredibly honourable, Aliana expects as much in her companions, and will make a point of demanding it should they fail to meet these expectations. Though honourable, Aliana is not naive. She knows that in war, and in conflict, difficult decisions have to be made that are not necessarily morally upstanding - however, she will not compromise her values. If she believes that an action is going too far, she will have no part in it and will oppose it vehemently. Slow to trust, but trusting enough in her brother and other former companions that she will put faith in their judgement also.
Skills and Talents:
A talented singer and music player, as to be expected from a bard.
Poetic and talented with weaving words, as also to be expected from a bard.
An expert archer and dual-dagger fighter, and capable with a longsword.
Nimble and capable of stealth should it be required.
A skilled horse rider.
Ambidextrous.
Good with money, organisation and 'thinking ahead'.
Abilities:
Bardic Magic: Aliana has access to abilities associated with her bardic talent, including most of those listed in dungeons and dragons spellbooks up to around level 6/7, but that is only as a vague guideline. Those spells provide inspiration for her abilities, but the magic is versatile enough that listing everything she can do would be silly as I have no intention of using her competitively.
Equipment:
None at present - after being forced from her home without a chance to pick up anything at all, and driven into unfamiliar territory, Aliana has nothing in the way of physical possession. Thankfully, she had the forethought to take out insurance... Additionally, the following equipment has been provided for her by Sylvire Nasazura, restored from that which has been salvaged in the city of Amarathia.
Shortbow and arrows.
Dual shortswords.
Leather armour.
One combat dagger, a belt of throwing daggers.
Makeshift lockpicks (salvaged herself, rather than restored by Sylvire).