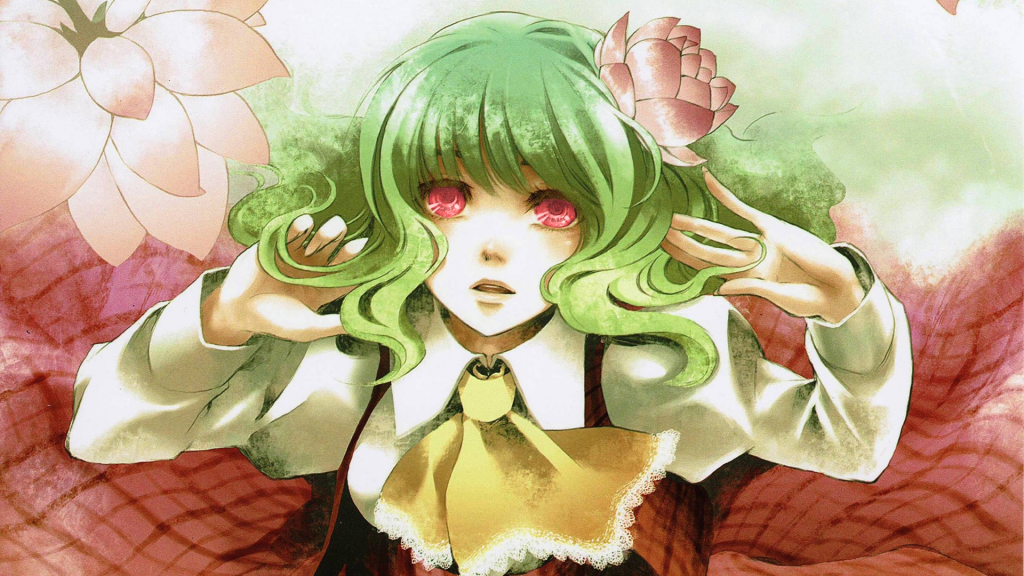 Amaranta has a small scar on her right hip from getting twisted into a thrown bush.
Amarenat is small, being only 4'7, if not for her bust size people would mistake her for a child. She has green short hair and red eyes that seem to make her almost non-human, but really her father had green hair with brown eyes and her mother blond hair with red eyes. She has porcelain skin with just an inch length pink scar on the right side of her hip. Her voice is mostly that of a younger girl, if she wanted she could put a mature tone in her voice, but she rarely does.
She likes to wear a white button down ruffle shirt with a red and brown plaid dress, whether the shirt is long or short and a yellow tie or a white dress and a red and brown plaid jacket or vest. Sometimes she will change into a plaid playboy bunny outfit, ears and all.
Amarenta when bored will sit and sway from side to side. She pouts her lips when thinking of something.
Pity- If she gets in trouble or something happens where she wants pity she cries and her looks up at people, giving an innocent look to her.

Organizing- She likes to have things neat and in order so she organizes stuff in cute little boxes and or containers of such.

Sewing –She sews her own clothes.

Gardening- She mostly grows flowers, but she has some herbs.
Sunflowers, plaid dresses, nature, pocky, cute animals and people, rain
Shorts, rude people, being stuck inside
Sewing, Gardening, Messing with the people in the house, dressing up
Acrohobia- fear of heights

Achluophobia- Fear of darkness.

Coulrophobia- Fear of clowns
Amaranta is a happy girl most of the time. She is very friendly. Besides flowers, she loves friends. If someone hates her she get teary eyes and/or cries. She can be nosy, but not to the point where it annoys anyone. When she wants information she will be sneaky about it. She will guilt them into telling her or flirt to get what she wants from them. One of her favorite things is flirting. Usually she will flirt with someone she deems handsome/hot/sexy/cute. Amaranta will never take it any further than that, unless she really likes them. If that is the case she will stop flirting, and this will be hard for her, and devout her time to him.

It is rare that Amaranta gets depressed, but it has happened. She doesn't like to let people know she is. She will plaster a smile on and go through the day seemingly happy. By nightfall, when all is asleep, she will cry her heart out. She only gets depressed if she finds herself feeling lonely, if her brother hasn't talked to her in a while, or if someone keeps putting her down. People always come first (even before her flowers), if she likes you. Throwing herself in harm's way is something she has done, and will do again, for some she loves. It takes a lot for her to hate someone.
Single, but always ready to mingle!
Father- Jimmy Garner

Mother- Piper Garner

Sister- Lilax Garner

Brother- Xander Garner
Amaranta Vanalika Garner was born on a sunny spring day of April 14th as the second child and daughter. The doctor and nurses worried about her, the fact that she was very tiny would mean she would be a very sickly child. They told her parents that it would be best to move into the country and away from the city's pollution. Within the past year the doctor would visit the family and even delivered her younger brother, Xander. The doctor was astounded by how Amaranta was growing and how healthy she had become, giving the fact the he thought even though she was out of the city she still would be sickly.

As school started things became a lot harder for Amaranta and her brother. The kids would pick on them about their hair and eye color. For games they were either picked last or never asked to play. Even at home their older sister, who was seven years older the Amaranta, ignored them. Lilax had blond hair and brown eyes; she was considered the normal child. She refused to be seen with them in public. Once old enough she moved out into the city, which was only twenty minutes away.

Xander became aggressive as the kids become worse. Amaranta was walking home from school with him when a bunch of kids jumped them. They pushed her aside and started beating Xander pretty badly. Amaranta threw herself on top of him and got most of the damaging blows. That made him snap and he started fighting back, which ended with the guys in the hospital. He carried her home and made a promise to her that he would always stay by her side, no matter what. In middle school puberty hit and everyone drew to them. She found her best friend, Haruka, in homeroom one morning and ever since they have been best friends. Xander at the time was not pleased, but got over it when she refused to talk to him until he accepted her. Amaranta became widely known for her shortness and bust size and Xander for his tallness and mysteriously quiet self. They stayed together, the whole time.

One day Amaranta and Haruka were walking from the mall when a strange drunk woman staggered over towards them. Amaranta could smell the alcohol on her and backed away. She told them that she was renting some rooms in a house and we should call her up. Being that they were seniors in high school and about to graduate the thought about it and decided to do it. On the day she made up her mind to stay in a house with a bunch of strangers, including guys, Xander blew up. He wouldn't talk to her for a month, which made her depressed. A week before she left to live in the house her took her for a walk in the country side and showed her his tattoo of her favorite flower. He told her that he would always go and check on her before and after school, and stay on the weekend. And the night before she left, he watched her sleep. In the morning she waved goodbye to her family with a big smiles and tears. She was ready for a new adventure.
Tall,lanky,thin and muscular
Xander is tall,lanky,thin and muscular. He is 6'3, the complete opposite of hist sister in height. He has green short of long hair and red eyes. He has porcelain skin with a sunflower tattoo on his left shoulder. His voice is low and deep, making it seem like he is in his late twenties.
Xander is a quiet guy, he likes is space. His sister is his life, he believes she is the only one that could ever love him for him. All around he is a nice guy, don't mistake his quietness, he likes talking with people he finds interesting. He is very protective over his sister and hates it when she flirts. When she does, and he is around, he glares at them both, then when alone with her he will fuss.