Name:
Anares Sivam

"I didn't chose to have this happen to me! It just happened. Okay, that's a bit of a lie. I wanted it but I didn't realise the drawbacks..." She also has a beautiful Nordic accent, which could be described as a Medieval mix of Skandianavian and British.
Age:
20
Gender:
Female.
Race:
Human, infected with Sanguinare Vampiris, 'Lord Vampire' strain.
Theme Song 1:
Dead Bite, by Hollywood Undead.
Abilities:
The longer she goes without drinking blood, the more her powers will change. Upon drinking enough blood, she'll instantly return to Stage One.


Stage One:

She is more resiliant to ice and cold powers than a normal human. She's also about the same, weaker to fire. If she's in contact with sunlight, her wounds start to heal slower, as will her magic regen. Footfall slightly muffled.


Stage Two:

She is even more resiliant to ice and cold powers, but more weak to fire. If in contact with sunlight her wounds and magic will start to heal even slower. Footfall more muffled.


Stage Three:

She has far more resistence to frost and weakness to ice. Also, sunlight stops her abilities to heal and regen magic. If stayed in it too long, it'll even hurt her. Footfall is really muffled. She also gets slight supernatural reflexes and speed.


Stage Four:

Ice and cold powers do absolutely nothing to her, in most cases. (If an ice spike was thrown at her, the spike wouls penetrate the flesh, but the ice would do nothing else for example.) But fire is near-lethal. If in contact with sunlight, not only will she not heal, but the sun will actually harm her quite a bit. Footfall is completely silent. Supernatural reflexes and speed are better.


All stages:

She always is invulnerable to disease and and almost every type of poison. She also has muffled footfall, making her harder to hear. This effect upgrades in different stages. She also can see a lot better in the darkness than most others. If she kills someone with a bite, it automatically closes all of her wounds within seconds and counts as feeding, reverting her to stage one again. Her fangs also grow larger with each stage.
Vampire Lord Form Can only be activated by her command, it's a stronger form then even level four and most vampires infected with Sanguinare Vampiris don't have access to it. In this form she has all the abilities and weaknesses of Stage Four, and additional powers such as really high supernatural reflexes and speed, poisoned talons, a 'night cloak' which is a swarm of summoned bats that help attack, 'vampiric grip' or the ability to 'blood bend', as some have called it, weaker life forms. She can also raise corpses to fight for her for a short time.
Feeding:
In order to remain at, or return to, the first stage of vampirism, she must feed. This means she must drink blood out of a fresh body (Living or dead within the week). Also, when she feeds there's a 50% chance the person she fed on will be infected with Sanguinare Vampiris, as long as they were living when she did it. If someone willingly allows her to feed, and they're awake as it happens, they can be infected with the Sanguinare Vampiris 'Lord Vampire' strain. But it's kind of a personal thing, and she won't do it to just anyone, and she especially won't try it on someone unwilling.
Sanguiare Vampiris:
Sanguinare Vampiris is the disease that eventually culminates in vamprisim. It's typically contracted when attacked by a vampire, from the vampire feeding or rarely using the Vampiric Drain spell. If a cure has not be acquired within three days, the infection spreads to full vampirism, causing a series of maladaptive and beneficial traits to emerge in the subject. Drinking blood can stay the infection and lessen the deficits of the disease. The disease can be cured by conventional Cure Disease magic or potions, and some types of antibiotics. If not cured within three days, it's a bit harder to cure. There are only few master wizards who know the correct rituals and spells to cure it after three days. Vampire Lord strain has only minor differences like the ability to change into a Vampire Lord, and sun/fire/frost weakness differences. She's also easily distinguashable from other people, as a result of the hemophiliac virus, the she slowly grows paler with each stage. Fangs protrude from her gums, allowing for easier feeding. Her eye color changed from her normal blue spectrum of average hues to orange and yellow.
Description:
The most notable thing about her, and others infected with Sanguinare Vampiris, is her slightly glowing yellow eyes. They are normal, not catlike, but still yellow. Also, in stages one, two and three, her fangs fit in her mouth. She has shoulder-length brown hair with blong highlights, and she looks to be about 18. She also weighs around 90 pounds and she's incredibly agile without her powers.
Picture:
Stages one-four:


Vampire Lord mode: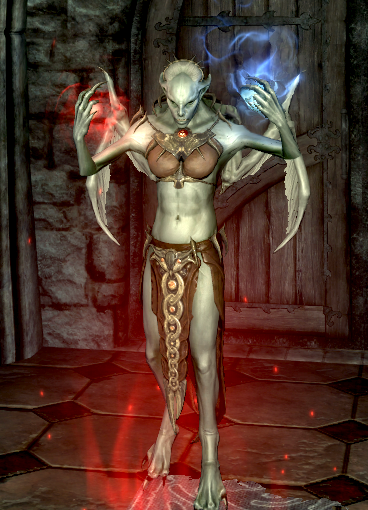 Equipment:



Cloak-

She almost always wears her cloak over her armor, if not in battle, and she always wears it with the hood over her head during the day, if not inside, or in shade. Its dark color also helps when she's in the darkness.




Veil-

A dark, yet see through veil that covers most of her face. Purely for looks. Its dark color also helps when she's in the darkness.


Curias, boots and gauntlets-

This provides as excellent armor, and it's enchanted to suit her needs. How so? Well, fire can't penetrate it. If fire touches the curias, well, it won't harm her unless it touches the actual skin. Their dark color also helps when she's in the darkness.


Tasset:

This is purely decorational, though its dark color also helps when she's in the darkness.


Garter Pouch:

An enchanted puch, she can hold enough things in it to fill a small closet. If the thing she's trying to put in doesn't fit into the top of the pouch, she taps it three times on the pouch and it'll shrink to fit into the top, but when it enters the closet-sized space, it unshrinks.




Potion of Blood-

Not really a potion, it's human blood trapped in an enchanted bottle. The bottle is an ornate corked vial, enchanted to keep human blood in it fresh for six months. She prefers it over feeding, she thinks it's more humane.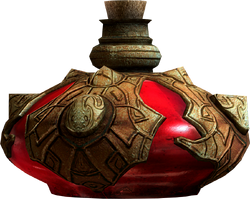 Ebony Sword of Ultimate Chaos:

An Ebony Sword enchanted with the 'Chaos Damage' enchantment, so when this sword harms a traget, it can deal either fire frost or shock damage and has a chance of simultaneously dealing all three.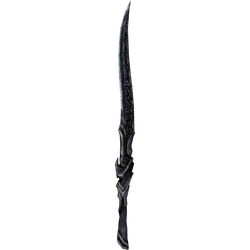 Spells:



Vampiric Drain:

The spell drains Health from an opponent and heals the caster with it. Targets of this spell can contract Sanguinare Vampiris (Low chance, and normal strain), which leads to Vampirism unless cured within three days. The spell drains more health or life force and heals her more accordingly the higher her vampiric stage is. (In her normal mode [Stages one-four] it's sort of like a beam that when touching an opponent it sucks out their health, damaging them and healing her. In Lord Vampire mode, it's more like a missle-like projectile.)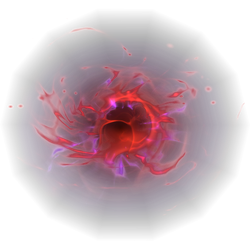 Embrace of Shadows:

Makes her night vision temporarily so good that it's like seeing during the day, no matter her vampiric stage. In addition, it makes her almost-invisible in the darkness by covering her with a dark fog that plays tricks on weaker to medium minds making them think nothings there, this of course only works in darkness or shade.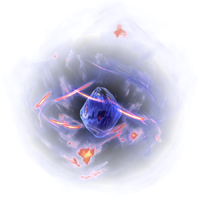 Steadfast Ward:

Magically blocks medium-strength attacks of all kind, that aren't physical.





Transmute:

Transmutes one piece of Iron to Silver, or Silver to Gold if the caster is carrying any.





Frost Cloak:

The air around her condenses, and freezes further giving her an amazingly cold aurora and acting as a sheild to certain things.





Calm:

Can temporarily calm weaker to medium minds and act as a painkiller.





Healing:

Can heal people and close up wounds, but not without a cost. It's actually a sort of anti-vampiric drain, in the since it heals them while giving her their wounds in replace. Doesn't work on undead, or anything not techniqually counted among the living.





Necromantic Healing:

It heals her wounds, while draining her of energy, disabling her spells for a short while. Usually used on herself, but she can use it on other undead or anything not techniqually counted among the living.





Summon Death Hound:

Summons a Death Hound, helpful in combat. She can summon three of them at a time, and they're named Shadow, Ebony and Death.




Summon Arvak (Undead Horse):

Summons an undead steed for her named Arvak.




Summon Hellfire (Special Horse):

Summons a special type of flaming steed she named Hellfire. Useful for if someone's traveling with her, and she's using Arvark.

Personality:
She's normally nice and happy, unless near fire. If she's near fire she'll freak out and it's her only fear. Along with this, she can get aggressive and edgy at stage four vamirism. At Vampire Lord mode, she can be aggressive and hard to control, or she can control herself easily. She's still not sure how it works exactly. She's only been a vampire for five years, and she's considerably new at it. She also dislikes having to feed as it's the only drawback of vampirism, in her eyes.
Relationships:
Possible relationship brewing with Devin Cryss.
History:
Being a faithful daughter of Skyrim, she joined the Stormcloaks during the civil war, and in the war between Vampires and Dawnguard she wanted to join Dawnguard because she felt the vampires were doing wrong. But they wouldn't accept her, so she started slaughtering both sides. Becoming highly wanted, she tried to leave Skyrim... The result was accedintally ending up in Wing City. Here, she plans on starting over with a new life, going to college, possibly learning new magics not available to her before, and maybe... Just maybe... Settle down with a guy. Of course, it'd take a lot to make her settle down. She enjoyed fighting and she'll probably spar with tons of people.
Likes:
Boys, not having to feed, and partying
Dislikes:
Fire. The sun, and having to feed. Normal food and drinks (Have absolutely no taste for her).
Other: