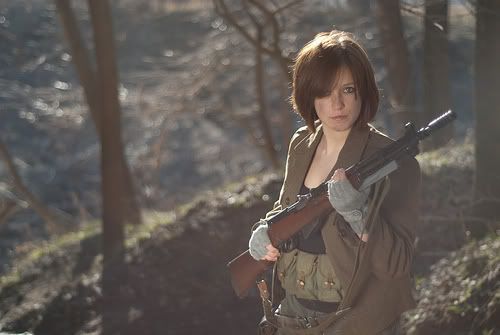 Full Name:
Antonia Luz Valdez
Nicknames:
Toni
Race:
Human (Spanish)
Birthday:
14 December
Age:
26
Gender:
Female
Height:
Five feet eight inches
Weight:
140 lbs
Eye Colour:
Dark topaz
Hair Colour:
Dark brown
Distinguishing Marks:
Like most who have fought in the robot wars, Antonia has a littering of scars that vary in size and severity. The smallest is across the bridge of her nose and is only a couple of centimetres long whilst the largest is on her left leg and stretches from the outer side of her ankle to the inner side of her thigh.
Other Features:
Antonia speaks both Spanish and English, though the latter is usually accompanied by a few Spanish words. Her accent isn't heavy, though is clear during particular sounds - 'th', 'r' and 'i' sounds are usually different in English words.
History:
CBA.