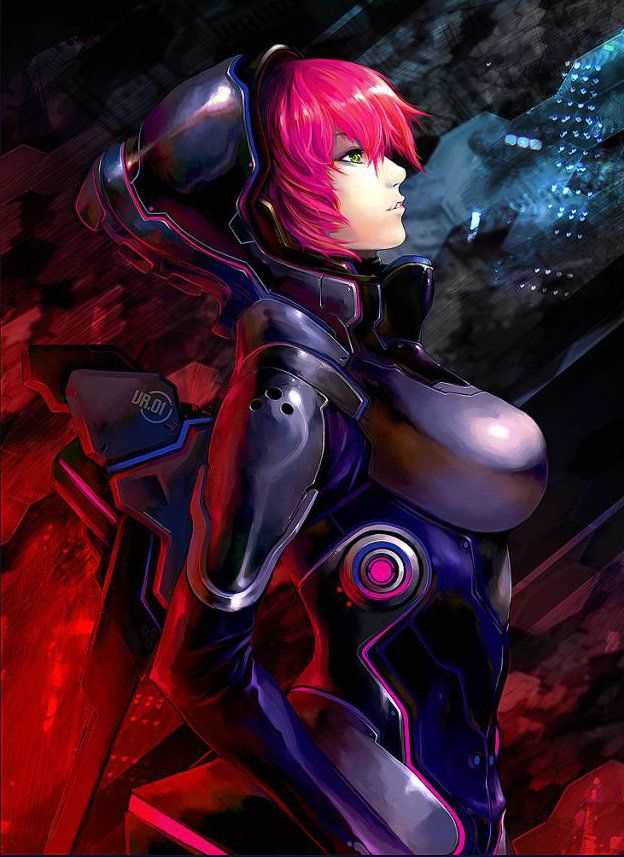 Her song:
The Glitch Mob- Fortune Days
Name:
Anurae Terorium
Alias:
Anu, Rae, Sniffles
Gender:
♀
Age:
22
Race:
Dihumoid- A sub species of human that had adapted to a planet's environment, changing them from standard humans. This is called Speciation.
Discerning Features:
Like all Dihumoids, Anurae appears to be quite human. However, her eyes are neon green and her hair neon pink. Her eyes were adaptations to the sun's rays being so high, this caused the iris to lighten over generations. Her hair color is years of adaptation to a sort of bleaching that comes from the atmospheric chemicals and the sun's unusual hue bright blue. Hair color does vary, but is always a fluorescent color. Anurae is forced to wear an environmental suit while on Terra's surface due to another adaptation her people took on over generations, the suit's tinted visor often shielding her face from view with the exception of her eyes, which seem to glow when caught in light. This feature, however, can be turned off at Anurae's discretion.
Family:
-Father: Atticus Terorium
-Mother: Voria Attamium (Deceased)
-Sister: Moray Terorium (Deceased)
Personality:
A dedicated and determined individual, Anurae is a fiery young woman that doesn't know when to quit. Shes rather friendly when others show the same attitude towards her but can be a fire cracker if you get on her bad side. Most of the time, Anurae is a positive outlook sort of person, though she has her moments of depression, mainly when speaking of her mother and sister. Anurae is always willing to learn and is quite curious of the world around her. Even when faced with failure, she learns from her mistakes.
Brief History of Anurae:
Anurae was born on a planet many millions of miles away from that of Terra. This planet has come to be known as Sageous. She lead the normal life of her people, passing through her education with moderate, if not just above average, score. She attended a secondary education branch of exploration and interplanetary travel, as well as basic combat skills. During her secondary education, her sister had fallen ill with a disease that is similar to the common cold for humans. This proved fatal for the child. Anurae's mother had caught the bug, and soon after died from the disease. At the age of 19, Anurae was accepted into the Doctorate of intergalactic exploration. Her visit to Terra is her first ever mission.
Brief History of the Dihumoids:
over 2 million years ago, by the Dihumoid's records, a human vessel was sucked into a worm hole. This caused the ship to not only jump trillions of light years away, but to also travel back in time by millions of years. The ship was called the Harthorne and was on its maiden voyage. You could consider it the titanic of the space age, for it was a massive exploration craft with hundreds of thousands of scientists, doctors, military, and civilian personnel on board. After exiting the tear in the space time continuum, the vessel crashed upon a planet covered in ice. This planet came to be known as Sageous. Many were killed in the initial impact, more by the atmosphere, and more by hostile indigenous creatures. The atmosphere was comprised of carbon dioxide and nitrogen, which to humans is not a breathable air. However, after millions of years, and small amounts of exposure to the atmosphere, the people adapted to the environment. This, of course, had some side affects. The odd coloration of hair and eyes were brought upon mostly due to the odd coloration of the sun, a deep blue glow. Another side affect was the degeneration of the new race's immune system. Very few bacteria survive, let alone thrive, in 0 oxygen environments so disease was no longer an issue. However, a sort of plague, similar to that of a human cold, swept through the population killing a vast majority, including Voria Attanium and Moray Terorium, Anurae's mother and younger sister. The plague lasted for 2 years, but in that time, had reduced the population to a third of its former glory. Now, the Dihumoids face extinction as their planet's environment has started to collapse. The already freezing temperatures are dropping, killing off much of the wild life. The Dihumoids have survived this long merely due to their cities being underground and heated by the planet's core, which too seems to be dying. Now, Anurae has been sent out in search of a suitable world for her people to colonize, in hopes of keeping their kind alive.
Armament:
-Anurae's suit is equipped with a jet pack like system that runs on an energy similar to that of nuclear, though without the deadly radiation. The suit is also powered by this substance and has a light kinetic barrier that can repel most physical small arms. However, energy weapons pose a serious threat.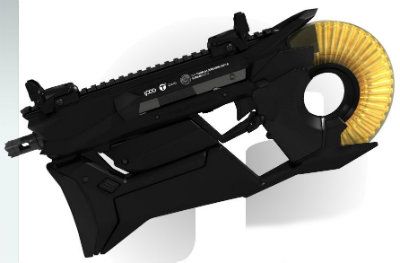 -10mm Pascal repeater: This side arm is standard issue for Dihumoid military. It has a select fire mode to switch between semi-auto to 3 round bursts. A stock swivels along the feed system at the back to allow for more control, as well as a forward grip that folds down.
-7' Sageal blade. This blade is composed of a substance found on Anurae's home planet known to the locals as Sageal. It is a non-magnetic composite that is harder than even diamonds. With a sharp enough blade, one could carve a diamond as easily as one can carve an apple with a paring knife. This material, however, is very rare and hard to forge. It requires a temperature far below that of -1000 Fahrenheit, which puts it in its liquid state.