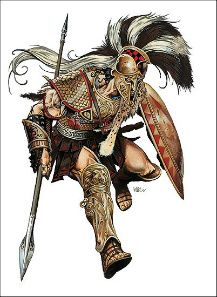 God of WarAliases:
Ares; God of War.
Basic Appearance:
The god seen by mortal eyes is a breath-taking sight. He is a warrior clad in gleaming, Spartan armor that is bronze in appearance with a cape of blood from the countless amounts he's spilled. His hair is brown like the earth and can vary in length. His eyes are blue like the sky. His skin is olive in color and the muscles packed upon his bones are nearly as indestructible as the armor that guards his body. He is the epitome of strength, fear, and most of all,
war
.
Background:
Ares is the son of Zeus and Hera. His siblings are Hebe, Hephaestus, Enyo, and Eilethyia. His half-sisters are: Artemis, Athena, Aphrodite (depending on the myth), and Helen of Troy. His half-brothers: Heracles, Apollo, Dionysus, Hephaestus, Perseus, and Minos. He is the most loathed son of Zeus, but when it comes to war, he is acknowledged as its epitome. There are many stories that follow Ares, but if you asked him about them that's all they are: "stories."
Personality:
Ares is very arrogant, brash, intimidating, courageous, and as fearless as a honey badger. There is no enemy too great and no war too difficult. He loves bloodshed and exacting destruction on his foes. He loves fighting, conflict, combat, and cares not for its devastating outcome. Once on the battlefield, the god cannot be withdrawn so easily. It is an addiction, war is who he is, and he isn't afraid to challenge anyone who dare offend him. If his countless offspring weren't a hint, the god is also sexually promiscuous and enjoys a fine woman every once in awhile - that is any woman that acknowledges his might.
Symbols:
Spear, helm, dog, and vulture.
Weapons:
Anything and everything, he can summon any weapon in the universe to his hands. He can also summon ancient and divine weapons that can cleave through anything from Hephaestus's forge in the Heavens. He is a master of combat and weaponry.
Powers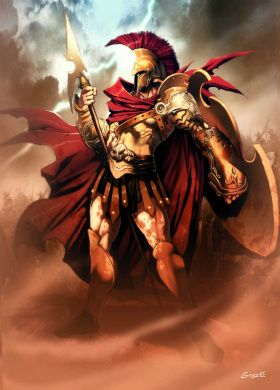 Rage
Ares's rage is a numbing phenomena that increases his tolerance to pain to no bounds. He can be wounded, and wouldn't flinch or even blink an eye. The war god becomes an unstoppable berserker.
Fear
Ares is the face of fear and naturally exudes an aura of terror and awe. It is the fear that war brings.
God Wheel
It is the wheel Ares summons in which he draws his divine weapons from. The god wheel turns, giving him a limitless supply of tools to murder with.
Godly Strength
The god's strength has no bounds.
Godly Stamina
Ares can fight a battle without rest. He doesn't need to eat, sleep, or drink; war is his fuel. War is what keeps him going until a conclusion is met.
Godly Resilience
The god can't be harmed by mortal devices. Bullets shatter on impact with his thick skin; lasers cannot pass through his density; he is unharmed by extreme temperatures and pressures, toxins, harmful bacteria, viruses, or any sort of crippling ailments and diseases. Magic, seeing how it is inhuman in existence can harm him. Elemental magic, the manipulation of the elements does not unless said magical elements were artificial as a result of the magic itself. The god would have to retain heavy, magical damage to go down, and his armor and shields protect him.
Regeneration
If even a single cell of Ares remains, the god can reform.
Resurrection
The gods do not truly die for Ares when he faces death is sent to the realm of his Uncle Hades, and if Zeus permits, Ares can be resurrected.
Author's Note
: Do not challenge Ares for I will not have him go easy on your character for it is not in his character to be lenient. He loves battle, and won't hesitate to put your character in his or her place. Because of this nature my character has, please do not hate me for playing him true to his creation. Thank you.
Disclaimer
: Artwork on the right by GENZOMAN from DeviantArt. Top artwork unknown and I do not claim it as my own. I simply have these pictures to portray what I envision.