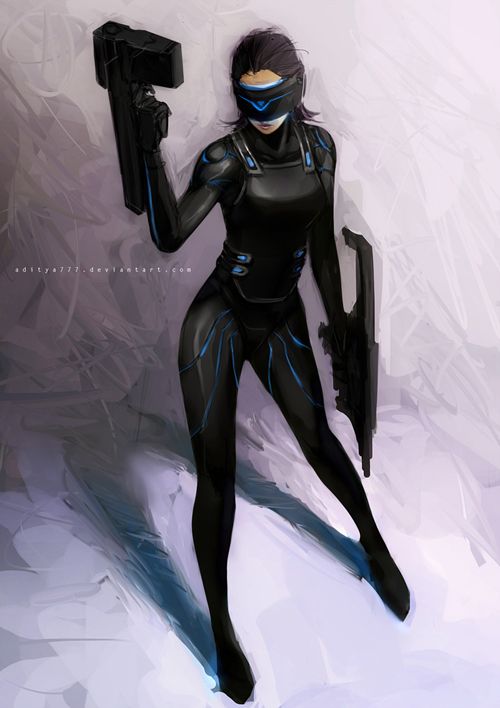 Image by Aditya777. Will be removed if asked.
Equipment:
The "Second Skin" Battle Suit

- A bulletproof suit that is thin enough to earn its name. The artful blue lines that are in abundance on the suit charge energy beams on Ariel's hands that she can project forth with highly destructive properties. It also has a cloak setting that can match her to her surroundings or disguise her to the appropriate event.



The visor

has a heat vision, night vision, and target setting with a zoom feature.



Spark Boots

allow Ariel to jump to heights impossible for the normal human being. Her heels are a useful extension that allow her to land from these heights without harm, and carry a little extra weight to make sure she'll always land feet first.



The All-Purpose Bandit Pulse Rifle

- On numerous travels throughout the universe, Ariel has picked up many a trick and has since realized that a simple pulse rifle can't do it all. The pulse rifle has a high fire rate and can hold up to one hundred clips, fully automatic. They come in shock rounds that destroys shielding and fries nerves. There's a grenade launcher attachment to the bottom, but the grenades within this gun don't come in a fiery explosion. Instead, it releases an adamant net that can withstand being dipped in magma for a short amount of time- something she created on a long trip to a volcanic planet, chasing after an important bounty that needed to be caught alive.



Wyverntail

- A whip with acidic properties, able to melt through skin and various metals.



Proximity Spheres,

picked up from the Slayer company, they slow a certain area with a radius of six feet for three and a half seconds.