Name: Artyom (Art-Chom or Art-chum) Last. Last =
La
tyshskij
st
relok (Latvian gunman, Russian story character) Vektor was named using the old, WWII naming conjunction: taking parts of words or names of popular figure heads or ideals at the time for a name. Despite the artificial nature of these names, they are still considered to have "Ethnic" meaning, seeing as a lot of the names sounded specific to different regions, such as Slavic or a name sounding Georgian.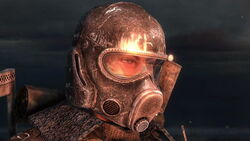 Artyom is a brown haired, blue-eyed, respectable fellow with a defensive posture and paranoid dart of eye. He is tall-around 6'3-and muscular, with a typical "athletic build," but is lean. His hair is kept short, not shaven like today's "enlisted man," but not long. He despises males who let their hair grow out like "hippies" or the like. Women he can understand, for that is the "social norm," and has been for as long as (most) people can remember. Due to his.... exposure to radiation, there are some things that are... different about his body then "normal" people.
Say if everything about people were on a scale of 1-10, 5 being average human, 4 being smaller races as far as physical attributes (5 would still be normal, 4 for gnomes and elves and the like), 7, 8, or 9 for demons, giants, anything really strong or smart, and then "11" being reserved for like St. Cuthbert of the Humble Cudgel (Religious figure), who have "godly" abilities.
Strength 6 (6.5 in his armor) (7.5 in suit #2)
Agility (full body coordination): 6 (5.5 in his armor) (6 in suit #2)
Speed 5 (as far as running, arm movement, kicking, at et cetera, he is only human. In armor, his speed would be more like a 4.5) (5.5 in #2)
Dexterity (hand-eye, hand-foot) 6 (6)
Intelligence 6 (for "his time." See: History for more information. He doesn't know much about the history of "today's" world, so, even with his technical knowledge and study of tactics, he isn't any smarter then an average human. By "average," I mean went to school, got an education, at least tried to learn, not a drop-out, gas-guzzling wannabe)
Reflexes 6 (armor makes is 5.5, again. This is marginal; he is as likely to dodge an oncoming vehicle as anyone else with full use of their limbs and body) (6.0 combat reflexes in #2)
Senses (sight, hearing, tactile perception, et cetera) Sight: 5. Tactile (sense of touch): 5. Hearing: 5 (although is paranoia causes him to focus on this sense a lot). Taste: 4 (radiation). Smell: 3 (again, paranoia. Don't expect him to tell you if your stove is leaking gas and whether your house is going to explode or not) I'm forgetting the other one but it would be a 4 or 5... (+ 0.5 in suit #2)
Nationality(s):
Russian, American, German, Irish - mixed cultural background. Knows nothing about the lands of his time prior to the bombs, though.
Age: Radiation has effected his aging process. He has "lived" for about 27 years, but this "age" means nothing in the aspect of his "lifespan" or "life expectancy."