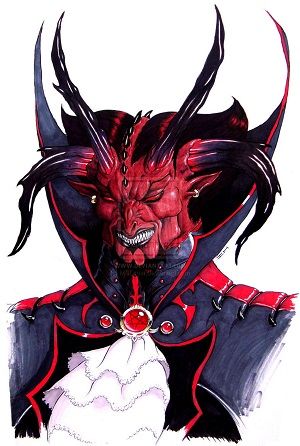 GENERAL INFO
Full name:
- Asmodeus
Alias/Nicknames:
– Prince OF Nine Hells, Domeon of Lust, General
Gender:
- Male
Species/Race:
– Great Demon
Birth Date:
– N/A
Age:
– N/A
Descendent(of):
– N/A
Current Residence:
– Arlel's Body
Job/Profession:
– General Of 72 Legions, Prince of Hell
Title:
– Prince of Hell, General
Allegiance/Alignment/Clan(s):
– Himself and his lover
APPEARANCE
Height:
– 6'8
Weight:
– 243lbs
Build:
– Packed Muscles
Eye Color:
- Red
Hair Color:
- Black
Handedness:
- Right
Skin Shade/Color:
– Red (white in human form)
Description:
– A prince who was once trapped by a succubus he underestimated. He wil never make that mistake again. He is very tall, and usually stays in his Demon for, for he loves to strike fear into other with it. Whenever he is outside of that form, he is in his muscled human general form with a huge intricately detailed helmet and jeans, with no shirt. Carries a large sword, made out of hell-ebony. Usually has huge horns and shiny white teeth for a vicious and hungry looking smile.
Human General Form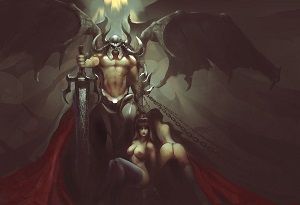 MENTALITY
Sexuality/Preference:
- Debateable
Sanity:
– Depends on the Day
Friends:
– None but those who Stand By him
Likes:
– Nothing but Carnage and Sex
[color= red]
Dislikes:
[/color] – Everything That is not Giving Praise to His Glory
Hobbies:
– Destroying Hope
Personality:
– A Man who doesn't liked to be bothered unless he is bothering you. He is very visceral when it comes to his possession, which includes all of hell. Treat it right, and your in the clear, treat it wrong, your in his fist being crushed. Don't cross him, ever.
EQUIPMENT
Weapons:
– Giant Customized Blade
Combat Attire:
– His Hell-Ebony Armor
Accessories:
– None
FIGHTING STYLE(S)
General/Preferred Style:
– Devestatingly Big movements, be fast as hell…get it, hell?
Hand-to-Hand:
– Usually doesn't bother
Weapons Style:
– None
Special Abilities/Affinities:
– Hell Fire
STYLES OF MAGIC
Chant Magic:
– Doesn't Care about them
Rune Magic:
– Smacks People Who usues it.
Elemental Magic:
– Hell Fire All Day
Psychic Magic:
– Can Read Your Mind, and Crush It
Conjuring Magic:
– Hell Hounds
Enchantment Magic:
– None
Space/Time Magic:
– Many
Arcane Magic:
- None
HISTORY
Relationship Status:
– None
Family:
– None
Known Languages:
– Enough
Personal History/Background:
– Has Plenty of scores to settle since he's being released…soon