Azi, Zahhak's daughter, was born from one of Yima's daughters, Arnavas, who had fell in love with Zahhak before put in prison. While in prison, she was pregnet with Azi, and when Arnavas, Sharnavas, and Fredon attacked Zahhak, Arnavas went into labor, giving birth to a beautiful baby girl. Then Fredon realized that he wanted to be a part of Azi's life as a brother and father, despite his young age.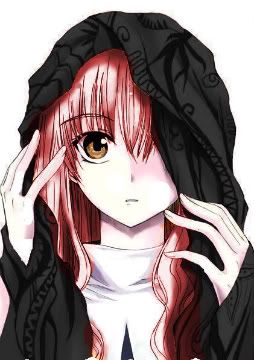 As Azi grew older, she learned how to shift into a black dragon, not red like her father and with one head and golden eyes, unlike her father. The first time she shifted was when Azi was 5 years old and was in a fowl mood. Arnavas walked into Azi's bedroom to see what the noise was and saw a black dragon with a red chest and golden eyes. Arnavas didn't know that it was her daughter and screamed for help.
(Except the eyes are golden instead of blue)
Fredon ran up the stairs and to Arnavas' side. When the 14 year old looked into the room, he saw Azi as herself, but her wings and tail still sprouted out, her wavy red hair settling from the shift.
Ever since then, they try to help her with the shifting. Over the years, Azi finally learned how to control her shifting and learned how to receive help from demons called daevas. At the age of 15, Azi began to travel the world in search of her father, leaving her mother in the care of the now 24 year old Fredon.