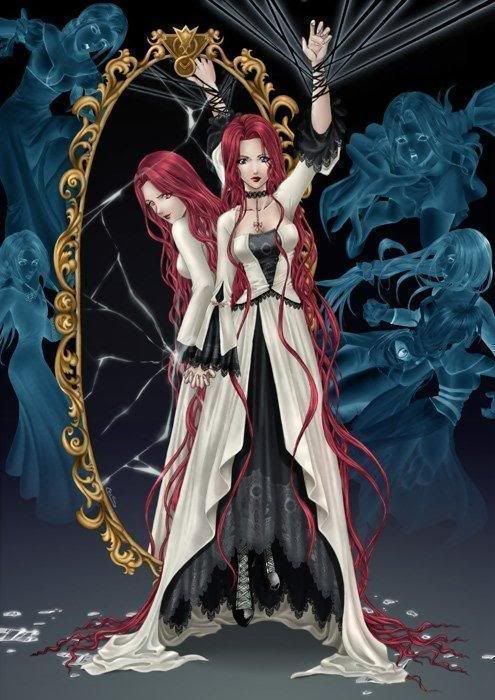 Name: Ballad Gliriel Taleme
Gender: Female
Race/Species: Elf
Nationality: Elvish
Age: 79
Status: Noble.
Height: 5'6"
Weight: 115 lbs
Hair color: Red
Eye color Blue
Love Interest: Runic
Items:
Material value: N/A
Emotional Value: A ruby pendant given to her by Runic, a diamond ring that used to belong to her father and his father, the music box that plays a nameless lullaby.
Personality: She is a determined and strong individual for her status. She can be very emotional over something going wrong and is often quick to change attitudes, but mostly in the interest of others or to make a quick change of subject. She has her moments where she is rather quiet or she can be quite oblivious to her surroundings. She is a generally loving female, though she sometimes takes the 'tough love' approach.
Likes: sunshine, romance and fun
Dislikes: Mirrors, death and being depressed.
History:
Born to Lady Gaelia Rowan Renwick and Lord Drayarien Sligos Taleme, son of the High Elder Lady Gwenavere Ilena Taleme, Ballad was born into high privilege, or so it goes. Most people underestimate the quality of life as a noble child. Ballad never had any friends as she grew up because she was always subject to strict behavior patterns, various studies that occupied nearly all of her time, and never being allowed to go outside for so called 'safety reasons'. She was always told stories about one of the help boys named Runic. He was the only black haired elven around the part of the forest kingdom she lived in. The grounds she lived on were massive, she lived in the main manor while the stable boys tended to the horses that belonged to her father and his small army of men. They were only about 20 strong. It could certainly be a hectic household at times, but that was their culture. There were small cottages for some of the men who had families, but the others lived in the north wing of the house, known as the soldier's wing. A couple of the stable boys were then traded off to become Knight's apprentices and even some of the noble boys from the neighboring lands.
When the boys had finished their work, they would sneak into the kitchen of the main house to get Ballad's father's barley wine. According to most, he made the best in the grand forest their race lived in. Ballad was often woken up by them and learned how to be sneaky so that she could watch them. She always found it fascinating to watch them, Runic was often the oldest in the group, the shrewd younger boys talking him into helping him get to the collection. As time went on, Ballad tried to see more and more of Runic as she got older and as he progressed through his knight's training. In her opinion, he was often the best of the group. Ballad was always close with him, just as she was her father and her mother.
It would come upon the day where her mother insisted that she choose a guardian since she was now allowed outside of the house. Without a second thought, she replied that she wanted her knight to be Runic. That was one of the things that started their deeper bond. She hadn't known until after she had chosen him to be her knight that he had a rather bad crush on her. She adored him for that but because he was a knight and she was of nobility, many a person disapproved. A couple of years later, her parents had issued the idea that she was to marry Fenrir Strongbow, the son of a noble from a neighboring land. She immediately disapproved as she wanted nothing to do with a brainless brute.
Eventually, her mother caved into her request to not marry Fenrir and instead bound her with the knight she was ever so in love with, the black haired border land elf, Runic. Her father was appalled, but not only for that reason but because Ballad also told both of her parents she had been visited by the dead. She had shared her grandmother's gift to see the spirits of the departed. However, it didn't go quite as planned. Many of the nameless souls that lived in the forest began assaulting her and it forged a split personality. Her other self manifested strongly by protecting Ballad when Runic couldn't, showing herself by having orange eyes instead of blue.
About a year into her psychic manifestation, her mother died of unknown causes. The funeral was held on a rather rainy day and to the people of the estate it became known as the 'music box funeral' due to her mother being buried along with her infamous little Music box. Shortly after her mother was buried, Ballad was also given a music box of stained and lacquered cherry wood. Two days later, her father banished her and Runic from the land. His reason was her desire to marry a man of common decent, but the true reason was her father's dislike in psychic forces. Had he been capable of denouncing his mother, she was positive he would've.
Now she and Runic wander about, Ballad still carrying her ties to the family fortune, and they go where the winds take them. Runic has always been her faithful guardian, companion and love.