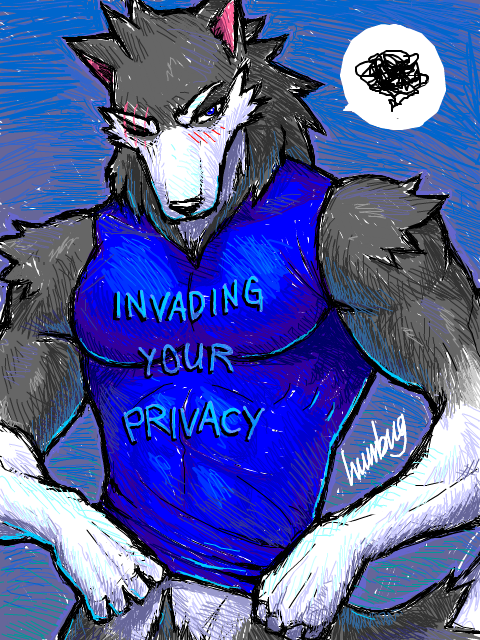 NickName - Bastien, Wolfy, Scarface, Fluffles
Title - Sgt Delacroix : 12th Prism Marine Infantry Company, Platoon 0136
Callsign - Slave - 1
Age - 24
Gender - "Ah... heh... You're kidding right? I'm a guy..."
Height - 6'11
Weight - 1- "Yeah right asshole! Like i'd tell you my weight!"
Race - Gray
Ethnicity - He hails from the Zulf Homeworld of Prism... Basically his Ethnicity would be a 'Prime'.
Species - Zulf :: An anthropomorphic species of Wolf People who hail from the planet Prism. "Call me a doggy... I dare ya... I FUCKING DARE YA!!!"
Hair/fur color - Gray mostly but white on his chest inner thighs under his tail... He also has white 'socks' on his hands and feet.
Eye color - Baby blues... or... blue rather... he only has one good eye.
Skin color - "Uh... well if i was shaved... probably be a gray-ish pink.... But we aren't gonna shave me now are we... Perverts...."
Current Affiliations - Prism Imperial Marines
Alignment - Lawful Good
Occupation - Infantry
Outfit - When Not at work :: He's often seen lounging around in a pair of jeans and a sleeveless shirt. When at work :: He can be seen in his combat utilities.
Tattoos - None
Piercings - None
Scars - Claw mark over his right eye... Rendering that eye useless.
Bastien can be one of two things... Your best friend.... or your worst enemy. That being said... He's a little nuts.... okay maybe not a little.... he's REALLY nuts... There's a reason why they only let FEW people join the Prism Marine Infantry.... They're all batshit crazy. It should be a job requirement in order to do what they do... however sadly it is not. He tends not to give a fuck what anyone thinks and does what ever the hell he wants, when ever the hell he wants to... That is... when he's off duty... when he's working however... he's a very refined and disciplined man. Always demanding the best out of his Squad Mates and giving 110%. If there's a mission, the mission will be completed with Minimal to 0 casualties.
Sexual Preference : Bisexual but leans Heavily towards Men... specially Human Men.