Images owned by Aozorize of DeviantArt. All rights and respect go to him. Will remove if asked.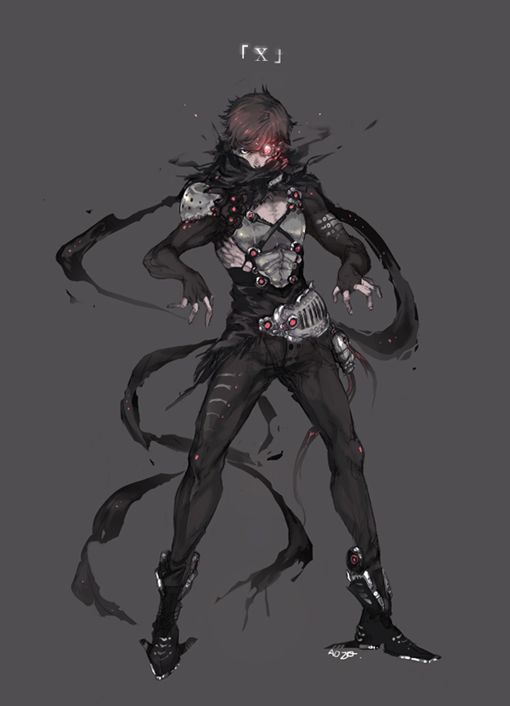 The ideas for the character are inspired wildly by Nevan and 275th.
Alias/Codename:
Biohazard Typhoon
Age:
22
Species:
Cyborg Human
Class:
TechEngineer Assassin
Occupation:
Assassination, VIP Control, Corporate Espionage, Capture and Detain
Current employers:
None
Nanotechnology
Biohazard harbors nanobots that can act as both weapons and healing devices. The red dots around his body act as access points for the bots. Through touch, he allows the nanobots in his system to filter through into another to perform emergency repairs. They will eventually die, as they are tuned to Biohazard's organic habitat. The nanobots will gather at the surface of the skin, often giving it a black, steely appearance that moves with the contours of his body. So compact and close to one another, the nanobots can become an armor hard enough to stop bullets. Vince might or might get a bruise from the impact.
When used offensively, the nanobots can be coated over shells or within small spheres that disintegrate on impact to release them. They will then rapidly eat away at the matter they have splattered on until they die. Organic matter is the quickest to be melted. The nanobots can also gather in a cloud that Biohazard calls the "Typhoon," that also allows the nanobots to rapidly eat away at matter in a black storm of carnage.
Biohazard hadn't always had these upgrades. He had suffered from a terminal illness that rapidly sapped away at his life. The nanobots that had been implanted kept it at bay, and though the disease still lingers within his body, it is controlled to the point that it cannot harm him any longer.
Mech Eye
The eye can shuffle through a dozen settings, including thermal trackers, a targeting system (includes a zoom feature), and a metal detection system.
Heat Pockets
Upon his wrists are devices that carry pockets of super-heated air that can shoot out and severely burn a target within six feet of himself. It also burns his hands, so he does not use it often.
Anti-Grav Boots
There is a device in his boots that also allow him brief moments of zero-gravity in a pulse at any given time.
Bedlam.
An event that ended one earth as we knew it. The Bedlam bombs were something new; something just as destructive as nuclear bombs without the lingering radiation. It was a blessing for politicians as earth neared its first Nuclear War, which everyone was sure would ultimately wipe out all life on the planet. If the force of the bomb did not kill you, surely, the radiation would. They were out of the question when Bedlam bombs were proposed. More chance for survivors. More chance for rebuilding the earth.
Biohazard, just two when the Bedlam bombs first hit, looking outside the window at the red lights that streaked down from the sky. "Shooting stars!" he said to his mother, just before he was lifted into her arms and taken to the basement.
Seven years after the Bedlam bombings, Biohazard was diagnosed with a strange terminal illness that began to shorten his life exceptionally. It was an illness that had shown up due to Bedlam radiation, which had nearly finished off whatever life had remained. Everyone thought it would be better. The Bedlam bombs. No one realized that it would be worse.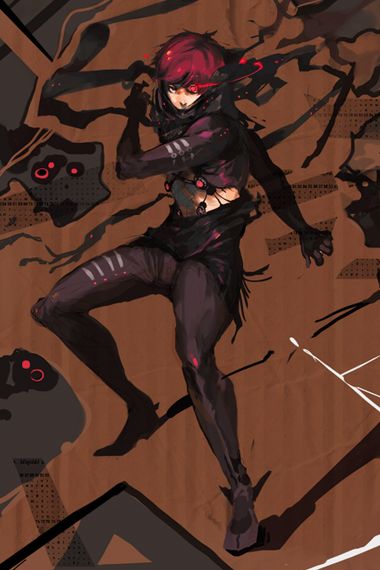 Technological advances skyrocketed. Life support systems became the primary focus for investment. People exchanged organs for machines that gave them a higher chance of survival. Machines that surpassed their weak immune systems. Young Biohazard, who's mother had died just a year back from the same illness, went to one of the most powerful companies for new healthcare that existed at the time. Despite his fathers wishes, Biohazard traded his services for the lengthening of his life.
After being imbued with nanites that kept the illness at bay, Biohazard began his training as an assassin. The money he was given for each job kept both him and his father alive, however, several years later, his father also contracted the illness, and refused cybernetic implants. Biohazard's father died, leaving him alone in that dark world.
He continued to do the only thing he knew how to do. Everything the company had taught him. He never strayed away from them until one day, on a raid upon a rival company, the building came down, and a broken pipe, filled with acidic liquids, spewed into his face. He lost his left eye. He was trapped under a ruined building. He was left for dead.
That is, before he was found by a small group of straggling, but resourceful rebel engineers.
They built him the mech eye. They fixed him. They sampled the nanites in his skin and improved them. They taught him how to create them so he could function without them as a crutch. He owed them so much, and in the act of repaying them, he was ported away to the Multiverse.
And that is where his story really begins.