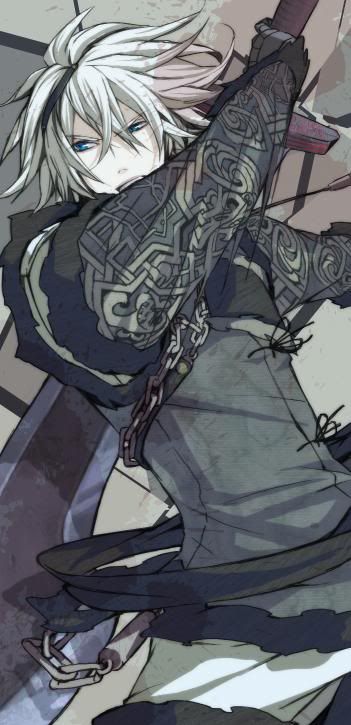 Blade is a six foot tall, lightly clad fighter with silver hair and bright aquatic blue eyes. His features give off a distinct arrogance, but at the same time, his
stance and equipment will give the impression that his confidence is well founded. He is three hundred and fifty one years old, and has been part of the Queen's guard since he was thirty nine, making him part of the unit for three hundred and twelve years. He is only twenty five years younger than the queen herself, making him and his sister one of the oldest twinsets currently alive. Being so combat oriented, this brings Blade to a position of much respect, having survived so amazingly long.
He ended up marrying the Empress, only to see her killed in the destruction of the Erutin homeworld a few years later. Now without his wife, and having lost his children to Hegemony defection, all he has left is the remnants of the empire that look up to him for leadership. In grief and pain, he has become ruthless. Even his twin lies in coma. He rules with an iron fist, and his fleet's return to the core worlds will undoubtedly be bloody.
The death of his wife left him horribly disfigured and mostly unable to shapeshift; he is heavily scarred on the right half of his face, and his left arm is stuck in the form of a bear's. Although this has proven more a boon to his intimidating stature than a weakness. His sword arm remains unaffected.