PHYSICALITY
Physical Description
This was off duty.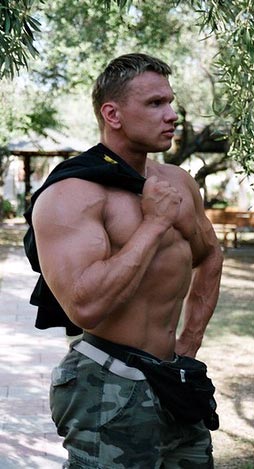 On duty.
Appearance
Hair: Black cropped.
Facial Hair: None.
Eyes: Blue
Build: Look at on duty.
Skin Tone: Pale.
Height: 6' 5''
Weight: 135 kg
Voice: Hard/ Angry
Handed: Right.
Body Markings:
Scar Tissue: All down his back.
Unique Body Features: None apart from scar running down his face.
Name: Lino Demetris
Nickname: "Six packer."
Race: Human
Nationality: Scottish
Visual Age: 35
Factual Age: 30
Gender: Male.
Sexual Orientation: Straight
Class: Middle
Level/ Rank: Captain
MENTALITY
Quirks: Aspergers
Fears: Having someone find out he has Aspergers.
Goal: Kill the Motherfucker that started this war.
Likes: Killing and Sexy girls.
Dislikes: Privates, Corporals, Commanders, Shitbags.
Strengths: His arms, a Strange mental ability.
Weaknesses: His brain and the way he talks to people (This normally gets him into a fight.)
ARMAMENT
Head: Helmet and a computer for maps.
Neck: Dog tags
Chest: Combat armour, And ammo packets.
Back: Bag pack with supplies
Arm/Shoulder: None.
Right Hand: Trigger to a XN-673
Left Hand: XN-673 assault rifle.
Right Accessory: None
Left Accessory: Ear piece
Waist: Belt, Medical Kit.
Legs: Combat trousers and a Combat knife.
Feet:
COMBAT PROWESS
Combativeness: 10/10
Natural Talents: Knife Skill
Skills: Gun handling
Powers: Can work the next move of the enemy out before they do it.
Weapon
Weapon Name: XN-673
Weapon Type: Assault rifle.
Material: Carbon/Steel
Ammo: 50mm Ap shells or 40mm Anti-personnel rounds.
Length: 30cm high and 130cm long
Weight: 2kg.
EQUIPMENT
Special Items
Items obtained during the RP
Regular Items
Items carried before the RP
Combat Knife.
XN-673
FE-453 Pistol
BACKGROUND
Relatives: None
Origin: Glasgow
Occupation: In the Army.