Name:
Cassandra Elyonill
"An ordinary archer practices until she gets it right. A Ranger practices until she never gets it wrong."
Age:
18 now. Born on Turdas, 17th of Heartfire. 9/17. (Thursday, 17th of September. 9/17.)
Gender:
Female
Craft:
Moving without being seen or heard; sneaking. Although, like all Rangers, she was trained for years and years with bows and has very uncanny archery skills.
Apprentice?:
None yet, though she may like to have one.
Theme Song 1:
http://www.youtube.com/watch?v=dziRHDulG3k&feature=player_detailpage
(That's also what her voice sounds like when she sings the song.)
Skils:
Archery-
Cassandra is an excellent archer, able to shoot several arrows in rapid succession. Cassandra rarely misses her mark, whether it be a unmoving stand or a far off horseman or even a striking snake. She can
even shoot an arrow out of the air, mid-flight.
Hidden and Unseen Movement-
Cassandra is highly skilled in moving silently, even before she underwent his Ranger training. Her small build and light feet make her a very good silent mover. Cassandra, after some
training and discipline, could stay completely still for a large period of time, rendering her almost completely unnoticeable.
Saxe and Throwing Knife Skills:
Most Rangers are trained highly with the two knives, though she was never very good at them. They aren't her preffered weapons, so she had to quickly learn the double knife defence in
case the need for close-range came. She highly dis-prefers close-range.
Speed:
Cassandra is very fast. She can outrun most people.
Climbing:
Cassandra is a very good climber. She has never been daunted by heights, and her climbing skills have proven useful on many occasions.
Intelligence:
Cassandra is a highly intelligent person, possessing a crafty and devious mind. She is proficient at creating elaborate schemes to accomplish her goals, and is a skillfull tactician. She also has a fast wit, and
it's said her greatest mental attribute is her ability to think of a way out of a situation and to plan on impulse, especially in dangerous circumstances. This also means she's a skillful tactician.
Grace:
She can sing beautifully, and her singing also calms people and animals down, somehow...
Oakleaf color(If Ranger):
Silver Oakleaf
Homeland:
Monsea
Current Country:
Araluen
Fief(If Ranger):
None. All are taken.
Description:
She's shorter than average, and semi-muscular. Her one blue eye and one orange eye seems to catch people's curiosity alot. Though she isn't very big, she is pretty strong, strong enough to pull the string on
the infamous long bow of the Ranger Corps. She's a fast runner, and a fast fighter. She's also very light on her feet and capable of being amazingly silent. She's also an excellent climber and tracker. She's said to be short for her
age, yet very pretty. She's humble and dislikes being the center of attention.
Picture:
Equipment:
Cloak-
Rangers are never found without their mysterious ranger cloak. The trick of the cloak is the special woven pattern of forestal colors, similar to that of camouflage, but more complex. The cloak is the main thing that
marks a person as a ranger.
Armor-
She wears light leather armor under her cloak, it isn't much though it can provide plenty protection for her needs.
Standard Ranger's Longbow-

Double Knife Scabbard-
The double knife scabbard is attached to a ranger's belt, with slots for the saxe knife and the throwing knife. It is issued only to rangers, and cannot be obtained by anyone else.
Saxe Knife-
The saxe knife is a long knife rangers discovered from the Skandian sea raiders. It is very sharp and made of extremely strong metal, being able to bend and break a sword and not even leave a scratch on the
knife's blade. It is also balanced for throwing.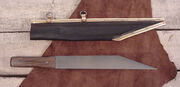 Throwing Knife-
The throwing knife is smaller knife, designed for being thrown. Extra width at the top allows for balance with the hilt, which helps drive it home in the ranger's target.
Ranger Strikers-
A newer ranger weapon which is a brass tube fitted to the ranger's hand with a brass ball on both sides used to strike an enemy, mainly good for stunning or blunt damage. At the middle is a brass tube,
long enough to fit in the wearer's hand, and on either side is a lead-weighted brass knob, used to strike at an enemy, or used to throw at an enemy, stunning him from up to 6 meters away (in the hands of an expert user). The
average ranger carries two, and they can be screwed together to make a club. This extends their stunning range to 20 meters. They are, essentially, fistloads.
Saddlebags-
In her saddle bags, she carries everything she needs that's not on her person. Some notable things would be flint and steel, a simple steel water canteen, and a map of Araluen (See Current Country).
Clothing:
Just because she's a kick-ass woman, doesn't mean she isn't a girly-girl. This can sometimes be reflected in her clothing... If you ever got to see under her armor. She wears a pink bra, and pink panties. Over those is a tank-top, and green thin woolen pants, that match her cloak. Then she has her chainmail-leather armor, her cloak and her cowl (hood).
Arrows:
Cassandra uses a wide variety of arrows.
General Purpose Arrows-
This arrow is the standard issue arrow of the Rangers and the Temujai because of its ability to pierce armour. Its tip is very pointed. Because of this arrow's lack of sides that secure the arrow in
the flesh and cause more damage if the victim attempts to dislodge the projectile, the arrow can be removed, sanitized, and reused, although the Rangers, who rely on swift, qiuck and killing shots to the head or vital organs for
a fleeting end, consider this idea distasteful.
Spiked Arrows-
Spiked arrows are one of the deadliest types of arrows as they can evade atempts to deflect them and tear through armour with ease. Spiked have many small and large spikes on them and looks like a
chisel, and are loosely based off of real life bodkins and broad heads combined.
Message Arrows-
These arrows cause no damage themselves, but are used to carry messages to places inacessable to the Ranger that fires them, such as enemy prison cells. The arrow, instead of having a point has a
cylinder that can open up to put a message in. Before anything can be fired, the paper must be weighed, and a little math must be done in order to make sure of the perfect trajectory of the arrow (it's very easy to disturb the
path of an arrow and even the extra wieght of a piece of paper can divert its course).
Barbed Arrows-
These are the second arrow type used by the Rangers. They are barbed broadhead arrows, and thus they cannot be removed from the wound except for being pushed through, making for both a painful
wound and a painful removal. They also tear the flesh of the victim hit, causing extreme bleeding.
Bodkin Arrows-
This arrow is special because it has no barbs or points that stick outward. In all simplicity it is just a single point, like a giant dart, and used to pierce through armor with extreme speed.
Allies, Friends, Comrades:
Dovahkiin Nix Arci, Dovahkiin Bjorg Folkvar.
Enemies:
Thieves, anyone who tries to put innocent people in harm (Araluen Ranger), Vampire, Daedra and Undead who mean harm to people (She's a Dawnguard).
Personality:
She is a quick-thinker and a good strategist. Despite her young age she copes well with the responsibiltiy of being a Ranger. But just because she's a kick-ass woman, doesn't mean she isn't a girly-girl.
Horse:
Rangers are very close to their horses, as Cassandra is to hers. She repeatedly thinks that her horse, Stormbringer, actually understands her. You can only ride a Ranger horse if you know it's code word,
otherwise it will buck you off like a mad bull. They are trained to sense people and animals and give their riders warnings. They can also keep up a canter for hours if they had to.
Relationship:
None, at the moment.
Organizations, Guilds, Clubs, ect:
Dawnguard, Araluen Ranger
History:
She was born in Monsea, during the time of King Leck's reign. Her parents feared she'd be taken away and used for evil, so instead she was loaded on a boat. The boat was lost at sea, and eventually taken by
Skandian sea pirates. She was sent to Araluen to live as a ward then trained as a Ranger. No one knows about her Grace, except for her. She keeps it a secret and leads others to believe her differently colored eyes has no
significance.
Likes:
Sometimes, she'll take interest in men. She loves the Dovah language and often speaks it.
Dislikes:
Being judged by her eyes, it's a sore point for her.
Other:
She had traveled to Tamriel and hung out in Skyrim for a while, eventually getting caught up in the Stormcloak revolution, she was obviously on Whiterun's team, meaning she could be at call wherever the Jarl called
her. She even helped fight some of the dragons, alongside the Dragonborn. She learned the Dovah language at some ruins she discovered, and she's currently looking for someone capable of Thu'um to teach her.
She hangs out with Arci a lot, and tends to be the one protecting Arci in a fight. Sure, Arci can use spells and Thu'um, but Cassandra's a hardcore trained fighter.
Credit to these two stories, as this character is based off of them:
Rangers' Apprentice series.
Graceling
and Bitterblue.
And Credit to Elder Scrolls V: Skyrim and Elder Scrolls III: Morrowind
And if you took the time to read this all, I thank you greatly. This took me around 2 hours to finish.