Name: Cheshire
Age:appears to be 19 in human form
Gender: Male
Appearance:
Story you are from: Alice in wonderland, ((Here is the link:
http://en.wikipedia.org/wiki/Alice_in_wonderland
))
What character you are: Why the Cheshire Cat of course
Do you know you are from a story: Indeed
Likes: Mad Hatter, old Alice, Wonderland
Dislikes: Alice now, Red Queen, the phrase more than one way to skin a cat, being beheaded
Equipment: Croquet Mallet
Weapon: Claws and teeth, mallet
Forms: A mangy cat form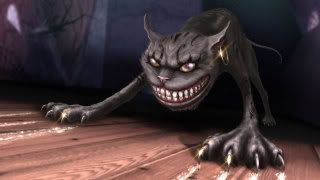 Occupation: Guide of Wonderland and will be guard and teacher of new new Alice.
What is wrong with you: A bit psychopathic
Distinguishing characteristics: Tail, Eyes, Ears, everything in general
Brief Background: A fat cat when Alice first entered he was the duchess pet cat and enjoyed talking to her, after adventures in wonderland and through the looking glass she kept on visiting and his form kept on changing, which was shocking to him he liked some forms others he did not, his voice changed, but that was because he got older. He loves wonderland and despises the red queen and is loyal to the white queen, but more than anything he is loyal to himself. Living a peaceful and normal life for some years, well as normal as wonderland can be, but with the death of her parents and being in asylum she inadvertently changed wonderland and not for the better. He noticed the change in his appearance immediately though he still kept the grin he is now a mangy cat with no fur and tribal markings on his body. He helped Alice regain her sanity. But she kept on relapsing. He decided enough was enough and decided to enter her world and fix her… one way or another. Taking the form of a human for the first time as he entered her world.