------------======================================================================================================================------------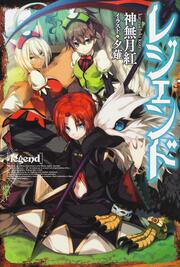 (Best Picture I could find)
Name:
Crimson Reaper (CR is his most popular nickname, but he has a few)
Age:
Appears eight, might actually be eight, might be older then the universe.
Height:
Lower then 4 ft., can only be described as short.
Hair Color:
Bright Red
Eye Color:
Crimson Red, Bright Red when "active".
Clothing:
Dark Black Cloak/Coat that goes down to his knees and the sleeves are way too long. Dark pants, and black sneakers. He also has a red T shirt.
Weapon:
A large Scythe that has a red handle.
Magic Power: Error....unable to calculate or quantify.
Known Traits:
Mostly inconsistent. Tends to act childish, but has some level of decent decision making at times. Loves ice cream, is short for his age, and tends to slaughter people who he considers enemies. His father is Death itself, and his mother is unknown (technically). Although even sharp people would easily mistake him for a simple, goofy child with short height and somewhat long hair, only the sharpest of the sharp would be able to tell his real power and abilities, and realize that contradicting to his young, fresh body, that he is derived from Eldritch Power not of any part of the multiverse, but something beyond even that.
He does get along great with animals though, and likes to enjoy life. He also is enrolled at school, though it seems strange he can wander the streets at any time of day anywhere in the universe and not get into trouble.
Because of his age, power, and abilities, he is constantly sought after by multiple organizations and people to use as a weapon. However, he has to date either evaded or slaughtered anyone who came after him. He doesn't like people he considers "jerks", but likes people he considers to be "nice".
It is believed he lies between the crevice of sanity and insanity. However, despite his power, it is also known he is not invincible, because he often blocks or dodges attacks against him indicating he can be hurt.
Family History:
His father is one of the most known things in all of existence, Death itself. It is an entity(?) both ageless and timeless with no clear defined existence, and will exist beyond the scope of forever. He is responsible for keeping the all the universes, not just the ones in the multiverse, in check, and prevents the flooding and overflow of souls. Even gods someday die, as if there is too much of the same for too long it can get worrisome. Although he knows there are those who claim to be immortal out there, a few specs wont matter too much. That said, if someone tried to create an immortal army or race, he might have to personally interfere as it could cause calamities to occur randomly in the universe from the lack of progress and flow. His manifested form was given the name "Grim Reaper".
His mother is what is known as the Flame of Life, and named herself Filianna. She is responsible for the creation of new life, and making sure that the soul is capable of enjoying life in the best possible way. Although she governs life, she herself is a similar entity to Death, an Eldritch being that cannot be classified even in the Multiverse. However, she is upset that Death has to constantly reap her creations, even though she knows what would happen if he did not.
Acknowledging this, Death decided to try and cheer Filianna up. As a result, he tried to do all sorts of things, including music and art, or make it so that at least there was a higher chance of people passing peacefully. And although it did not alleviate much, it did lead to an unexpected development...they fell in love. For Eldritch beings, who had been around for so long, their relationships and views on another had stopped changing. This was probably the first time it had happened in over one billion years. And as they fell in love, Death thought of an idea. Using their great power, they both managed to manifest themselves with all their power, and for thirty days straight made love to each other. And then, at the very end, their excreted essences fused together and became a new Eldritch being, the first born since long before time started existing.
He gave Filianna not just love, but also a son. Although Filianna was worried at first as she believed Death would take their son too, he explained it was impossible as the baby was of their essence. He would maintain a manifested form, but he was a new Eldritch being with no lifespan. Death could never take him into the place where all the dead go. Instead, he would possess abilities of both of them. The ability to kill anything, whether it be spirits, immortals, or even Gods, would be under his power, but he would also have the ability to enjoy life. To create, and sing, and dance. He would have a disposition to slaughter those who would upset people's life and happiness, but he himself would not be a tool for Death unless he chose to, and would be something Filianna would never lose. He would be the one child she had that she would never have to cry for his loss, and that he might even be able to delay the loss of other innocent lives.
That was Death's gift to Filianna, and as thanks and in recognition for their love, in what might be the first time ever, two Eldritch beings got married.
Special Abilities:
Soulbound Weapon: Can summon and store his Scythe at any time or point he wishes, even if time is stopped or space is isolated. Even if Magic is negated.
Stupidly High Resistance: To everything.
Unrealistic Physical Stats: Although there are beings tougher, stronger, and faster then him, he is tougher, stronger, and faster then most beings, to a point of it being unrealistic but still comparable.
Magic?: Is capable of using abilities that can only be described as magic, but are not affected by things that target magic as it originates from an existence outside of the Multiverse's reality. Magic Barriers and other things can still block some of these attacks, but the abilities and powers themselves seem to operate on something that cant be nullified or negated directly.
Dimensional Tear: Can drag others as well as himself into a small pocket dimension, and use it to travel between places.
Cursed Eye: An eye that holds unreasonable power, if activated it would drive someone mad when looked into, and could induce both natural hallucinations and illusions to appear.
Immortal?: Is he immortal? Supposedly he is the son of Death itself, so it might be possible. He can be defeated though, unless the definition of defeat is death, and he can still feel pain to some extent.
Reaper: Whether it be Spirits, Immortals, or Gods, he can kill anything. Whether it is easy or not depends on their skill and compatibility, but it is impossible for one not to be at least somewhat effected by his attacks.