Alias: lieutenant Hawk
Bio: he was once a Helgast Soldier who switched to being a mercenary his exact life is particularly unknown seeing most helgast went through the same hardships.
He is a trained sniper and assassin who prefers to work more in a group then on lone missions
:weapons:
VC32 Sniper Rifle:
(seen in above and below pictures)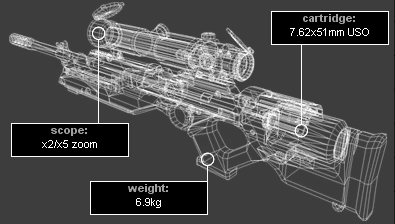 ◾Zoom: 2x / 5x zoom scope
◾Power: 10/10
◾Rate of Fire: 4/10
◾Reload: 6/10
◾Range: 10/10
◾Magazine Capacity: 6
◾Round Reload Time: 1.8 sec
◾Magazine Reload Time 3.8 sec
M66-SD Submachine Gun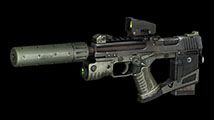 Primary Secondary
Damage--2/5 4/5
Accuracy--3/5 4/5
Rate of fire--4/5 2/5
Reload time--4/5 4/5
Magazine capacity--30 30
StA-52 Assault Rifle
Power : 7/10
◾Rate of Fire : 8/10 (10.3)
◾Reload : 6/10 (3.3 sec)
◾Range : 8/10
Magazine Capacity: 56
Extra bio: as an advanced soldier he wears the light helgast scout armor. the color scheme of the armor allows him to blend into his surroundings and his helmets HUD shows him his surroundings in real time with a Target finder, inferred, night vision, heartbeat monitor, as well as protect him with an inch and a half of titanium armor plating his body is bioengineered to be faster, stronger, and more resistant to pain.