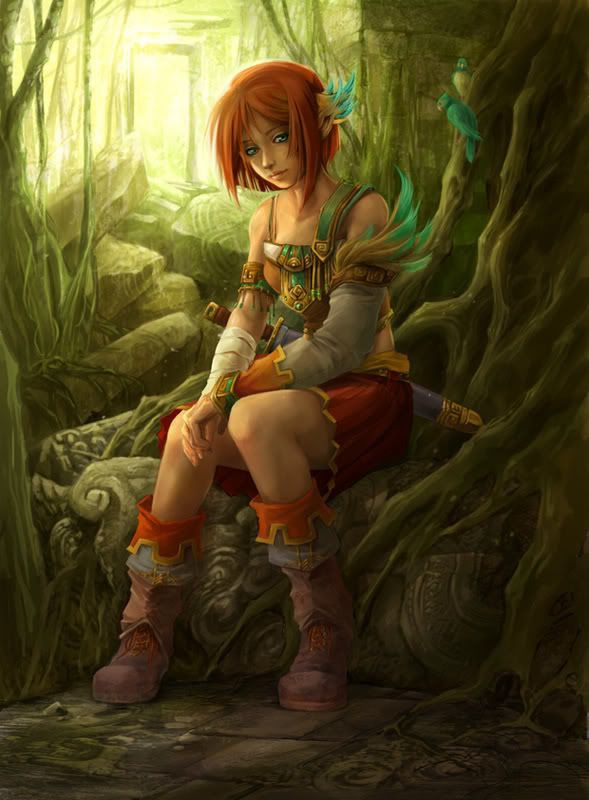 Name
:.Curtana Lierre
Bloodline
:.Half human, half elf
Age
:.100 years
Gender
:.Female
Height
:. 5' 4"
Weight
:.100 pounds
Birthday
:.April 1st
Known Family
:.None
Hobbies
:.Playing the flute, playing tricks on people, traveling, entertaining
Likes
:.Being noticed, swords, woods, mountains, long conversations, stories
Dislikes
:.Being alone, vampires, boring stories
Strengths
:.Sword play, great eyesight and hearing, magic, archery and ability to talk to nature(trees, animals, water, etc)
Weaknesses
:.Huge ego, stubborn
Goals
:.Coming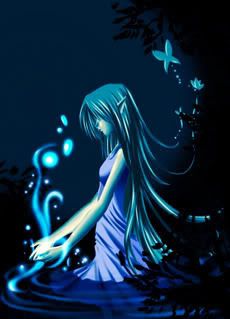 Short and stocky, this woman is nothing a nice combination of wit and strength. With earth colored hair(earthy red), and soft greenish blue eyes, she seems to be every bit of 'down to earth' as one could get. Since her mother was elf, she has the natural beauty of her clan, cat-like facial features and short pointed ears. Her father, however, was human, and therefore has quite the attitude and behavior of a teenager.
She has the ability to talk to nature, from her elf side. This ability also gives her the ability to ask for nature's help, if they are willing to give it. They also tell her the stories of what they have seen or heard. She also has the ability to create elemental powers, such as fire, water, or lightning upon some small degree. She is a better healer in her magic skills, however, and is very knowledgeable of herbs or medicines she can create in order to help the sick or wounded. She always carries around a short sword over her shoulder, along with a small dagger hidden in one of her boots. Occasionally, she will carry a bow that she wields only when she feels it is necessary to kill from a distance, considering archery not being a 'fair' fight unless it wasn't fair to begin with.
Curtana was born alone. Of course she had her mother, but even that wasn't company as her mother was an attendant to the royals. Her father, who she never knew, ran off before she was born, or so she was told. Merely learning to play and cause mischief, she was an outcast of the other elven children just because she was half human. She was constantly picked on her human qualities and never fit in. Even thrown out of classes when the jabs got to be too much for the elders. Finally, she had had enough. Never saying goodbye to her mother or ever looking back, she left the high city of the elves to become more of what she was; Wild and free. She traveled the world, learning and exploring many cultures.