Current Residence/Place of Birth:
Wing City, Terra, having just defeated a dread Vampire Lord the sheer amount of power caused them both to explode in a magical portal dropping her into Gambit's. Born though in Innistrad.
Gender:
Female
Race:
Human
Date of Birth and Age:
July 16th 1155: 28 Years Old
Allegiance:
High Inquisitor Order of Baldune and Clerics of Sha'ron
Class:
Grand Cleric - Inquisitor
Appearance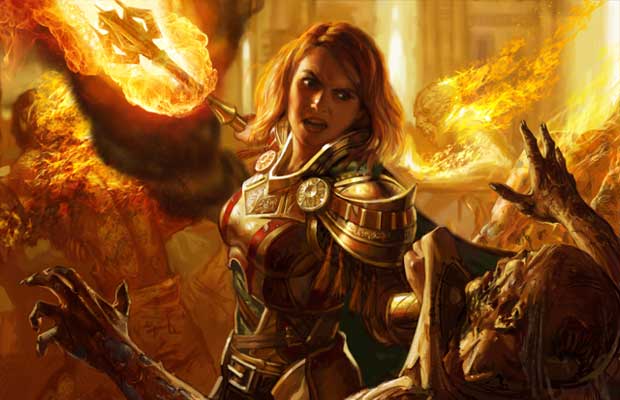 Height:
5.7 ft
Hair colour:
Ginger
Eye colour:
Dark green, almost black.
Build:
Slender but muscular.
Weapons/Armour/Accessories/Other:
Ash Zealot (Fiery Mace)

Holy Inquisitor Cuirass and Platemail

High Holy Inquisitor Cloak of the Order Baldune
Character Personality and History
Daria is a strong righteous individual with powerful conviction and tries to uphold the natural laws, smiting the undead and infernal beings who try to destroy the purity of life. As part of the Inquisitor she was gifted the powerful mace
Ash Zealot
which she uses with passion and belief in the cause. Having lived a cloistered life from early age she learnt to fear the Unnatural aberration Innistrad had, from the Undead to the great Infernal and Demonic beings, strongly religious she struggles socially with people, being uncertain or unsure of simple gestures that most people her age should understand. From something like a hug meaning more to an innuendo it all flies over her head.
Never mistake this for naivety if you try to harm her, you will feel full force of her wrath, she shows no mercy and very existence of these beings drive her into a damning rage. She can sense the very auras of them and will try give them peace or banish them from this world.
No compromise or fair-play, to her there is no good demon or noble vampire.