Delta Vargas - Security for Hire
Human(Caucasian)
"You have two options: get your fuckin' face outta mine, or have it posted on my wall."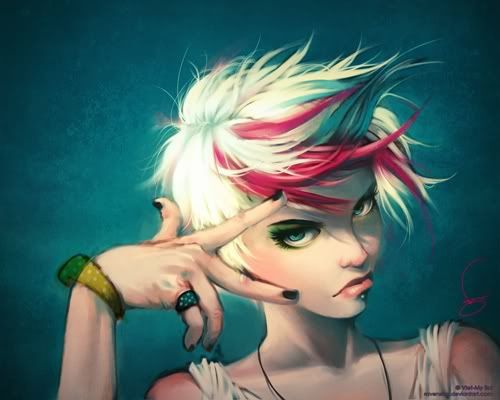 The image does not belong to me, and is owned by ravenskar on DA. Will remove if asked.
M41-A Pulse Rifle
BASICS
-Nickname: -Age:
22 years
-Birth date:
March 17, 1989
-Gender:
Female
-Nationality:
American
-Racial Background:
Irish, German, Norwegian
-Motivation:
Long since abducted from a plane-trip with his fellow colleague, she awoke on a ship in a sterile white room where she could stare upon Planet Earth for a couple of seconds before something tapped him on the shoulder and knocked her out. She awoke on Terra, in Wing City, in the exact same clothes she began his day on Earth with. She was missing eleven days and had no memory of what abducted him and his fellow humans. Out of pure survival and a need to take his mind off the traumatic event he and his friend Delta Vargas became excellent Security-for-Hire. While Vargas tries to dismiss the abduction, Veltre does everything in his power to find out who or what did it.
APPEARANCE
"Eyes on my face, asshat."
-Hair: Pixie cut, white with dark pink streaks
-Eyes: Green
-Height: 5'6", 167.4 cm
-Weight: 128 Ibs, 58.1 kg
-Skin Tone: White
-Build: Slender
-Description: With a head of colorful hair and a labret piercing, there is no doubt that Delta has indulged in the punk style. She's of average height and slender build, with green eyes and pale skin that's easy to burn before tanning. She has full lips, a sharp glare, and no patience. Not to mention that it shows.
MENTALITY
-Quirks:
-Fears: Worms
-Likes: Herself
-Dislikes: Jacob. And aliens. And Hatchet.
-Personality: Rude, easy to anger, and feisty.
EQUIPMENT
-Armor:
-Casual Clothing:
-Carried Items:
-Main Firearm
•Name: Nexus 'Purifier' Type .45 Sidearm.
•Type: Highly modified revolver.
•Made of: Metal.
•Caliber: 45. Penetration rounds.
•Weight: A bandolier with 50 rounds weighs around 3pounds and the revolver itself is 3pounds.
•Description/Info: The Purifier has a motorized cylinder and crane, making using the revolver a lot easier than the types the cowboys that Jakob reveres. It has a blue diodes on the cylinder and iron-sight for night aiming and reloading. It supports a rail for mounting a scope, laser-sight, flashlight and Jakob's favorite distracting attachment which is called a Strobe.
-Sidearm
•Name: Customized Electromagnetic Rifle. (CER Assault Rifle.)
•Type: Electromagnetic rifle.(Durr)
•Made of: Smooth carbon-fiber stock, metal pull trigger, toughened plastic railings and titanium barrel with non-conductive battery loader.
•Weight: 9pounds.
•Description/Info: A suppression weapon, it loads a battery one shot at a time, acting like a bolt-action rifle but with batteries instead of bullets, upon firing it launches a bolt of lightning that can cause shockwaves on impact with body or ground. It's power setting can range from lethal to non-lethal and feeling like you just got hit with a very hard bean-bag. It all rather seems innocuous till a lightning bolt flies past your ear.
HISTORY
"You really wanna know?"
-Life
•Martial Status: Single
•Family:
•History: Will get to it.