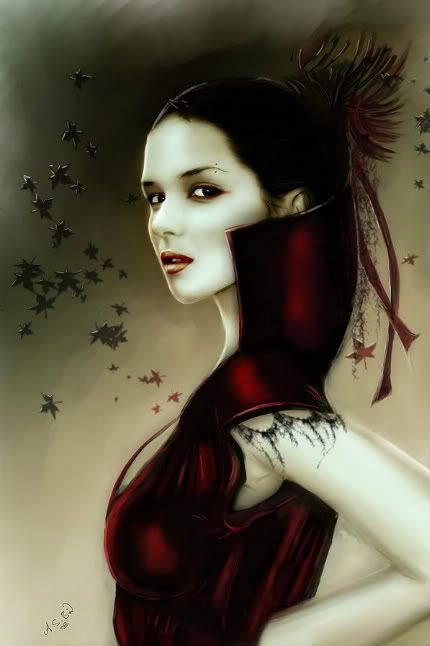 © *ForbiddenWhispers of deviantart.
Diane Atha, Daughter of Lahmia.
Name:
Diane Atha
Age:
5500 (approximately -- after a certain length of time, you stop counting.)
Race:
Vampire (Lahmian, see history)
Significant Relationships:
Lahmian Clan.
Height:
5' 7"
Weight:
111 lbs
Hair Colour:
Black
Eye Colour:
Black-brown.
Physical Description:
Girlish in her features and slight in her build, Diane was only a young girl of seventeen when the city of Lahmia was turned to vampirism. Now her youthful features bely ancient wisdom and strength, her vampiric nature giving her abilities beyond her physical form's regular capabilities. Diane is pretty, but her vampiric nature has made her paler than most find attractive - though on the other hand, her charm no longer has to come purely by natural means.
Personality:
Diane is fiercely loyal to Neferata, and is seldom seen far from her side. Stealthy and covert, most take Diane for a maid or attendant - and while that is what she was in life, in undeath she has taken on the role of a bodyguard. As deadly as Selene in many ways, Diane would fight to the death for Neferata. Largely introverted and quiet, Diane is a woman of few words, but has no qualms with voicing her thoughts when she deems it necessary or constructive.
Skills and Talents:
Agile and capable of reacting swiftly.
A highly skilled dagger fighter, as well as possessing impressive skill with a sword, thrown weaponry, bows, and in hand-to-hand combat.
Stealthy and subtle.
Abilities:
Shadow Magic: Diane has mastered shadow magic, including but not limited to abilities such as:



Steed of Shadows:

The mage can move with the speed of shadow, skimming the ground like a breeze and moving at high speeds, akin to those of a galloping horse.

Crown of Shadow:

An area of affect spell, this creates a burst of shadow that envelops the field of battle, obscuring vision and burning at the flesh of living beings within its reach. Friendly fire unavoidable.

Shades:

The target is surrounded by spirits and their mind is filled with howling voices, inspiring an unnatural fear in them.

Doppelganger:

The mage can take on the appearance of any other humanoid creature within eyesight, including clothing, weapons and armour. These weapons and armour cannot replicate any special abilities, only physical form. This is a physical change, rather than an illusion, and lasts for ten minutes unless recast.

Creeping Shadow:

A magic missile attack, three tendrils of shadow that burst from point of origin and circle around the target at random before simultaneously scything in on them, having a forceful impact with burning magical energies, as well as a maintained burning that eats away at armour, clothing or flesh for several seconds after the impact.

Restore Undead:

Diane can heal her fellow vampires and other undead creatures with her shadow magic.

Shadow Manifestation:

By taking pure shadow energy, Diane can create semi-solid creations of shadow that have a corrosive and destructive effect on things they touch.


Necrotic Magic:


Drain Life:

Diane can drain the very essence of a being upon physical contact with them.



Vampiric Powers:


Levitation:

Self explanatory

Alluring Gaze:

Diane can fix a human with her gaze and hypnotise him or her with her beauty, paralysing them and reducing them to her will.

Regeneration:

Diane's (regular) wounds heal themselves in seconds, and she can only be killed by a wooden stake through the heart or decapitation.

Mist Form:

Diane can become ethereal, meaning she cannot physically attack or be physically attacked. She can attack with magic in this form, and be attacked with magic, but only magic. Repeated use of this power is draining, and wounds suffered while ethereal are not regenerated till she returns to physical form.

Speed:

Diane is gifted with superhuman speed.

Mantle of Darkness:

Diane can become invisible.

Shapeshifting:

Diane can shapeshift into a bat, a rat or a wolf.


Equipment:


Dagger
Long knives
Throwing knives
Bow and arrow.
Various poisons.